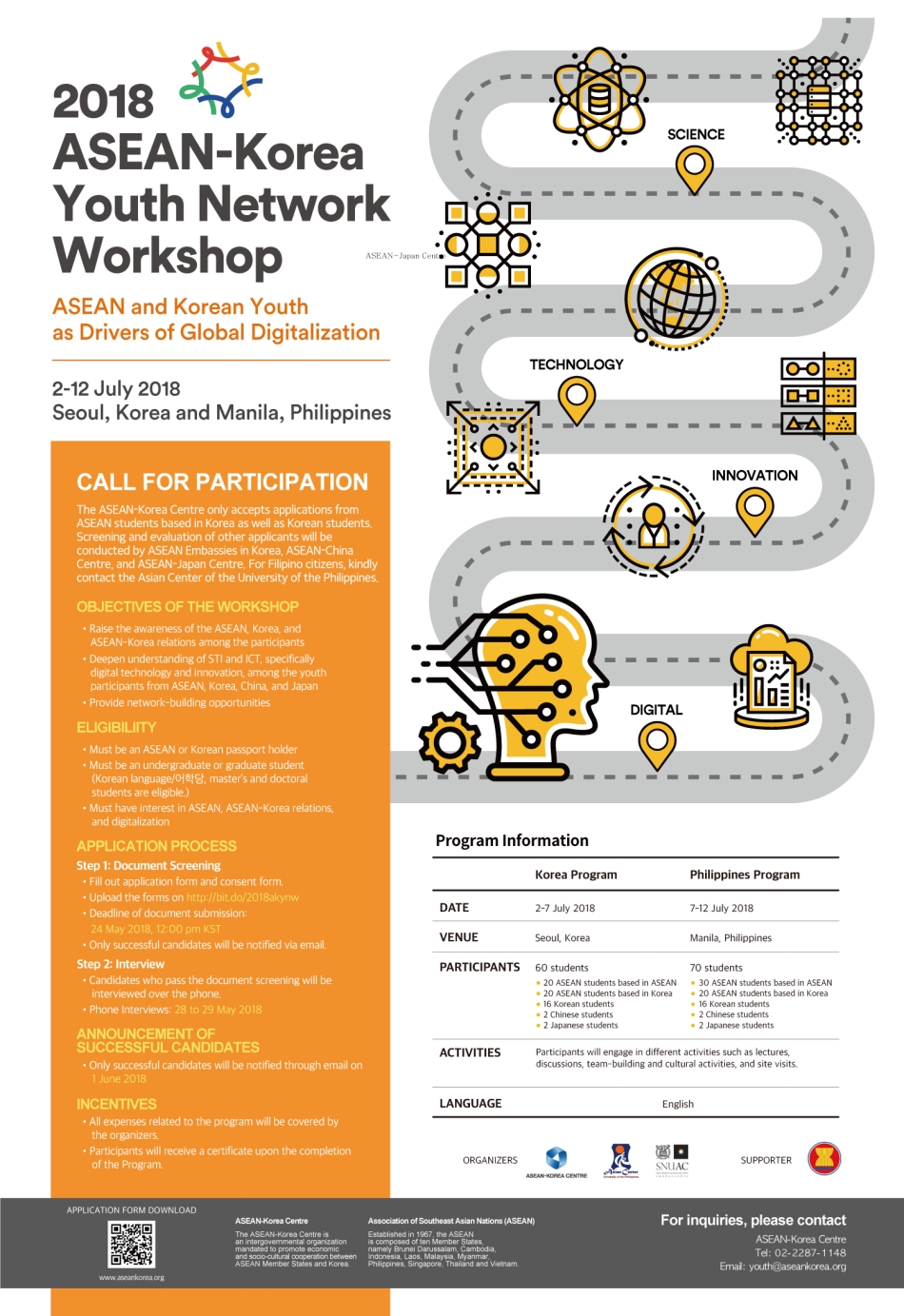 ---
CALL FOR PARTICIPATION
2018 ASEAN-Korea Youth Network Workshop
ASEAN and Korean Youth as Drivers of Global Digitalization
OBJECTIVES
● Raise the awareness of the ASEAN, Korea, and ASEAN-Korea relations among the participants
● Deepen understanding of STI and ICT, specifically digital technology and innovation, among the youth participants from ASEAN, Korea, China, and Japan
● Provide network-building opportunities among the participants
PROGRAM INFORMATION
Korea Program
Philippines Program
Date
2-7 July 2018
7-12 July 2018
Venues
Seoul, Korea
Manila, Philippines
Participants

60 students

● 20 ASEAN students based in ASEAN
● 20 ASEAN students based in Korea
● 16 Korean students
● 2 Chinese students
● 2 Japanese students

70 students

● 30 ASEAN students based in ASEAN
● 20 ASEAN students based in Korea
● 16 Korean students
● 2 Chinese students
● 2 Japanese students

Activities
Participants will engage in different activities such as lectures, discussions, team-building and cultural activities, and site visits.
Language
English
ELIGIBILITY AND APPLICATION PROCESS:
The ASEAN-Korea Centre only accepts applications from ASEAN students based in Korea as well as Korean students. Screening and evaluation of other applicants will be conducted by ASEAN Embassies in Korea, ASEAN-China Centre, and ASEAN-Japan Centre.
● Eligibility:
○ Must be an ASEAN or Korean passport holder

○ Must be an undergraduate or graduate student (Korean language/어학당, master's and doctoral students are eligible.)

○ Must have interest in ASEAN, ASEAN-Korea relations, and digitalization
● Application Process
○ Step 1: Document Screening
■ Fill out application form and consent form (available at www.aseankorea.org).

■ Upload the forms on http://bit.do/2018akynw

■ Deadline of document submission: 24 May 2018, 12:00 pm KST

■ Only successful candidates will be notified via email.
○ Step 2: Interview
■ Candidates who pass the document screening will be interviewed over the phone.

■ Phone Interviews will be conducted from 29-30 May 2018.
● Announcement of Successful Candidates:
○ Only successful candidates will be contacted via email on 1 June 2018.
INCENTIVES
● All expenses related to the program will be covered by the organizers.
● Participants will receive a certificate upon the completion of the Program
FOR INQUIRIES, PLEASE CONTACT
●ASEAN-Korea Centre (Information and Data Unit)
Tel: 02-2287-1148

Fax: 02-2287-1160

Email: youth@aseankorea.org
ORGANIZED BY