Call for Entries
2018 ASEAN-KOREA YOUTH SHORT FILM COMPETITION
ASEAN: The Future We Foresee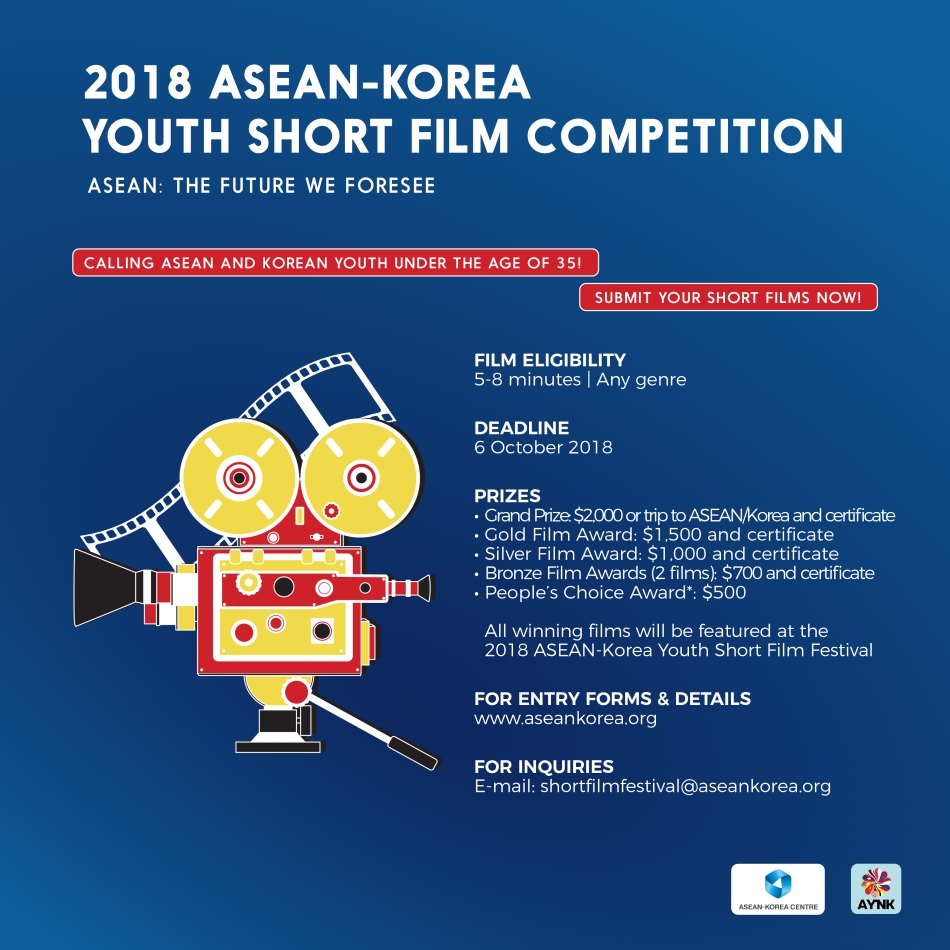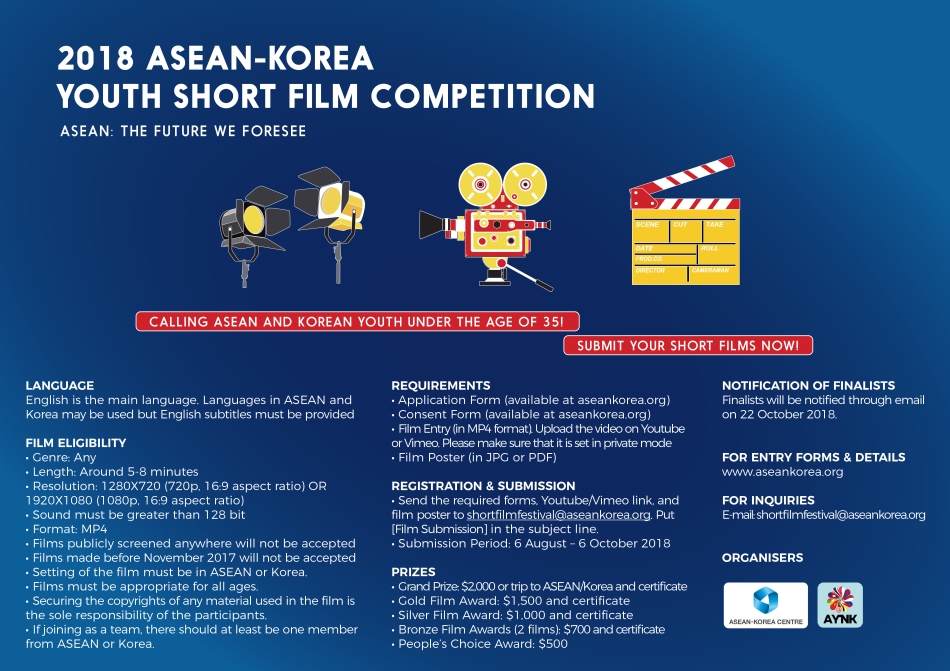 CALLING ASEAN AND KOREAN YOUTH UNDER THE AGE OF 35! SUBMIT YOUR SHORT FILMS NOW!
LANGUAGE
■ English is the main language. Languages in ASEAN and Korea may be used but English subtitles must be provided.
FILM COMPETITION MECHANICS
■ Film Eligibility:
a. Genre: Any
b. Length: Around 5-8 minutes
c. Resolution: 1280 x 720 (720p, 16:9 aspect ratio) or 1920x1080 (1080p, 16 x 9 aspect ratio)
d. Sound: must be greater than 128 bit
e. Format: MP4
f. Films publicly screened anywhere will not be accepted.
g. Films made before November 2017 will not be accepted.
h. Setting of the film must be in ASEAN or Korea.
i. Films must be appropriate for all ages.
j. Securing the copyrights of any material used in the film is the sole responsibility of the participants.
k. If joining as a team, there should be at least 1 member from ASEAN or Korea.
■ Requirements:
c. Film entry (in MP4). Upload the video on Youtube or Vimeo. Please make sure that it is set in private mode.
d. Film poster (in JPG or PDF)
■ Registration and Submission:
a. Send the required forms, Youtube/Vimeo link, and film poster to
filmfestival@aseankorea.org
. Put [Film Submission] in the subject line.
b. Submission Period: 6 August to 6 October 2018.
■ Notification of finalists:
a. Finalists will be notified through email on 22 October 2018.
■ Prizes:
a. Grand Prix: $2,000 or trip to ASEAN/Korea and certificate
b. Gold Film Award: $1,500 and certificate
c. Silver Film Award: $1,000 and certificate
d. Bronze Film Awards (2 films): $700 and certificate
e. People's Choice Award*: $500