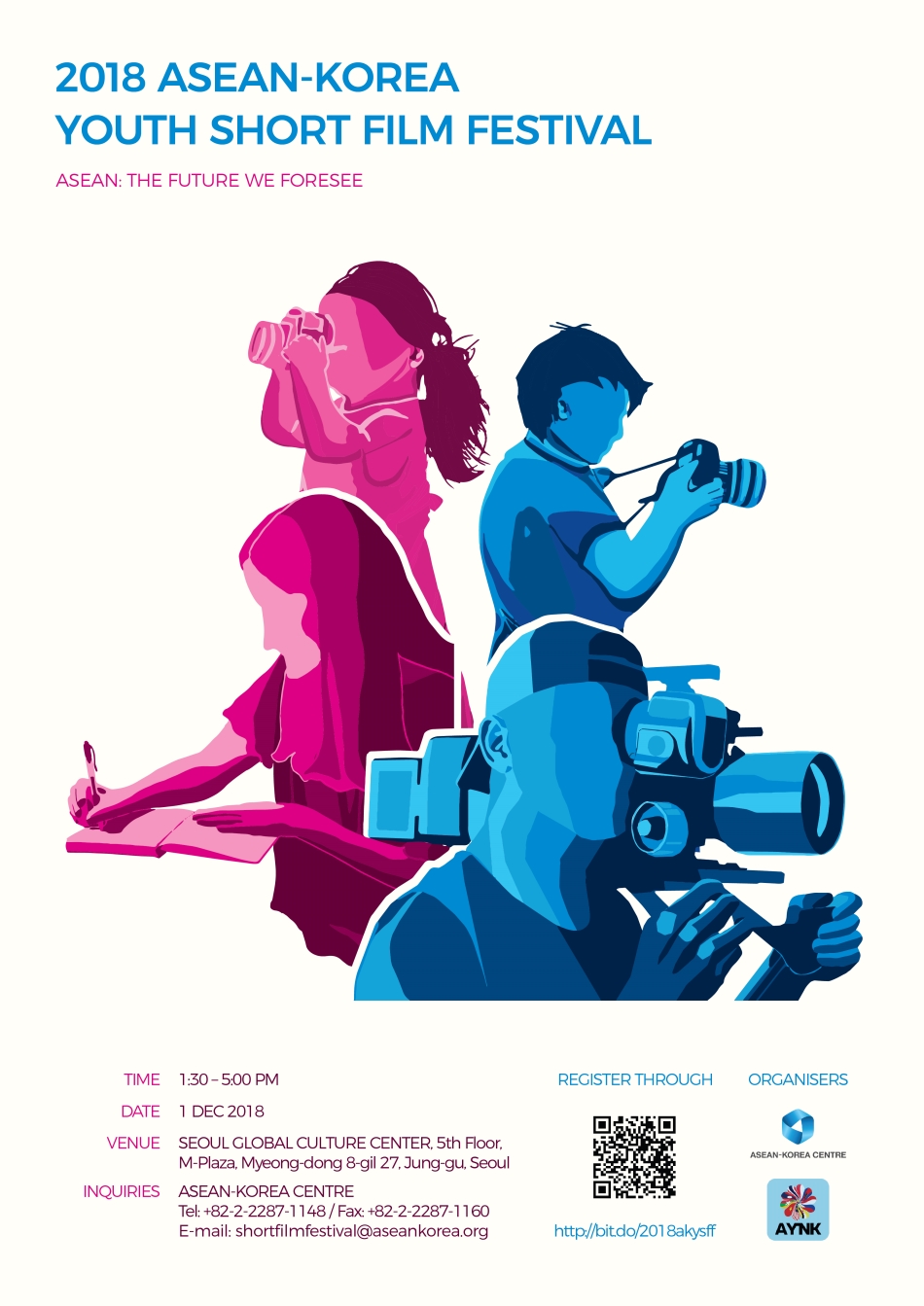 The ASEAN-Korea Centre invites everyone to come to the 2018 ASEAN-Korea Youth Short Film Festival!
DATE
● 1 December 2018, 1:30 pm
VENUE
● Seoul Global Cultural Center, 5th Floor, M-Plaza, Myeong-dong 8-gil 27, Jung-gu, Seoul
THEME
● ASEAN: The Future We Foresee
ORGANIZERS
● ASEAN-Korea Centre (Information and Data Unit), and the ASEAN Youth Network in Korea will organize the event.
LANGUAGE
● English
PROGRAM OUTLINE
TIME
PROGRAM
13:30-14:00
Registration
14:00-14:05
Opening
14:05-14:10
Opening Remarks
14:10-14:15
Congratulatory Remarks
14:15-14:20
Message from the Head of the Panel of Judges
14:20-14:30
Awarding of Winners
14:30-15:10
Screening of Winning Films
15:10-15:25
Q & A
15:25-16:55
Showing of Feature Film
16:55-17:00
Lucky Draw
17:00
End of Festival
SOUVENIRS AND PRIZES
● Souvenirs will be given away to all members of the audience.
● Prizes will also be given away through raffle.
HOW TO REGISTER
● Online registration
Website: http://bit.do/2018akysff

QR Code:



JOIN THE 2018 ASEAN YOUTH YEAREND CELEBRATION
The 2018 ASEAN Youth Yearend will be held on the same day as the 2018 ASEAN-Korea Youth Short Film Festival. To learn more about this program, please visit www.aseankorea.org. To register, please visit: http://bit.do/2018ayyc
QR Code:



INQUIRIES
● For inquiries, please contact Ms. Monica Dulos (shortfilmfestival@aseankorea.org; 02-2287-1148)