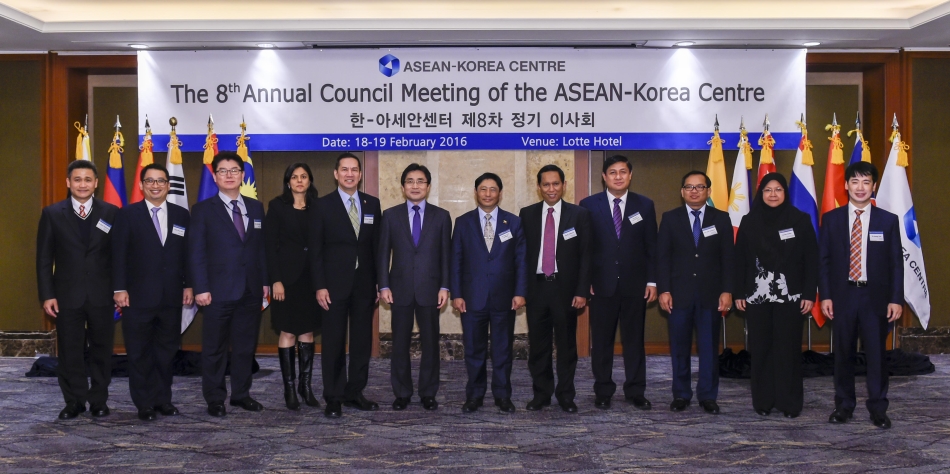 ▲ Council Directors, attending the 8th Annual Council Meeting of the ASEAN-Korea Centre | Lotte Hotel, Seoul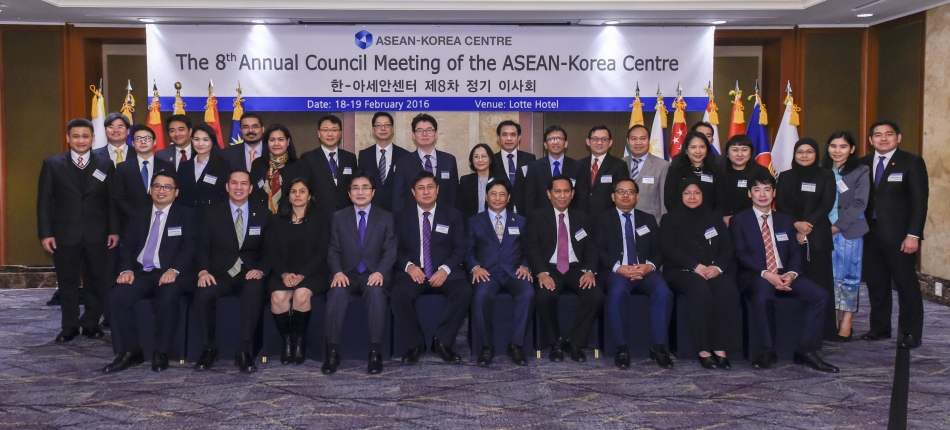 ▲ Council directors and utive board members of the ASEAN-Korea Centre | Lotte Hotel, Seoul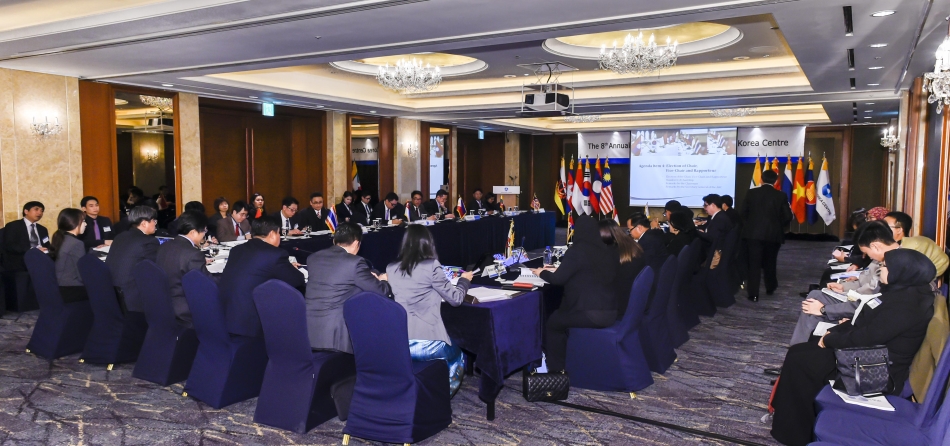 ▲ The 8th Annual Council Meeting of the ASEAN-Korea Centre | Lotte Hotel, Seoul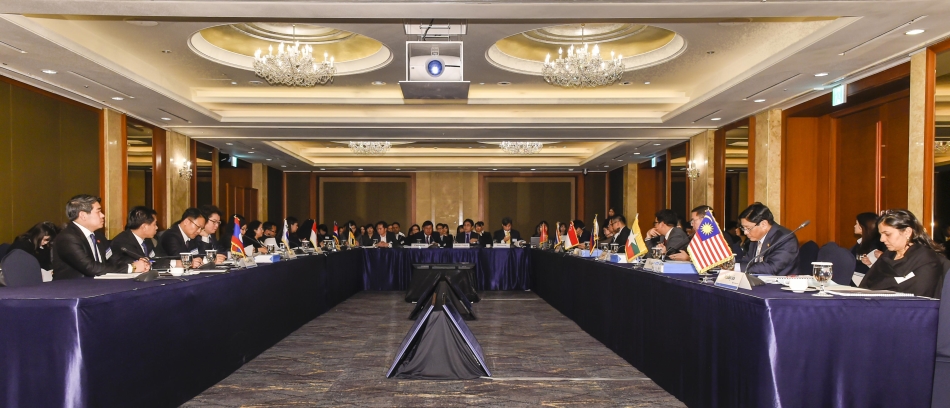 ▲ The 8th Annual Council Meeting of the ASEAN-Korea Centre | Lotte Hotel, Seoul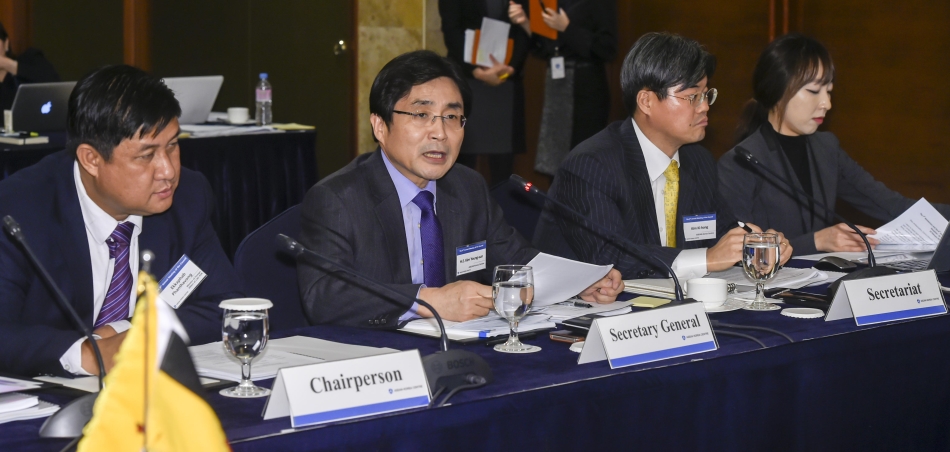 ▲ The 8th Annual Council Meeting of the ASEAN-Korea Centre | Lotte Hotel, Seoul
The ASEAN-Korea Centre held its 8th Annual Council Meeting on 18 (Thu.) - 19 (Fri.) February at the Lotte Hotel, Sogong-dong, Seoul.
The council is the highest decision-making body of the ASEAN-Korea Centre and is composed of directors appointed by 10 ASEAN Member countries and Korea. During the two day meeting, the council directors will conduct on in-depth review and discussion on the FY2015 activities as well as the FY2016 budget and work programs, which are to be implemented from March.
In this Meeting, in line with the launch of the ASEAN Community at the end of 2015, the council directors will put special emphasis on discussing Centre's activities to realize the mandates and goals declared in the ASEAN Community Vision 2025 and the ASEAN-Republic of Korea Plan of Action to Implement the Joint Declaration on Strategic Partnership for Peace and Prosperity (2015-2020).
On the first day of the event, the reception hosted by the Ministry of Foreign Affairs of ROK was also held after the meeting, and was attended by around 200 guests including Ambassadors in Seoul as well as distinguished figures from various circles.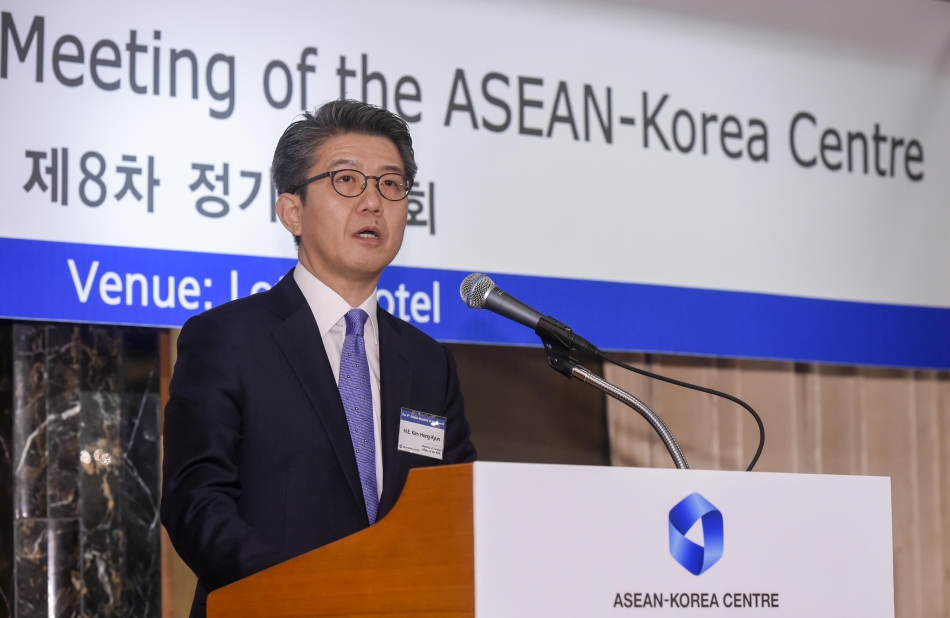 ▲ Kim Hong-kyun, Deputy Foreign Minister of Republic of Korea, addressing a remarks at the reception | Lotte Hotel, Seoul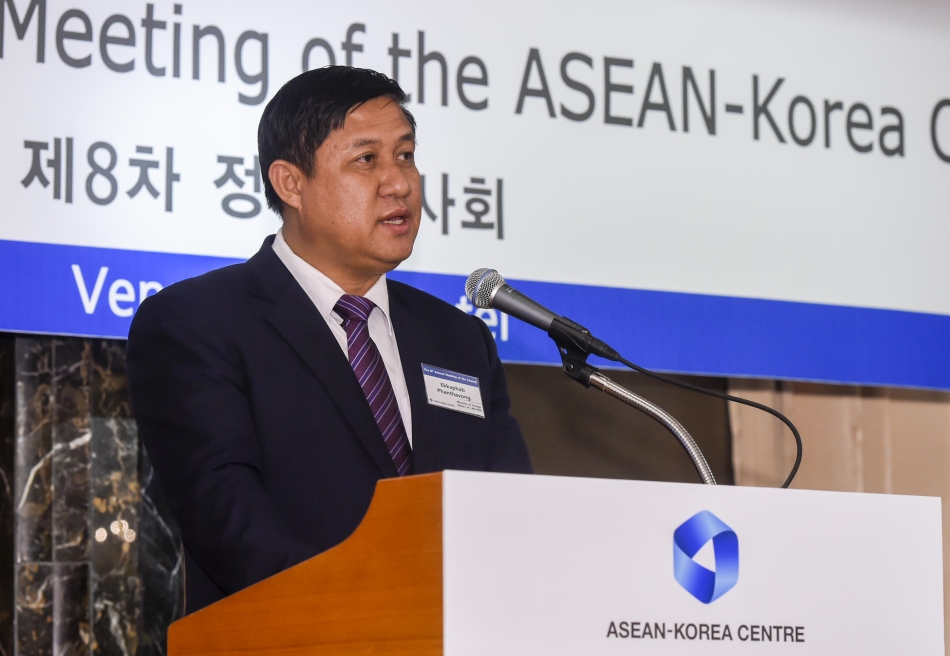 ▲ Representative from Lao PDR, a Chair country of the Council Director for FY2016, addressing a remarks at the reception | Lotte Hotel, Seoul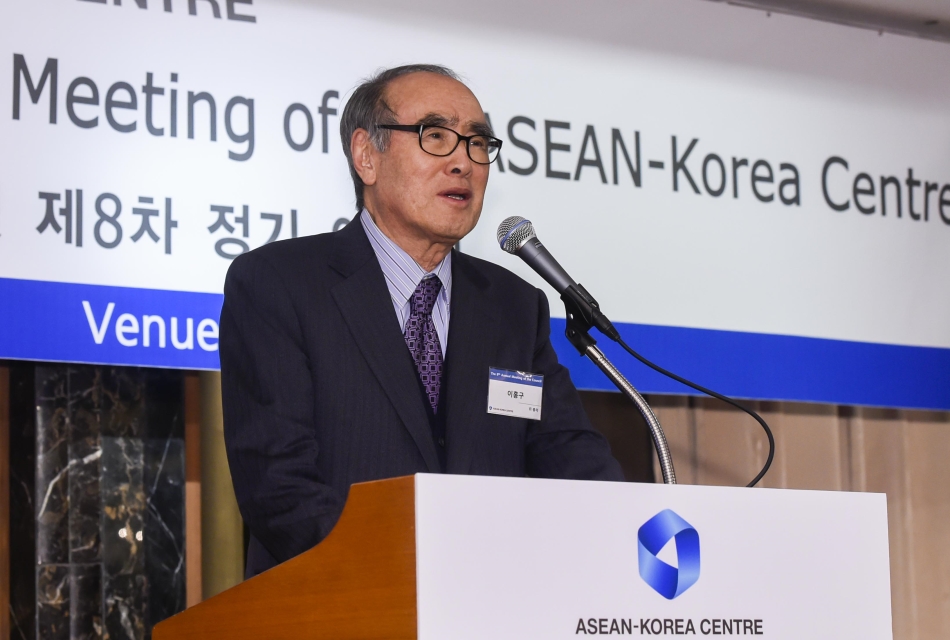 ▲ Lee Hong-gu, Former Prime Minister, addressing a remarks at the reception | Lotte Hotel, Seoul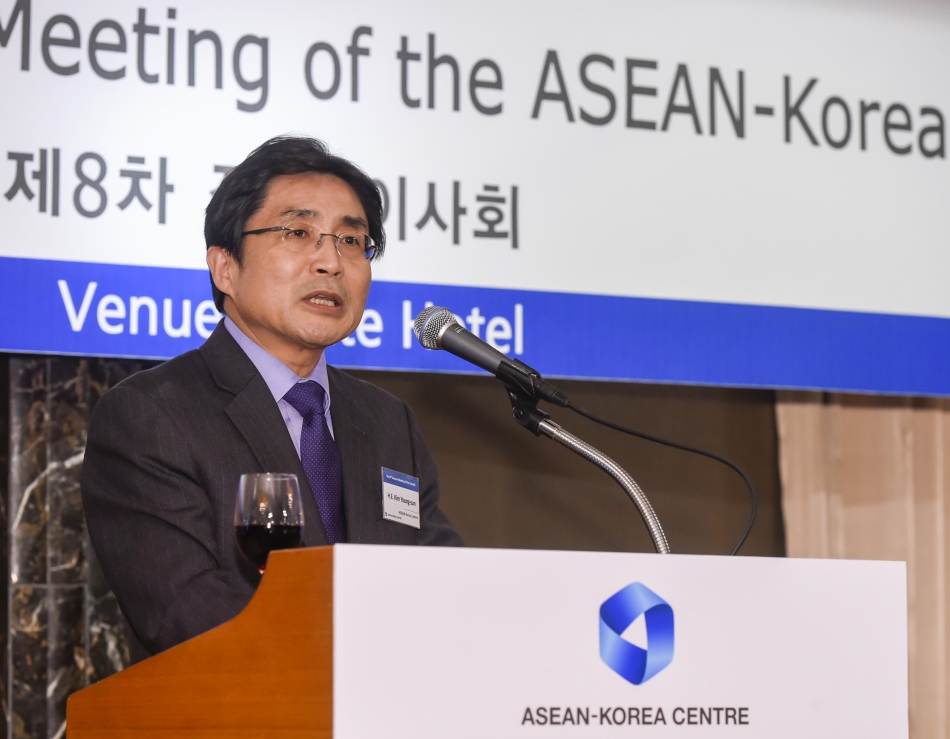 ▲ Kim Young-sun, Secretary General of the ASEAN-Korea Centre, addressing a remarks | Lotte Hotel, Seoul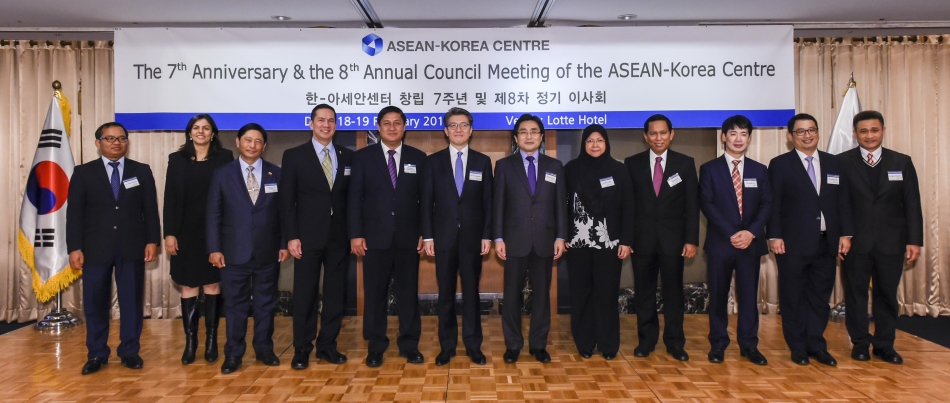 ▲ Reception hosted by the Ministry of Foreign Affairs of ROK | Lotte Hotel, Seoul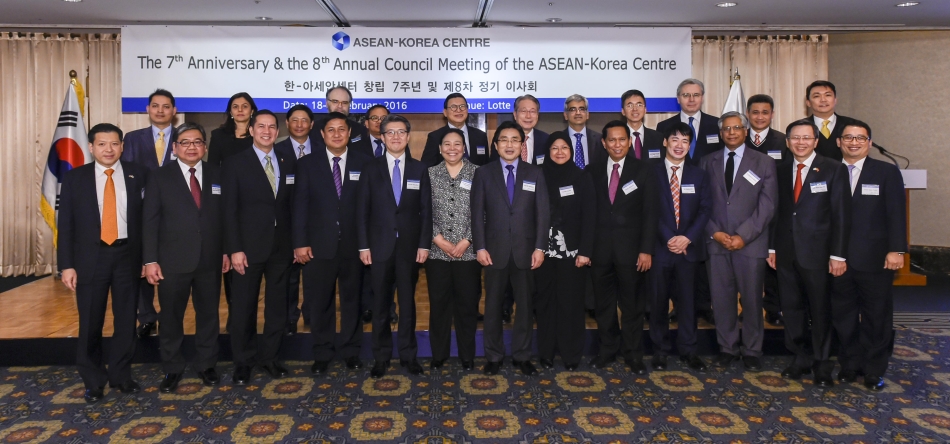 ▲ Reception hosted by the Ministry of Foreign Affairs of ROK | Lotte Hotel, Seoul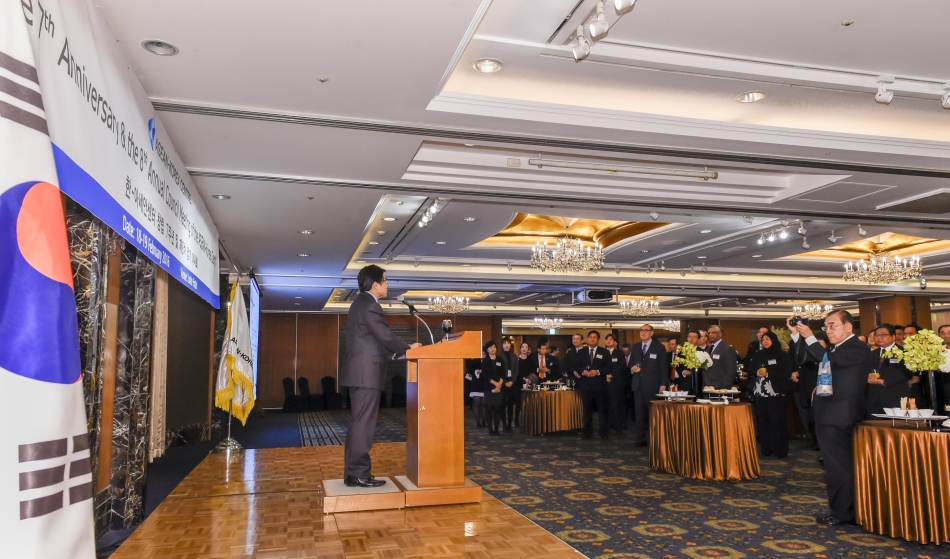 ▲ Reception hosted by the Ministry of Foreign Affairs of ROK | Lotte Hotel, Seoul