On April 22, 28 students from Cheongshim International Academy participated in the AKC's Online School Tour program. Since the Covid-19 outbreak, ASEAN-Korea Centre has continued to actively engage students in its programs via online platforms.
Students virtually visited the Centre through a VR video played at the beginning of the program and learned about ASEAN through "ASEAN-Korea We are Friends" video. Following the video showcasing, Lee Kyeong-A, Director of ASEAN Hall, gave a presentation on ASEAN-Korea relations and career at the international organizations. Students also participated in ASEAN Golden Bell quiz and competed on their knowledge of ASEAN. Even after more than ten questions, many students got all the answers right. In this school tour in particular, through group activities, students had a chance to research Lao PDR, Malaysia, and Philippines before the program and make presentations in English. Despite the midterm exam period, students made time out of their busy schedule to research the economy, culture, and society of the three ASEAN countries. After student presentations, they experienced ASEAN culture by making ASEAN crafts and interacting with ASEAN officials to discuss further on the three countries.
The following is a testimonial from student who gave a presentation at the School Tour program:
"Although the School Tour was held online, I was able to meet with the ASEAN Officials for the first time in my life. It was very, very useful because I had an opportunity to receive feedback on the presentation I gave and have a conversation with them."
▲ ASEAN Hall Director and ASEAN Officials greeting the students by Lao PDR greetings gesture 'Nop'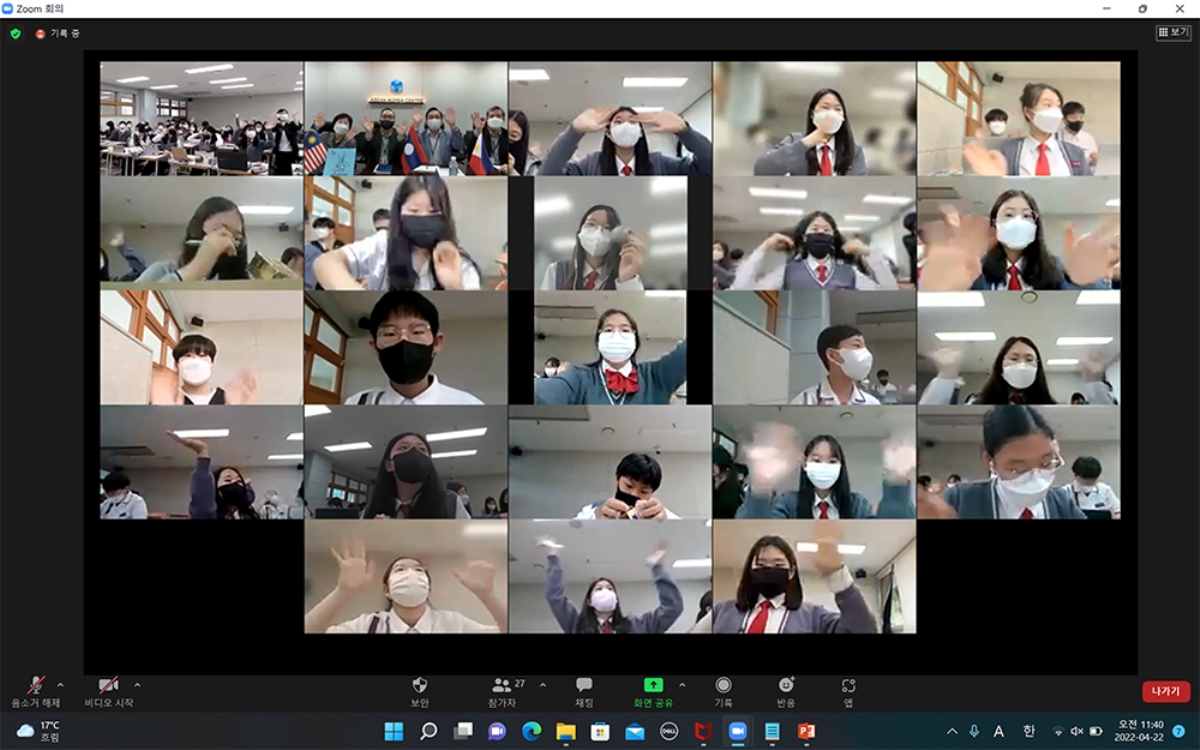 ▲ Group photo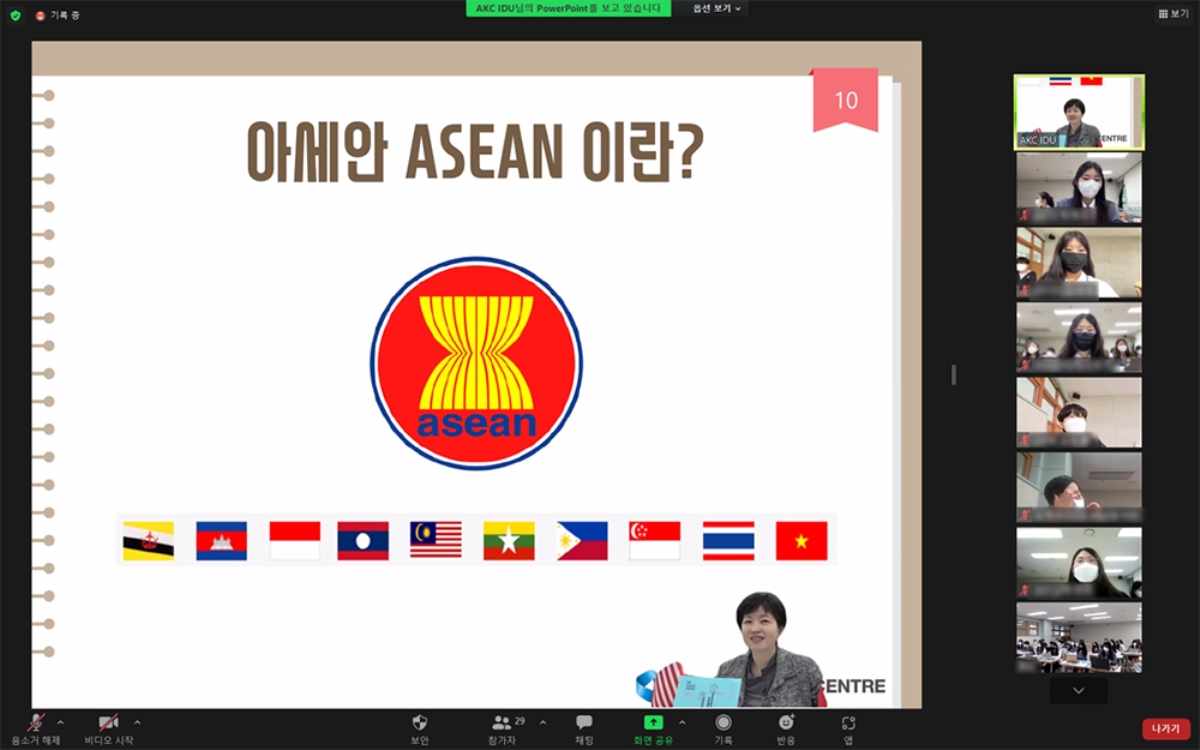 ▲ Lecture by Lee Kyeong-a, Director of ASEAN Hall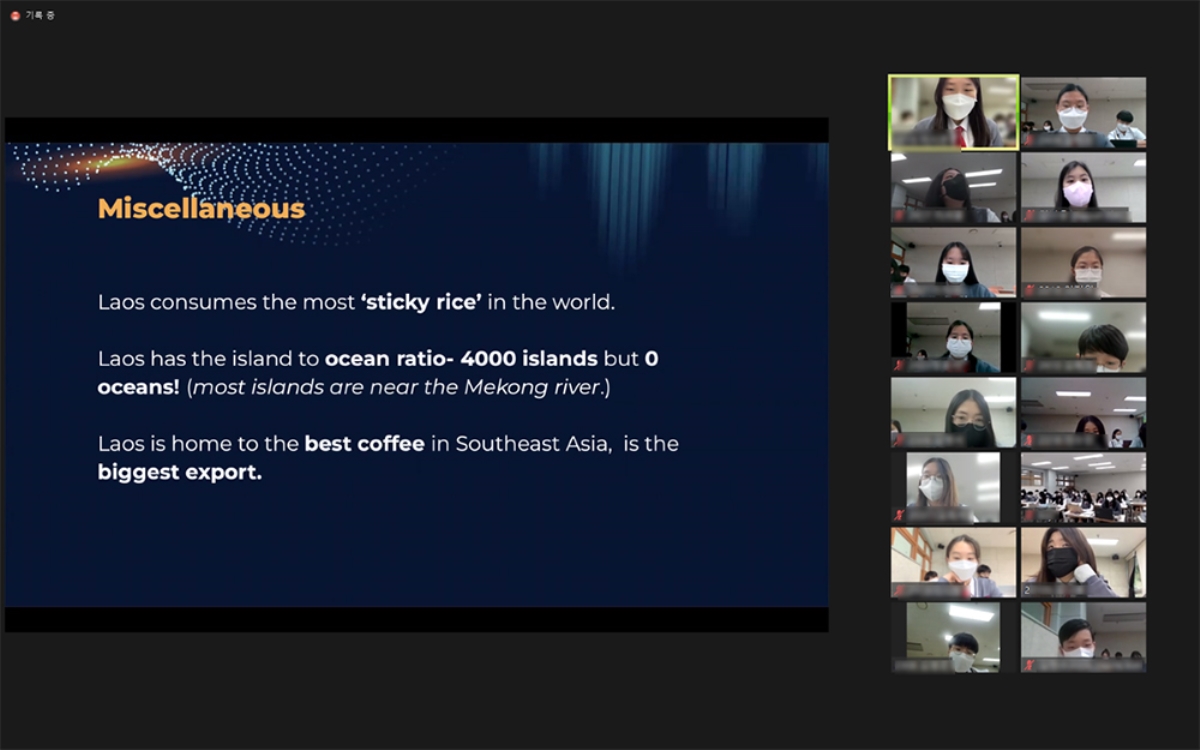 ▲ Presentation on Lao PDR by one of Cheongsim International Academy students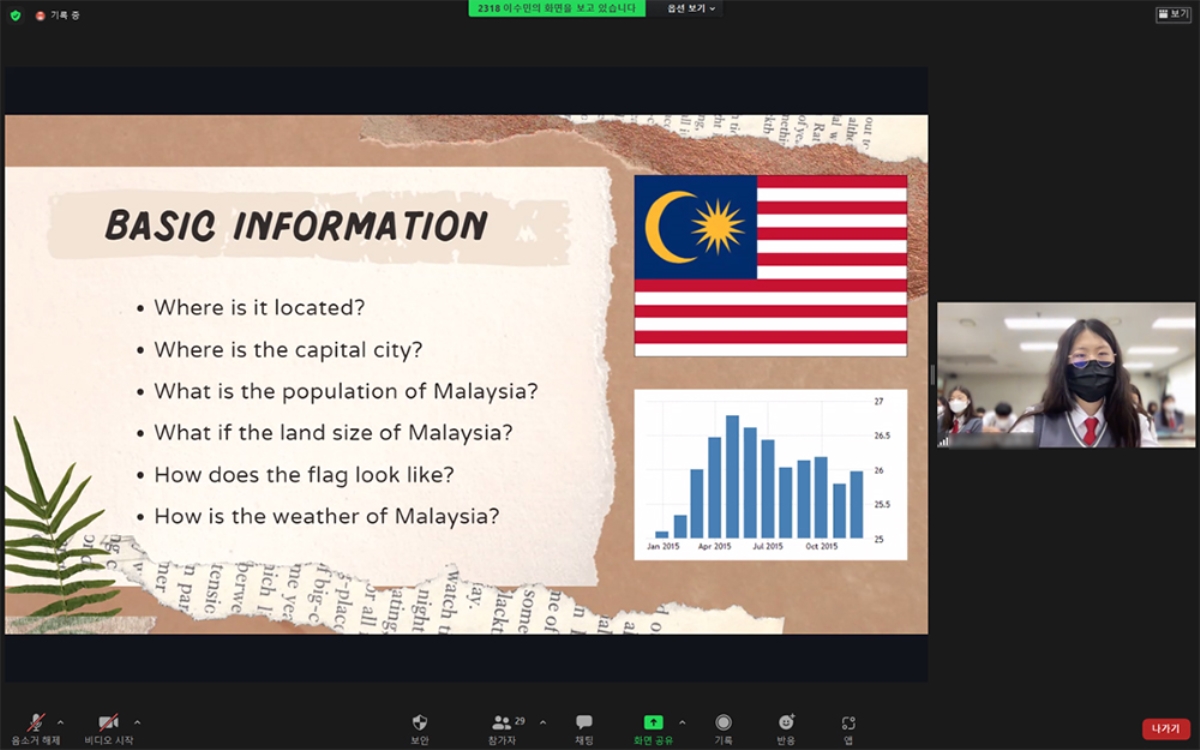 ▲ Presentation on Malaysia by one of Cheongsim International Academy students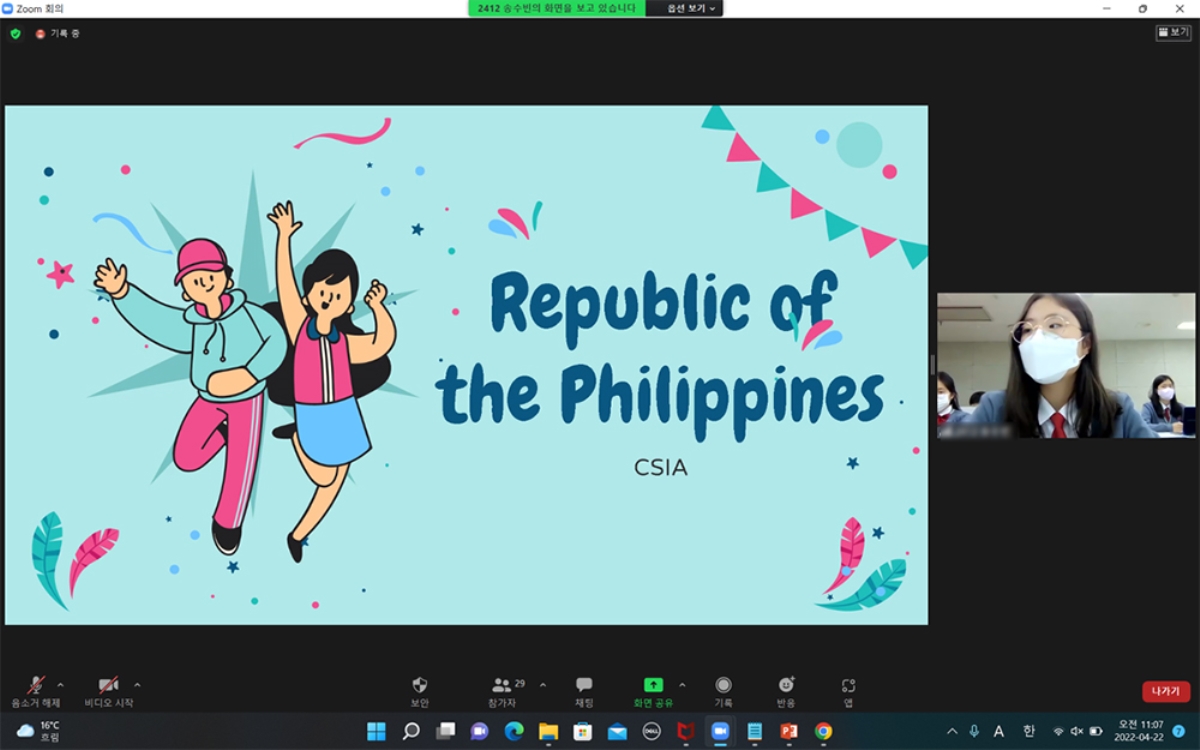 ▲ Presentation on the Phillipines by one of Cheongsim International Academy students
▲ Learning about ASEAN through Golden Bell Quiz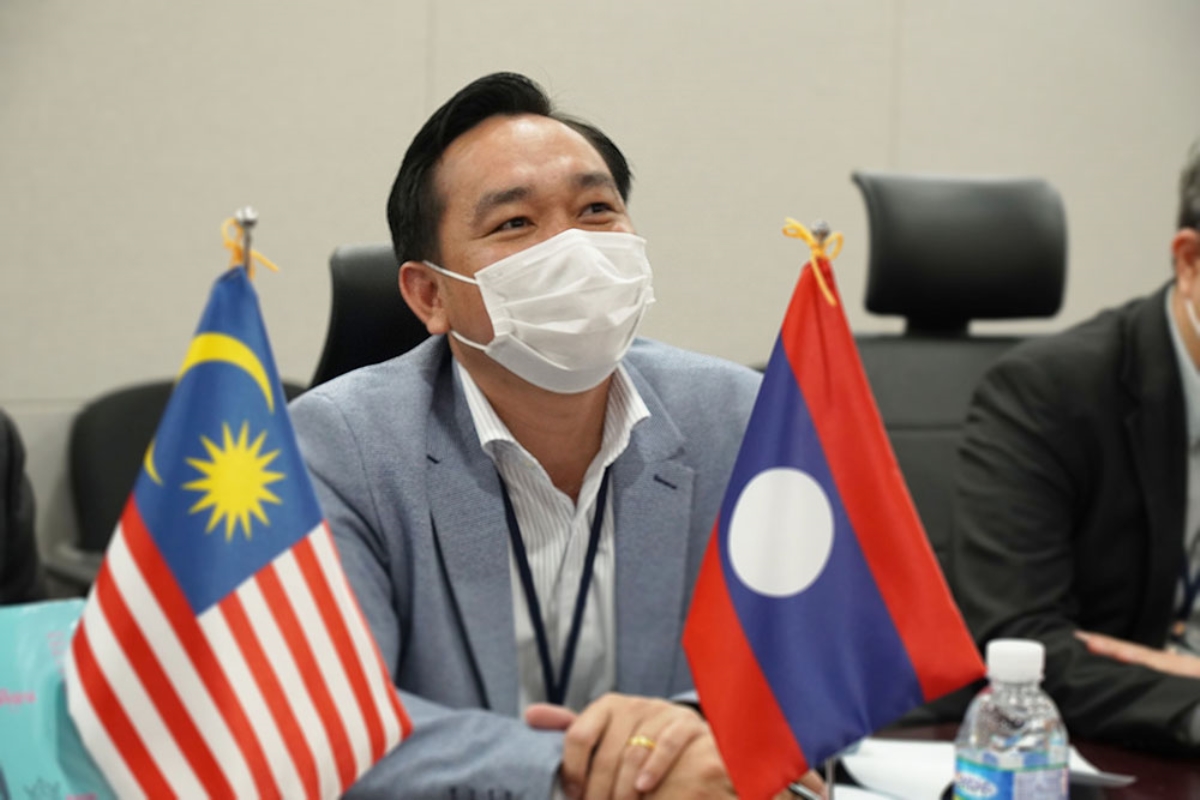 ▲ Mr. Khambou, Deputy Head of DPGAU, in Discussion Session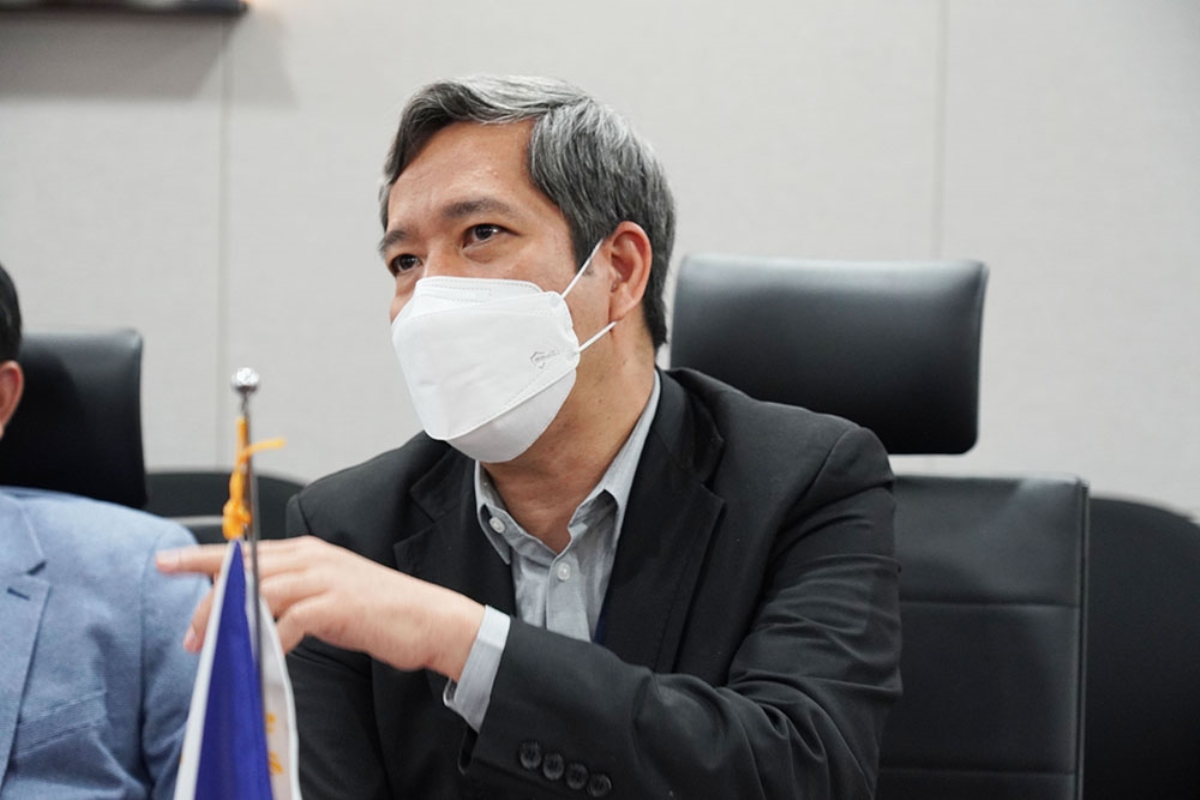 ▲ Mr. Alex, Head of CTU, in Discussion Session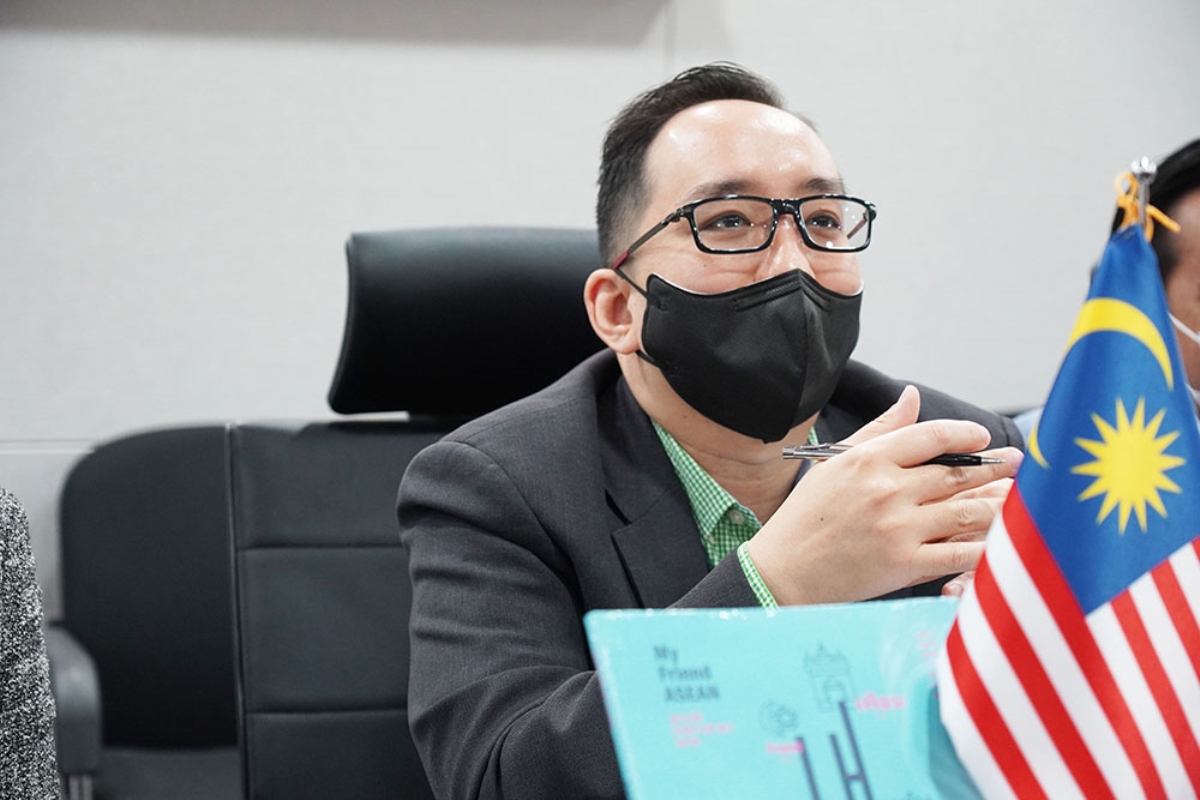 ▲ Mr. Joshua, Head of TIU, in Discussion Session
The ASEAN-Korea Centre organizes the School Tour and Youth Visit Program with the aim of raising the awareness of ASEAN and ASEAN-Korea partnership among youths from primary school to university level.
Under the Ministry of Education's initiative, 'Ggoomgil', the Centre has been offering the ASEAN School Tour programs that provide students, not only Korean but also students from all ASEAN Member States, with the opportunities to experience cultural aspects of ASEAN Member States and gives a glimpse of the potential career at an intergovernmental organization.
In the situation of COVID-19, the Centre is conducting the visit programs in strict compliance with the preventive measure guidelines and taking thorough disinfection and sterilization measures for each visit.
If you are interested in the Centre's visit programs, please contact the Centre via aseanhall@aseankorea.org or 02-2287-1177