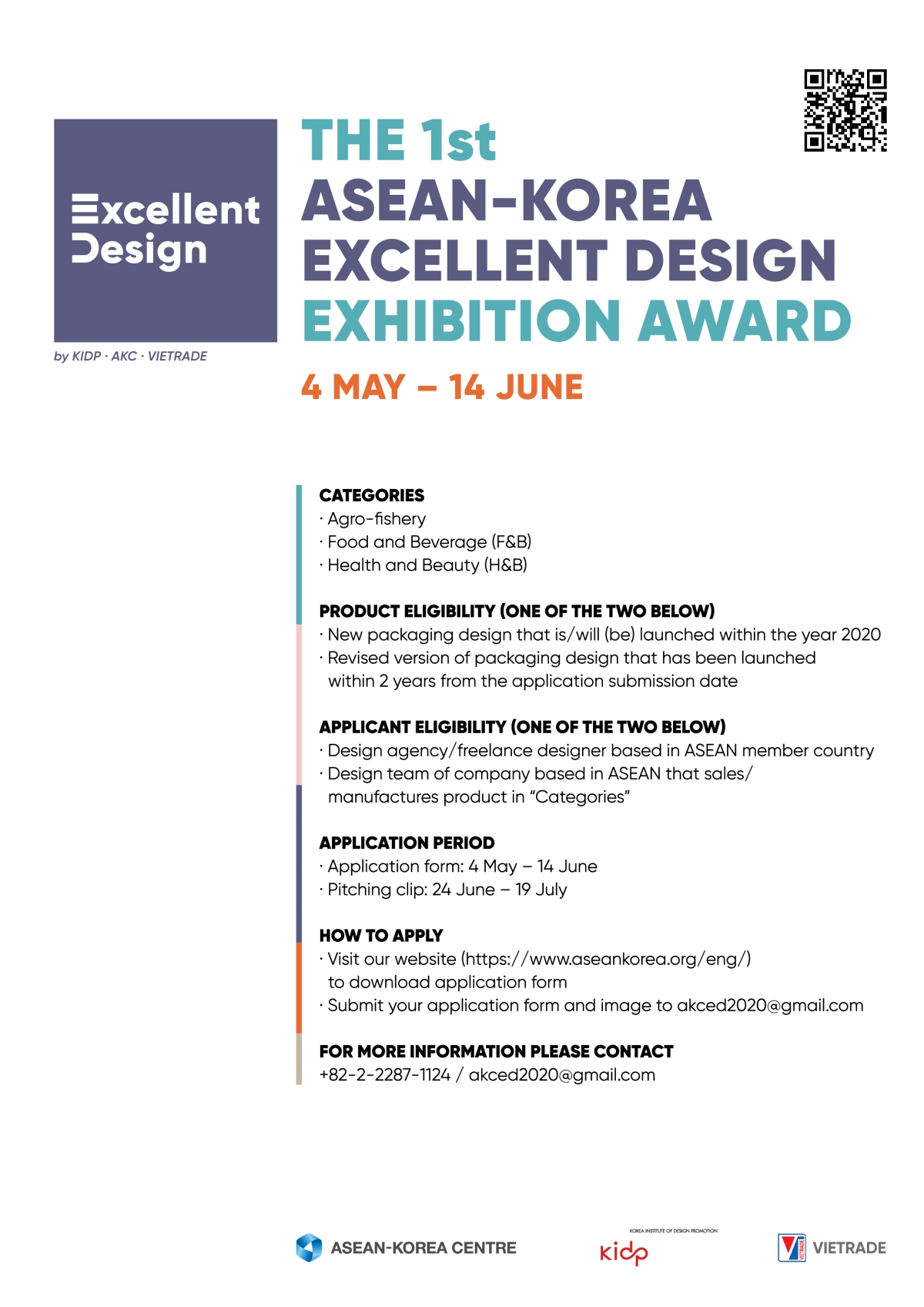 To expand ASEAN-Korea cooperation in the design industry, the ASEAN-Korea Centre (AKC), Korea Institute for Design Promotion (KIDP) and VIETRADE will organize the '1st ASEAN-Korea Excellent Design Exhibition Award.' The program consists of a contest, exhibition and workshop. The contest will be held online and is open to designers and innovators from 10 ASEAN Member States (AMS).
※10 ASEAN Member States: Brunei Darussalam, Cambodia, Indonesia, Lao PDR, Malaysia, Myanmar, Philippines, Singapore, Thailand, Vietnam
A. Categories
- Agro-fishery
- Food and Beverage (F&B)
- Health and Beauty (H&B)
B. Product Eligibility (one of the two below)
- Packaging design that is/will (be) launched within 2020 (until 31 Dec 2020)
- Revised version of packaging design that has been launched within 2 years from the application submission date
C. Applicant Eligibility (one of the two below)
- Design agency based in ASEAN member country
- Design team of company based in ASEAN that sales/manufactures product in "A. Categories"
※The program does not admit individuals and freelance designers
D. Evaluation Criteria ※Below criteria will be evaluated by design experts in Korea and ASEAN
- Attractiveness
- Creativity
- Durability
- Branding
- Sustainability
※Result of the evaluation will be kept confidential
E. Evaluation Process
1. Submit Application Form and image of design (email submission)
2. Submit a short video clip of design promotion (pitching clip, email submission)
3. Participate in the Award Ceremony in Hanoi, Vietnam in late August (submission of original design)
※Date of the Award Ceremony may change due to COVID 19
F. Submission Method
- Visit AKC website (https://www.aseankorea.org/eng/) to download guideline and application form
- Submit your application form and image at akced2020@gmail.com
G. Submission Period
- Application Form: Monday, 4 May 2020 ? Sunday, 14 June 2020 (6 weeks)
- Pitching Clip: Wednesday, 24 June 2020 ? Sunday, 19 July 2020 (3.5 weeks)
※Further information on the pitching clip will be provided to those who submit the application form
H. Workshop (TBC)
- Date: Tuesday, 25 August 2020
- Location: Hanoi, Vietnam
- Contents: Information sharing on packaging design trend and new technology, case study sessions in the area of F&B, H&B, etc.
※Roundtrip airfare and accommodation will be provided
I. Exhibition (TBC)
- Date: Wednesday, 26 August 2020 (for 1 month) -TBC
- Location: Vietnam-Korea Design Center, Hanoi, Vietnam
※Shipping fee will be provided
J. Award Ceremony (TBC)
Date: Wednesday, 26 August 2020 -TBC
Location: Hanoi, Vietnam
Prize: 1st (USD 1,000) / 2nd (USD 700) / 3rd (USD 500)
K. Timeline
Time
Program
Benefit/Prize
Note
4 May - 14 June
Submission of application form and image
-
Acceptance of max 10 applications per country (in the order of arrival)
24 June
Announcement of 1st round winners
Selected products will be exhibited in Hanoi for 1 month (applicants will be asked to send their design products to Hanoi. Shipping fee will be provided)
Selection of 5 applicants per AMS
24 June - 19 July
Submission of pitching clips
-
-
31 July
Announcement of 2nd round winners
Selected applications will receive the "ED" (Excellent Design) mark provided by the organizer and will be invited to Hanoi to participate in workshop, exhibition and award ceremony (airfare & accommodation to be provided)
Selection of 2 applicants per AMS
25 August
Workshop
-
Semi-finalists who passed the 2nd round
26 August
Exhibition
-
1st: USD 10002nd: USD 7003rd: USD 500
Award Ceremony
※Above timeline may change due to unexpected events.
L. Information Inquiry
Trade and Investment Unit of the ASEAN-Korea Centre
In-charge: Ms. Eunyoung Lee
- Email: akced2020@gmail.com
- Office: +82-2-2287-1124
- Website: https://www.aseankorea.org/eng/
***The program may be postponed depending on the spread of covid-19 pandemic***