On July 9, amid social distancing measures being raised to level 4, the ASEAN-Korea Centre hosted an online ASEAN School Tour program with 27 Magok Hanui Middle School students.
The online School Tour program began with a screening of the "Way to the ASEAN-Korea Centre" VR video, prepared for the students who were unable to visit the ASEAN Hall in-person. Lee Kyeong-a, Director of ASEAN Hall, welcomed the students who virtually visited the ASEAN Hall and proceeded with a brief introduction of ASEAN showcasing the video "ASEAN-Korea, We are Friends".
The program consisted of two presentations, one on ASEAN, international organizations, and ASEAN-Korea Centre by Director of ASEAN Hall, and the other on the history, culture, and language of Laos by Khambou Thavixay, Deputy Head of Culture & Tourism Unit.
Additionally, students enjoyed interactive activities such as the ASEAN Golden Bell Quiz and Q&A session. During the Q&A session, Alex Mallari Macatuno, Head of Culture & Tourism Unit also joined, and together with Khambou, introduced their respective countries. Similar to a talk show, the ASEAN officials and students enjoyed a highly entertaining on-line discussion, conversing on various topics including famous food, travel destinations, and students' travel experiences. Finally, the program concluded with the students crafting the Angkor Wat 3D puzzles we sent out in advance.
The following is a student's testimonial:
"The Q&A session with the ASEAN officials was fun. I enjoyed learning about the ASEAN cultures and also introducing our culture to the officials as well."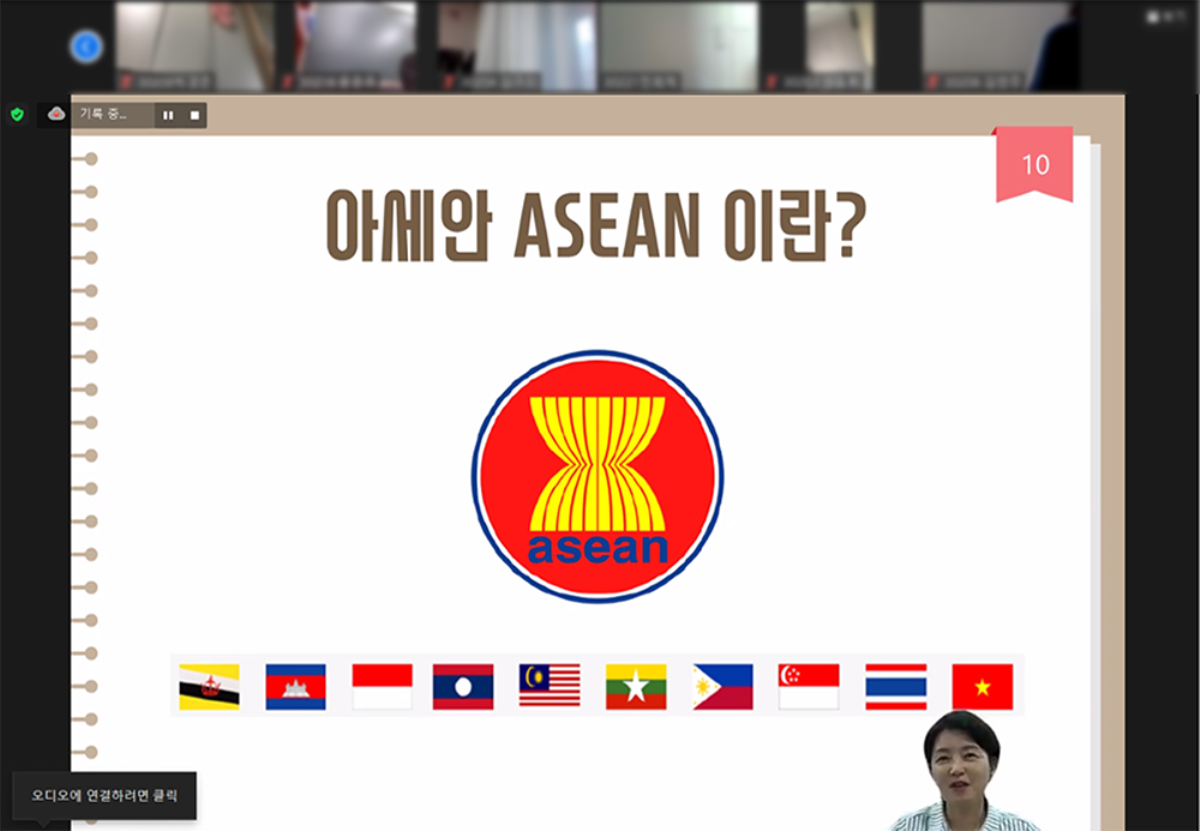 ▲ Lecture on ASEAN and International Organizations by Director of ASEAN Hall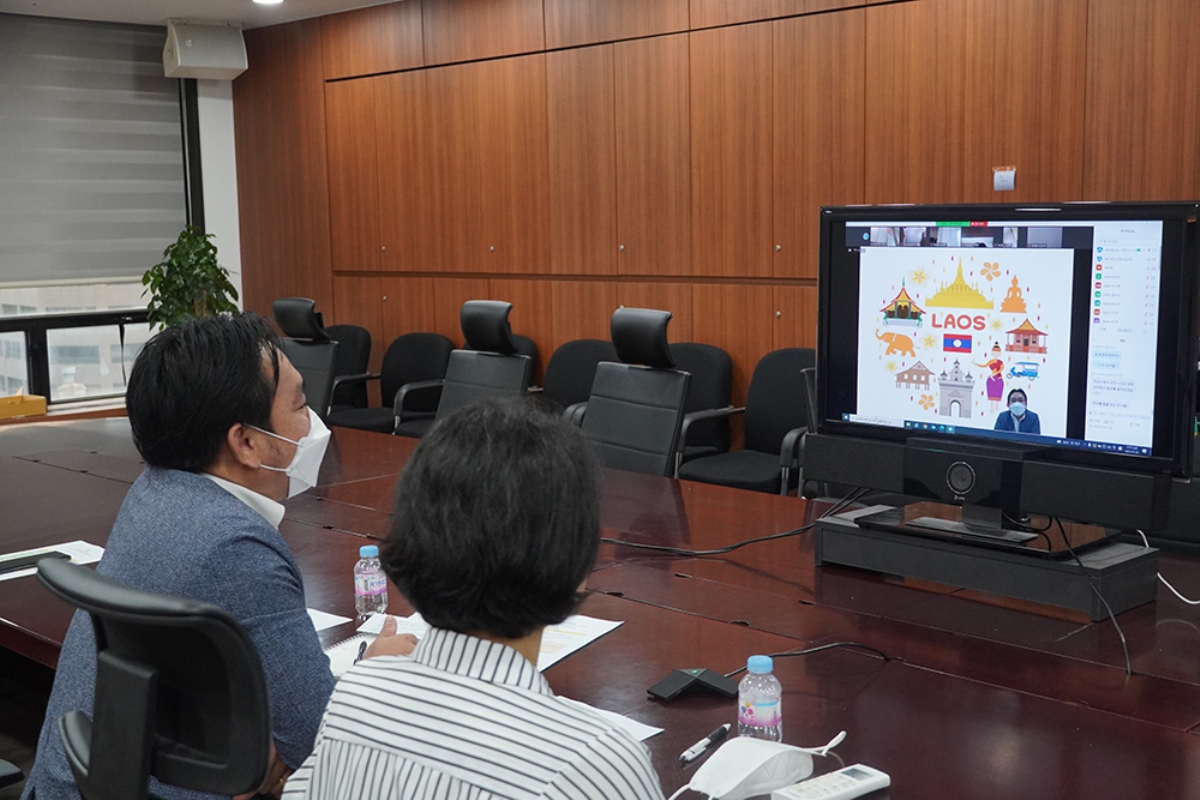 ▲ Special lecture on Laos by Khambou, Deputy Head of Development & General Affairs Unit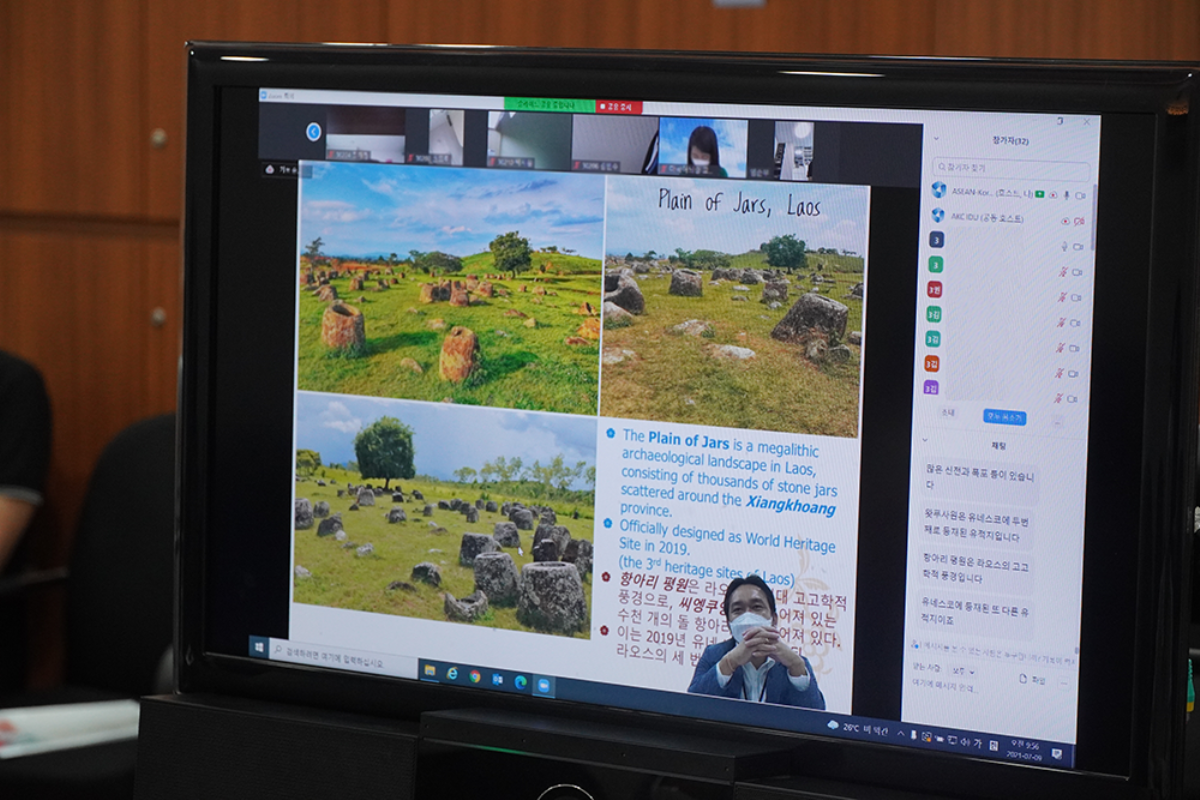 ▲ Introducing tourist attractions in Laos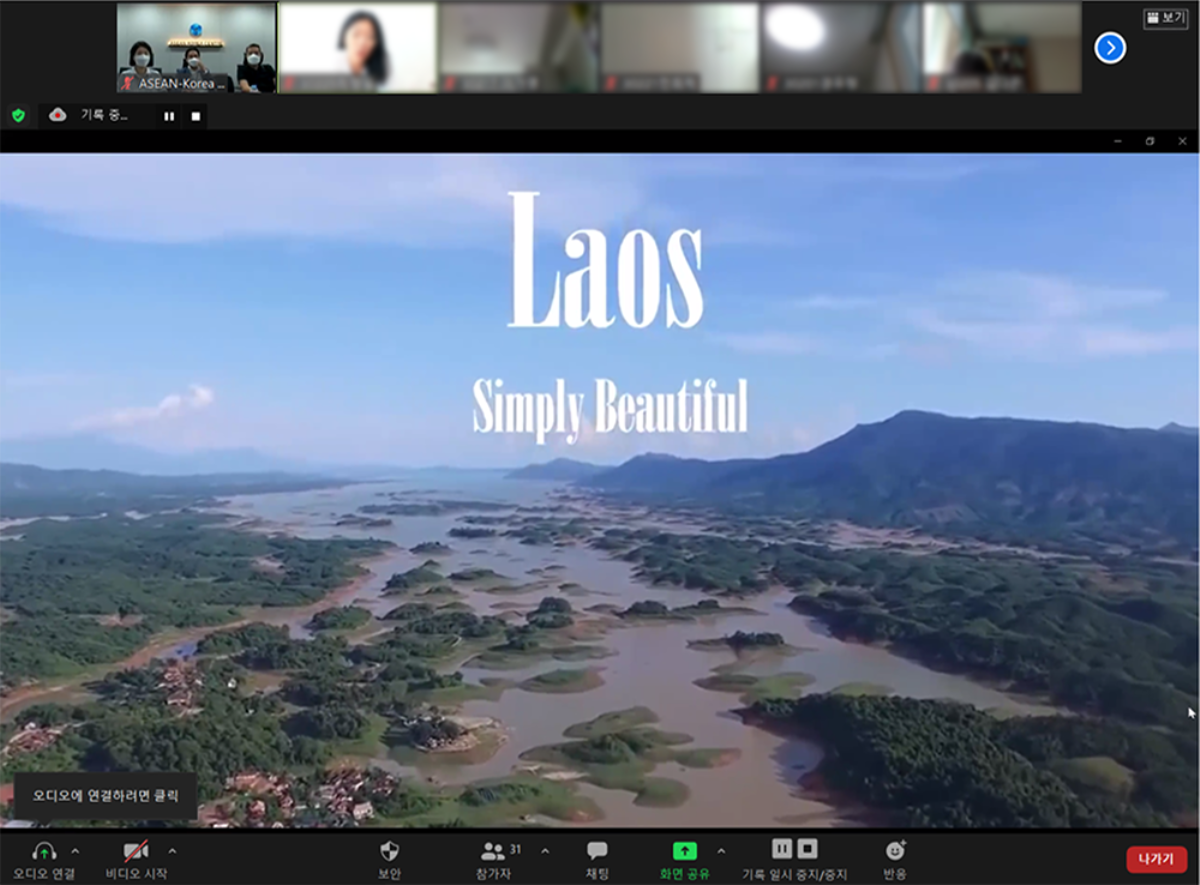 ▲ Screening of "Laos Simply Beautiful"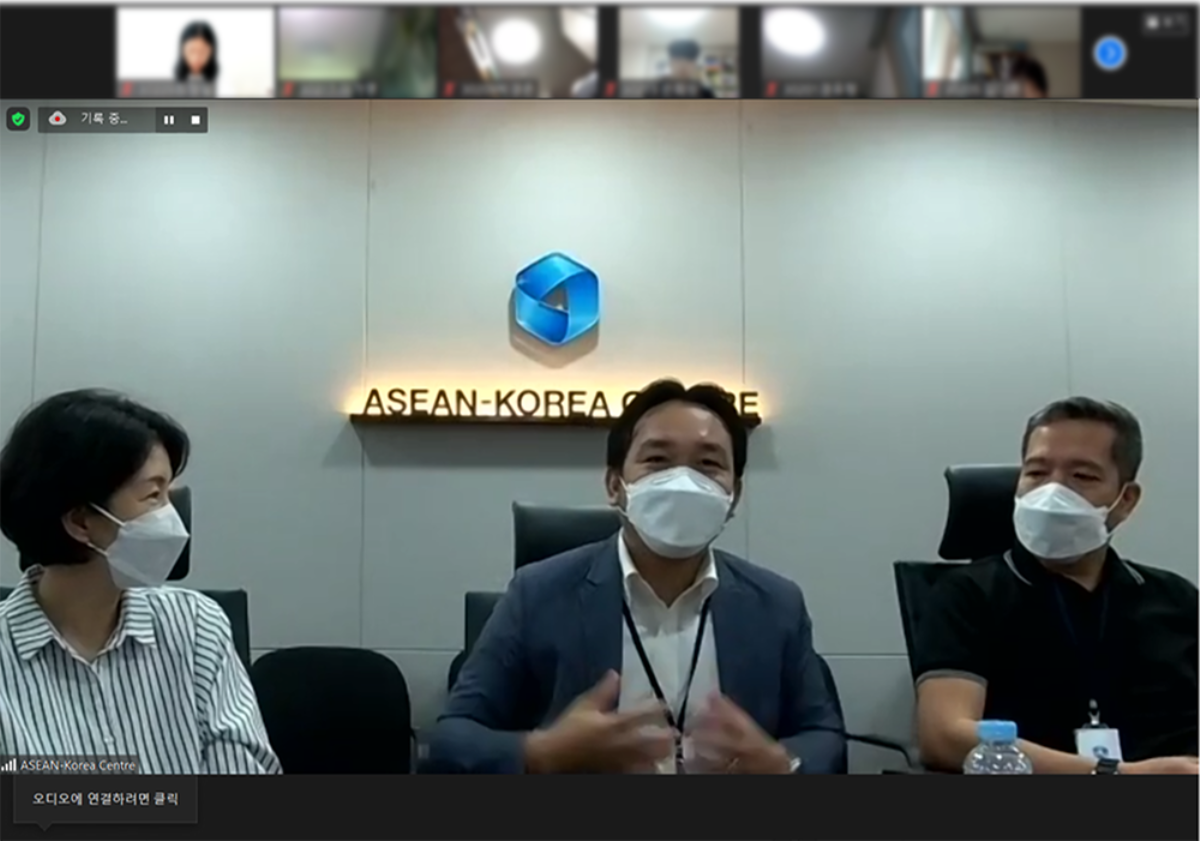 ▲ Q&A sessions with ASEAN officials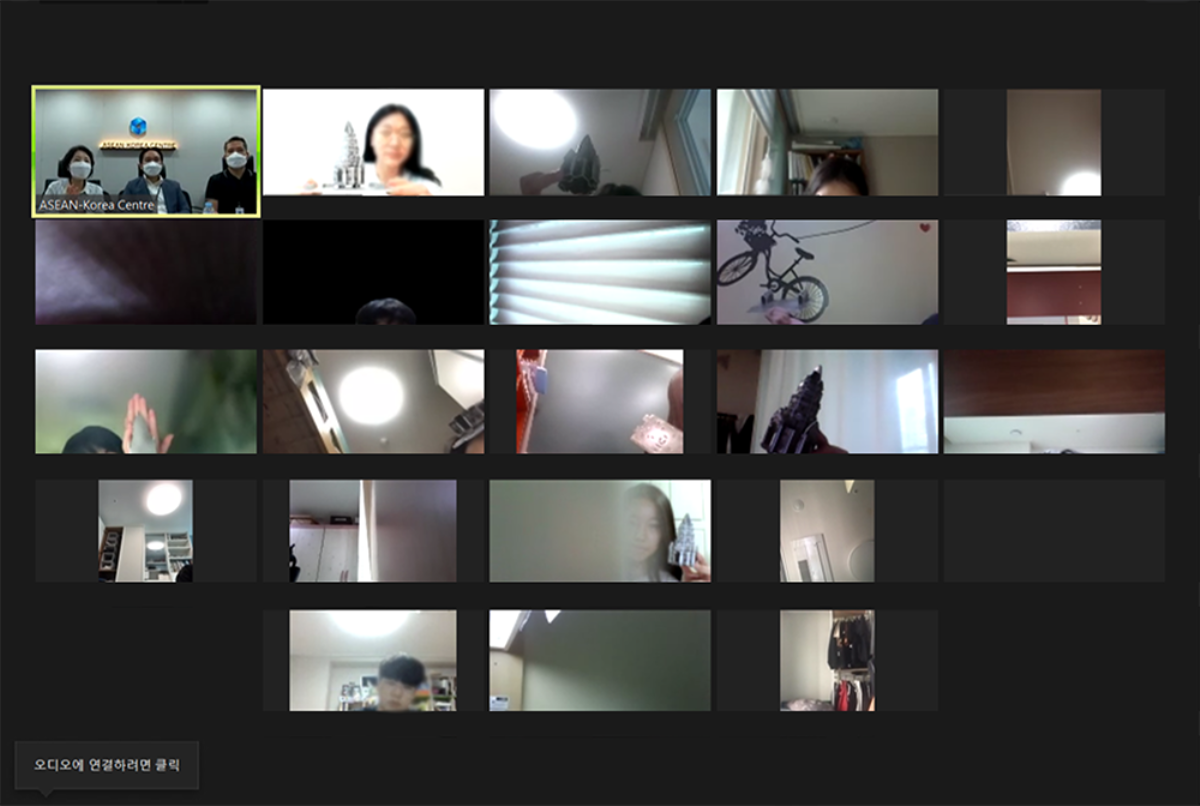 ▲ Group photo of students holding the Angkor Wat puzzles they made
The ASEAN-Korea Centre organizes the School Tour and Youth Visit Program with the aim of raising the awareness of ASEAN and ASEAN-Korea partnership among youths from primary school to university level.
Under the Ministry of Education's initiative, 'Ggoomgil', the Centre has been offering the ASEAN School Tour programs that provide students, not only Korean but also students from all ASEAN Member States, with the opportunities to experience cultural aspects of ASEAN Member States and gives a glimpse of the potential career at an intergovernmental organization.
In the situation of COVID-19, the Centre is conducting the visit programs in strict compliance with the preventive measure guidelines and taking thorough disinfection and sterilization measures for each visit.
If you are interested in the Centre's visit programs, please contact the Centre via aseanhall@aseankorea.org or 02-2287-1177