Guidelines for the 1st ASEAN-Korea Excellent Design (ED)
Exhibition Award
-Contest, Exhibition, and Workshop-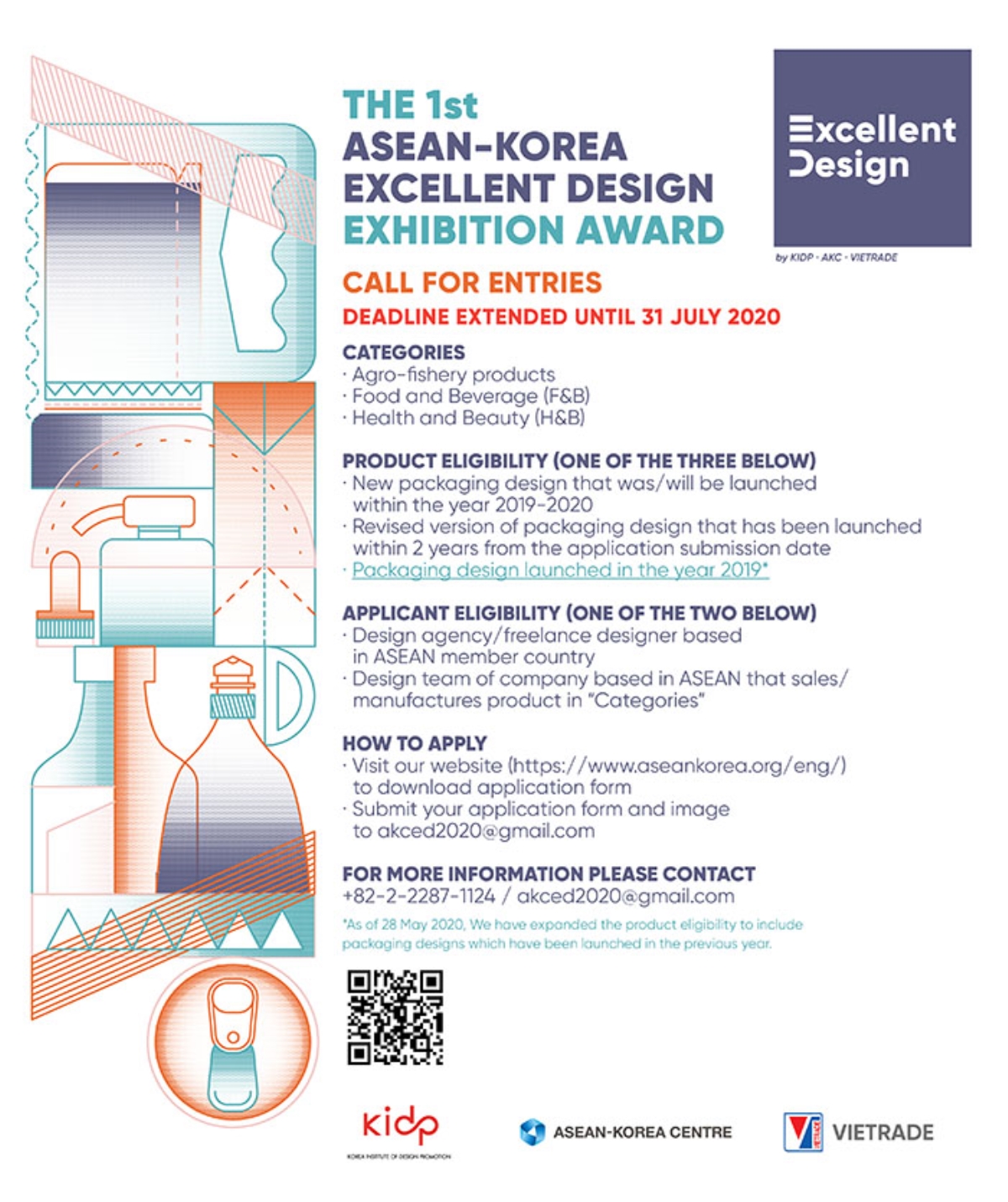 To expand ASEAN-Korea cooperation in the design industry, the ASEAN-Korea Centre (AKC), Korea Institute for Design Promotion (KIDP) and VIETRADE will organize the '1st ASEAN-Korea Excellent Design Exhibition Award.' The program consists of a contest, exhibition and workshop. The contest will be held online and is open to designers and innovators from 10 ASEAN Member States (AMS).
※10 ASEAN Member States: Brunei Darussalam, Cambodia, Indonesia, Lao PDR, Malaysia, Myanmar, Philippines, Singapore, Thailand, Vietnam
A. Categories
- Agro-fishery
- Food and Beverage (F&B)
- Health and Beauty (H&B)
B. Product Eligibility (one of the two below)
- Packaging design that is/will (be) launched within 2020 (until 31 Dec 2020)
- Revised version of packaging design that has been launched within 2 years (2018 ~ 2020) from the application submission date
C. Applicant Eligibility (one of the two below)
- Design agency / freelance designer based in ASEAN member country
- Design team of company based in ASEAN that sales/manufactures product in "A. Categories"
D. Evaluation Criteria ※Products will be evaluated by design experts in Korea and ASEAN
- Attractiveness
- Creativity
- Durability
- Branding
- Sustainability
※Result of the evaluation will be kept confidential
E. Evaluation Process
1. Semi-Finals: Submit application form and images of design (email submission)
2. Finals: Submit a short video clip that promotes your packaging design (pitching clip, email submission)
F. Submission Method
- Visit AKC website (https://www.aseankorea.org/eng/) to download guideline and application form
- Submit your application form and image at akced2020@gmail.com
G. Submission Period
- Application Form Deadline: Friday, 31 July 2020
- Pitching Clip: 25 Aug ? 6 Sept (the date may be subject to change)
※Further information on the pitching clip will be provided to those who submit the application form
H. Workshop (TBC)
- Date: 15 December 2020
- Location: Hanoi, Vietnam
- Contents: Information sharing on packaging design trend and new technology, case study sessions in the area of F&B, H&B, etc.
※Roundtrip airfare and accommodation will be provided
I. Exhibition (TBC)
- Date: 16 Dec - 2020 (for 1 month)
- Location: Vietnam-Korea Design Center, Hanoi, Vietnam
※Shipping fee will be provided
J. Award Ceremony (TBC)
Date: 16 December 2020
Location: Hanoi, Vietnam
Prize: 1st (USD 1,000) / 2nd (USD 700) / 3rd (USD 500)
K. Timeline
Time
Program
Benefit/Prize
Note
4 May - 31 July
Submission of application form and images
-
25 Aug
Announcement of semi-finalists

1) Participate in the exhibition for 1 month

2) Receive the "ED" (Excellent Design) certification provided by the organizer

3) Invitation to Hanoi to participate in workshop, exhibition and award ceremony (airfare & accommodation to be provided by organizer)

Selected applicants from the of 5 applicants per AMS
26 Aug - 30 Sept
Submission of pitching clips
-
21 Oct
Announcement of finalists

Selected applicants will receive the grand prizes

1st: USD 1000 (1 person)

2nd: USD 700 (2 persons)

3rd: USD 500 (3 persons)

15 Dec
Workshop
-
-
16 Dec
Exhibition
-
-
Award Ceremony
※Above timeline may change due to unexpected events.
L. Information Inquiry
Trade and Investment Unit of the ASEAN-Korea Centre
In-charge: Ms. Eunyoung Lee
- Email: akced2020@gmail.com
- Office: +82-2-2287-1124
- Website: https://www.aseankorea.org/eng/
***The program may be subject to change depending on the spread of covid-19 pandemic***