▲ MOU signing between the ASEAN-Korea Centre and the Asia Culture Center | ASEAN-Korea Centre, Seoul
ASEAN-Korea Centre and Asia Culture Center signed an MOU at the ASEAN-Korea Centre in Seoul on 16 August 2016.
Through this MOU, the two organizations will jointly develop and organize exchange programs between the 10 ASEAN Member States and Korea in the fields of culture and arts such as planning and management of exhibition and performing arts; co-development and management of culture and arts education and training programs; collaboration on mutual use of both side's resources and contents. Those activities are expected to contribute to promoting mutual understanding of ASEAN and Korea.
Also, as the ASEAN Culture and Tourism Fair, where 100 national performance teams from 10 ASEAN countries will perform ASEAN mask and drum dance will take place at the Asia Culture Center on 1 October, this MOU is expected to serve as a stepping stone for the two organizations to closely collaborate.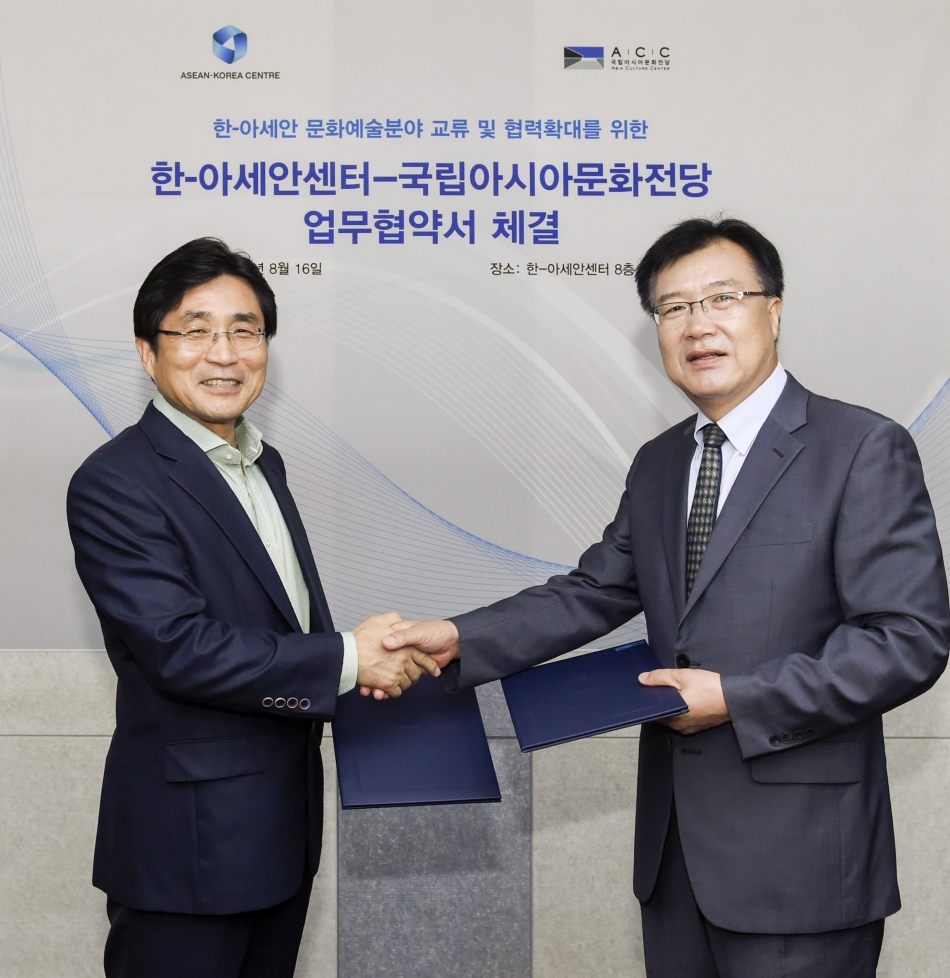 ▲ MOU signing between the ASEAN-Korea Centre and the Asia Culture Center | ASEAN-Korea Centre, Seoul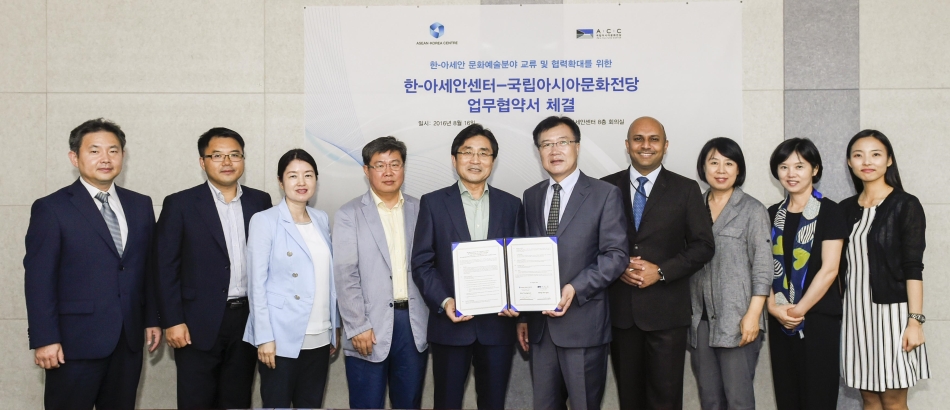 ▲ Group photo at the MOU signing ceremony | ASEAN-Korea Centre, Seoul
---
Related
[연합뉴스] 한-아세안센터, 국립아시아문화전당과 업무협약 (more)
[연합뉴스] 한-아세안센터, 국립아시아문화전당과 업무협약 (more)
[뉴시스] 한-아세안센터, 국립아시아문화전당과 업무협약 (more)
[뉴시스] 한-아세안센터, 국립아시아문화전당과 업무협약 (more)
[광주매일신문] 亞문화전당·한-아세안센터 업무협약 (more)
[전남매일] 한-아세안센터-문화전당 업무협약 (more)
[광남일보] 국립亞문화전당-한·아세안센터 업무협약 (more)
[광주일보] 아시아문화전당서 10월 '아세안 축제' 열린다 (more)
[중도일보] 한-아세안센터, 국립아시아문화전당과 업무협약 (more)
[한겨레신문] 8월 17일 알림 (more)