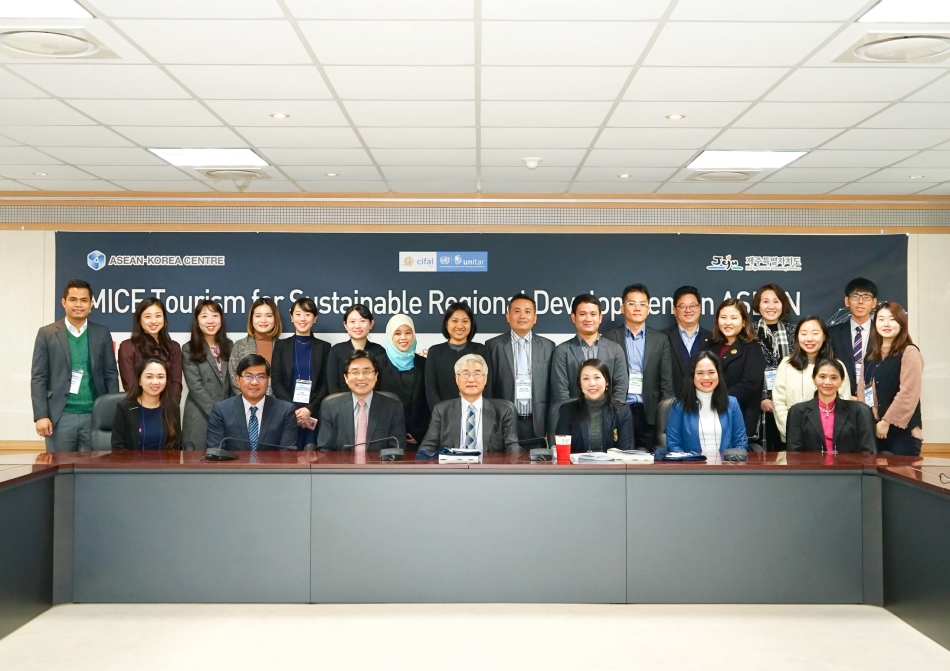 ▲ Workshop on MICE | Group Photo
The ASEAN-Korea Centre co-organized the Workshop on MICE Tourism for Sustainable Regional Development in ASEAN, together with the United Nations Institute for Training and Research (UNITAR) Centre International de Formation des Autorites et Leaders (CIFAL) Jeju, on 5 to 8 December 2017 at the Jeju International Training Center (JITC). Policy-makers, private sector representatives, academia, and professionals from 7 ASEAN Member States gathered in Jeju to exchange ideas and best practices for sustainable MICE tourism development in ASEAN.
The Opening Ceremony of the Workshop was held on 5 December, and Secretary General Kim Young-sun and the Director Ma Young-sam of the UNITAR CIFAL Jeju delivered remarks. During the four-day training program, experts gave lectures on various issues, challenges, and best-case scenarios, pertinent to sustainable and green practices in the MICE tourism industry. To enable in-depth learning, participants took part in policy implementation simulations, self-assessment exercises, group discussions, as well as country presentations. They also visited the Jeju Convention Center and other tourist sites in Jeju to gain a first-hand experience of Jeju's MICE destination and natural wonders.