The ASEAN-Korea Centre held the '2020 ASEAN Career Mentorship Program online from on September 26, 2020, to support ASEAN students' employment and career development in Korea. The program featured HR consultants, lawyers and ASEAN youth mentors who provided useful information and expert advice on job application and employment in Korea.
Information on Korean Work Visa
One of the most frequently asked questions by ASEAN students is about the Work Visa. So, the first part of the program focused on providing information on how to obtain a Work Visa as a foreigner when seeking employment in Korea. Mr. Hwang Sae-hoon, lawyer at the law firm CHS, introduced the types of and requirements for a Work Visa in detail, as well as information on 4 major national insurances that are required after employment in Korea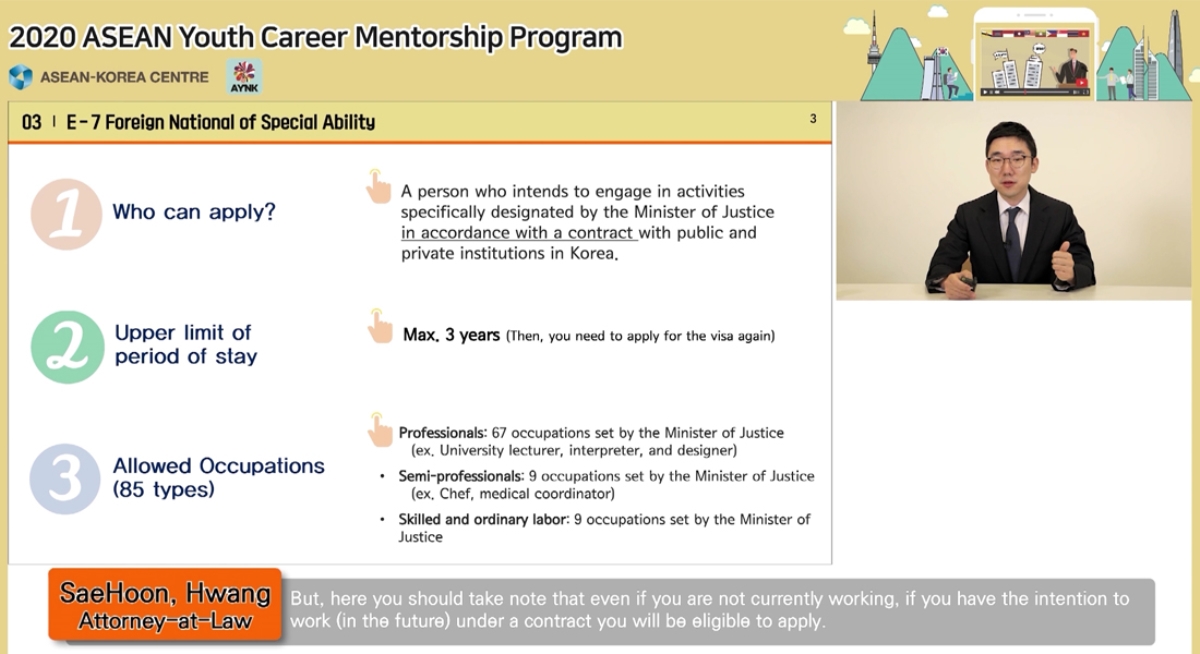 ▲ Mr. Hwang Sae-hoon, lawyer of Law firm CHS
Advice by CEO of Korean Company & HR Expert
Two experts-a representative of a Korean company and an HR expert-also took part in the program to give advice to ASEAN students seeking jobs in Korea. Mr. Ha Yoon-hong, CEO of the law firm Keumseong, shared his experience of hiring and working with ASEAN employees and talked about the qualifications and competencies he would look for when hiring ASEAN nationals for his company. Mr. Cha Jae-won, senior consultant at Trust One Consulting Group, talked about the rapidly changing Korean job market, some of the recent trends, and the Korean corporate culture. He also gave practical advice on how to quickly adapt to the Korean corporate culture which he said was also undergoing many changes in recent years.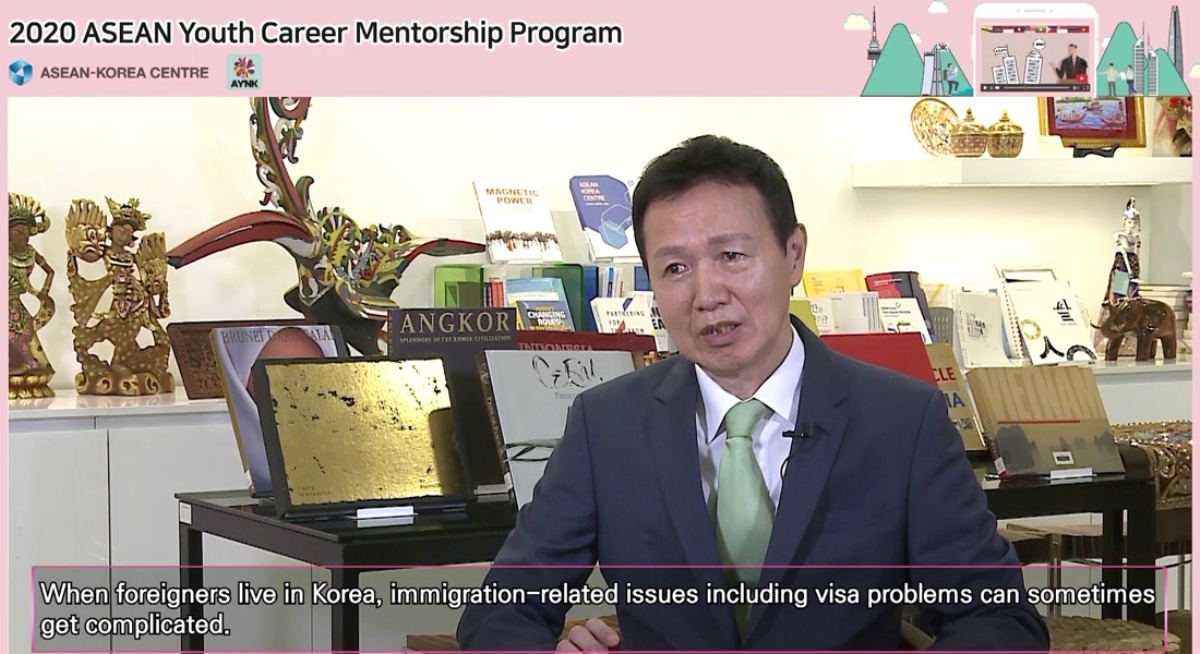 ▲ Mr. Ha Yoon-hong, Managing Partner of Law Firm Keumsung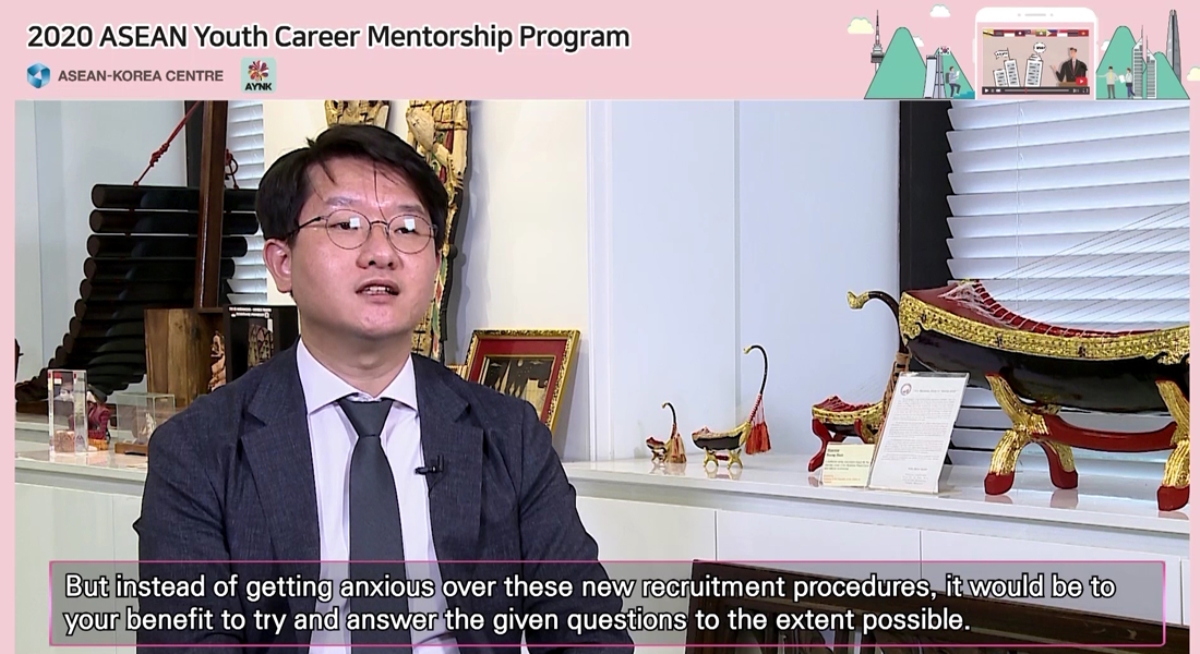 ▲ Mr. Cha Jae-won, Senior Consultant of Trust One Consulting Group
Roundtable Talk with ASEAN Youth Mentors
Lastly, ASEAN youth mentors, who have successfully begun their careers in Korea after graduating from Korean universities, shared their experiences about working in Korea. The five mentors from Lao PDR, Malaysia, Thailand, and Viet Nam talked about how they prepared for their job applications-writing resumes, preparing for interviews-and also about their work life in Korea-how they adapted to the new environment and fun episodes about their first days at work.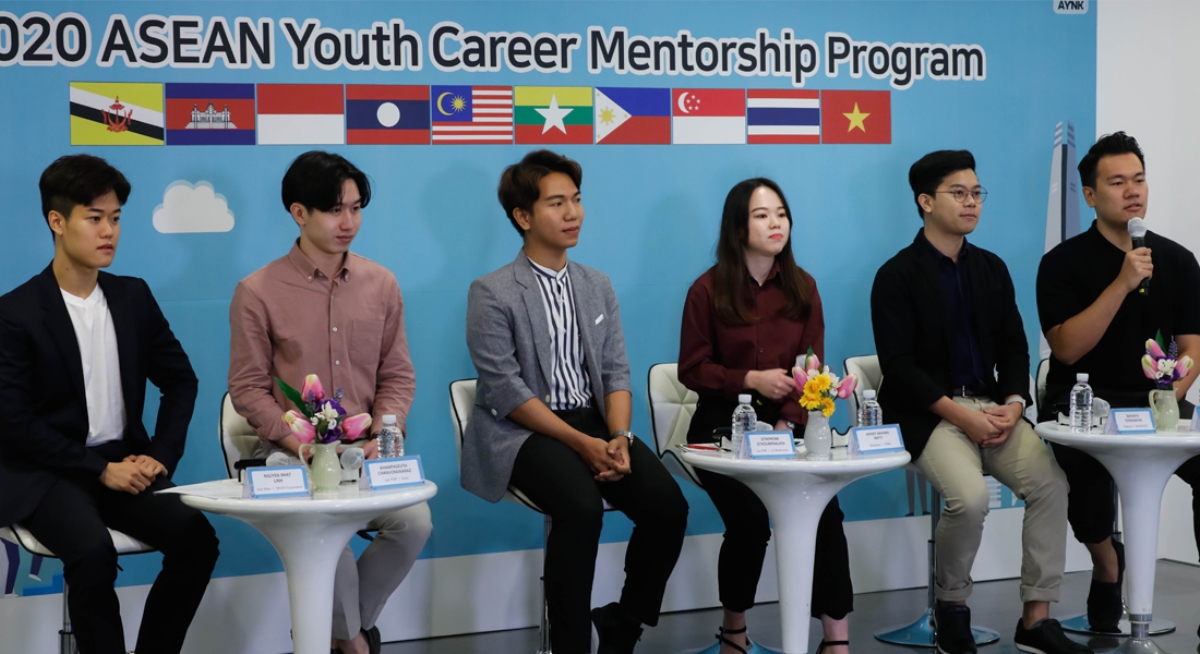 ▲ 5 Mentors. from left, Linh, Khampaseuth, Sithiphone, MC Wendy, Rachata, Jensen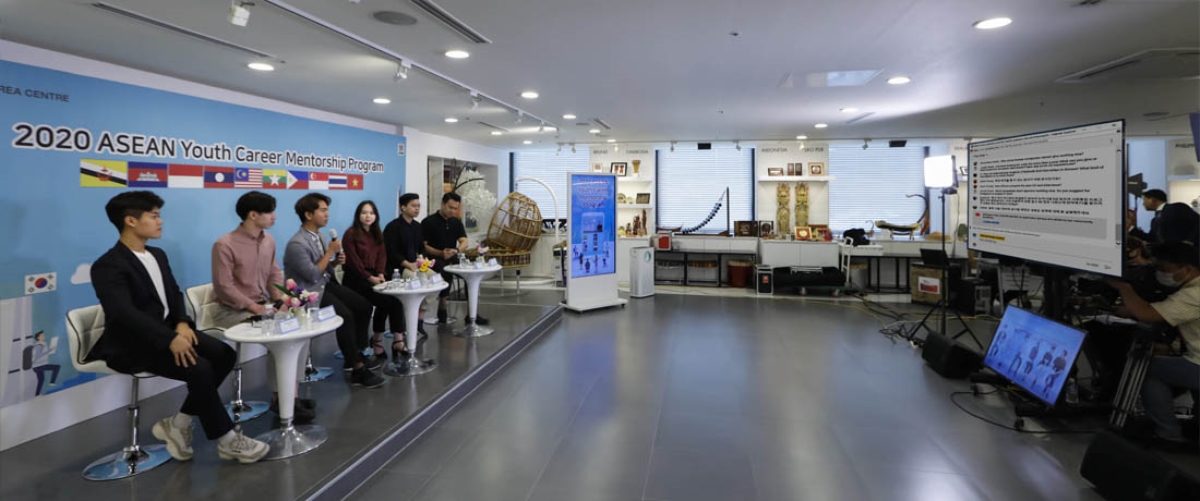 ▲ ASEAN Mentors answering questions from viewers in real time
The 2020 ASEAN Youth Career Mentorship, which was conducted live on YouTube, recorded a total viewership of around 450 ASEAN participants across the country. Some also joined from ASEAN countries. ASEAN-Korea Centre will continue to provide useful and practical information for ASEAN students with the aim of empowering and strengthening the capacities of ASEAN youths in Korea as the future leaders of ASEAN-Korea partnership.