Activities
HOME > Activities
Activities
2018 ASEAN Youth Career Mentorship Program 2018-03-31 |ASEAN Hall, ASEAN-Korea Centre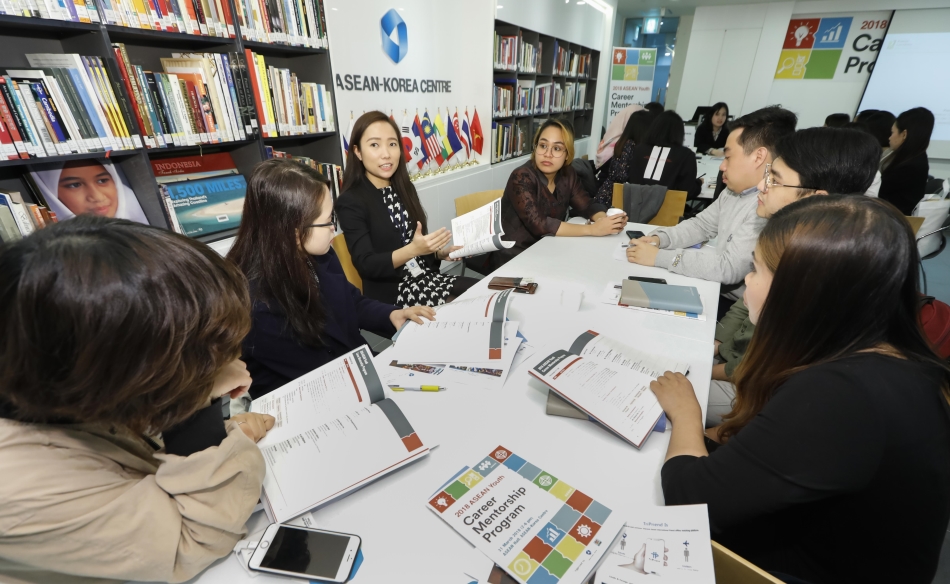 ▲ ASEAN mentors who are working in Korea sharing their experiences and tips with participants at the mentoring session l
ASEAN-Korea Centre, Seoul
The ASEAN-Korea Centre (Acting Secretary General Jang Yeunju Jessy) organized the 2018 ASEAN Youth Career Mentorship Program on 31 March 2018 at ASEAN Hall of the ASEAN-Korea Centre in Seoul, in cooperation with the ASEAN Youth Network in Korea (AYNK). The Mentorship Program aimed to deliver career information to around 80 ASEAN students who are interested in pursuing a career in Korea and to provide a venue for networking among ASEAN students and their mentors who are young ASEAN professionals working in Korea.
In the opening remarks, Jang Yeunju Jessy, Acting Secretary General of the ASEAN-Korea Centre noted that, "Korean President Moon Jae-in announced a policy vision toward ASEAN, dubbed 'New Southern Policy,' which is not limited to trade of goods but also aims to expand exchanges of technology, culture, and people between ASEAN and Korea. Recent statistics demonstrate deepening relations between the two regions, as the number of ASEAN students in Korea almost doubled in 2017 while E-7 visa holders from ASEAN who are working as professionals in Korea increased almost 20% in 2016. ASEAN students who studied in Korea are talents both Korean companies who seek to get into ASEAN market and ASEAN companies who want to come to Korean market are looking for. I hope this event will be valuable time and you have very productive discussion."
Nuporn Chantavarin, President of the ASEAN Youth Network in Korea (AYNK), co-organizer of the Program, noted that, "This event is the opportunity for us, ASEAN students in Korea, to pave our future path. I'd like to thank the ASEAN-Korea Centre for guiding us through."
At the mentoring session, participants chose a topic of their interest among Business & Finance, Engineering, Government and Non-Profit, and Sciences and Research, and learned about experiences of respective ASEAN mentors in job hunting, application process, corporate culture, as well as their personal experience and tips.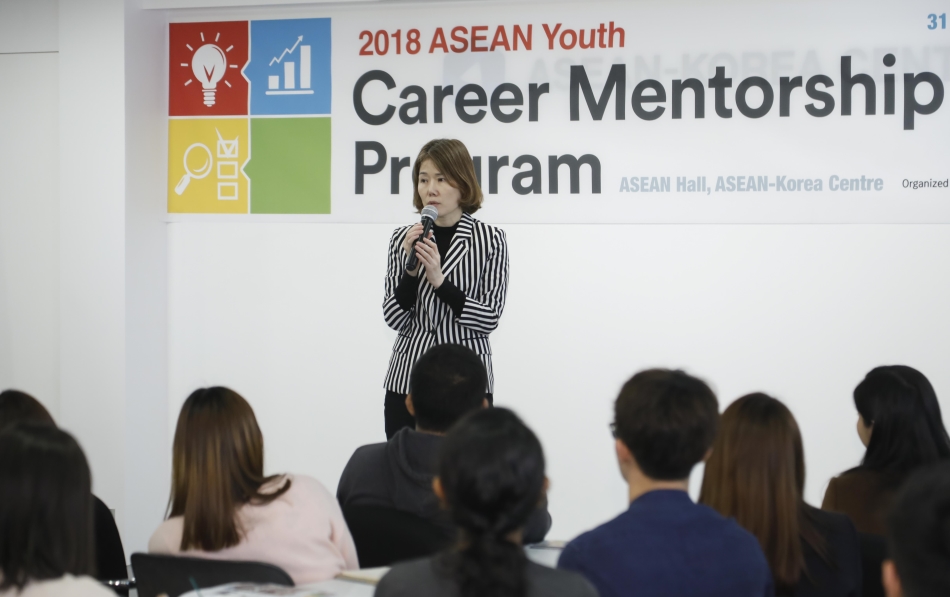 ▲ Jang Yeun-ju Jessy, Acting Secretary General of the ASEAN-Korea Centre delivering her opening remarks l ASEAN-Korea Centre, Seoul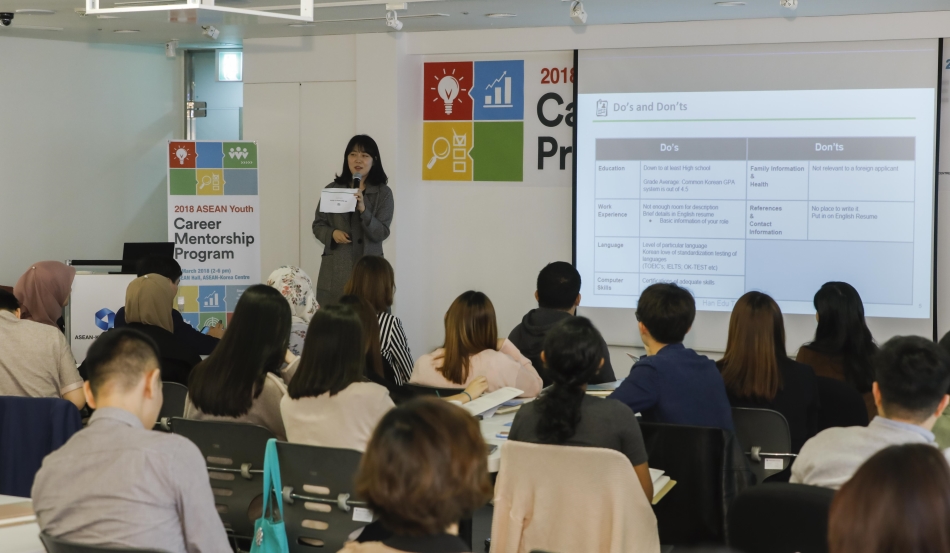 ▲ Session on basics of job application in Korea l ASEAN-Korea Centre, Seoul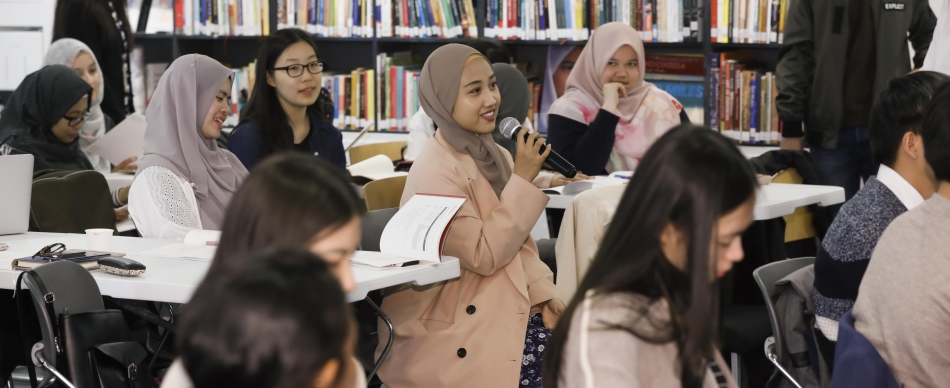 ▲ A participant asking a question to a lecturer l ASEAN-Korea Centre, Seoul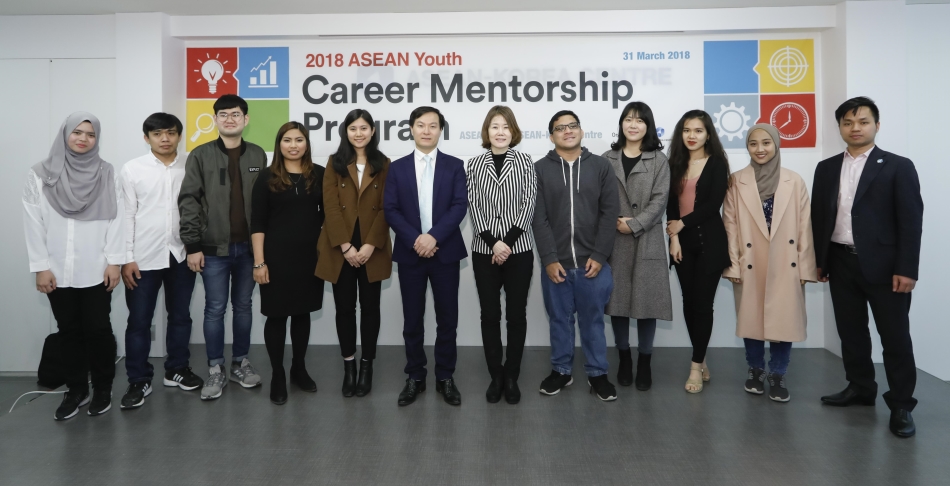 ▲ Officers of the ASEAN Youth Network in Korea (AYNK) with Jang Yeun-ju Jessy (Acting Secretary General of the ASEAN-Korea Centre, 7th from the left) and Phan The Thang (Deputy Head of Information and Data Unit of the ASEAN-Korea Centre, 6th from the left) l ASEAN-Korea Centre, Seoul