5 June 2018, the ASEAN-Korea Centre (AKC) signed a ´Memorandum of Understanding (MOU) for the ASEAN Mentorship for Entrepreneurs Network (AMEN)´ with the ASEAN Business Advisory Council (ABAC) of the Philippines and the Korea Federation of Small and Medium Enterprises (K-Biz). The AMEN was established in 2017, the year when the Philippines served as the ASEAN chair, to support capacity building of ASEAN Micro, Small, and Medium Enterprises (MSMEs) through mentoring from the business and academic experts.
The signing ceremony was held on the occasion of the Welcoming Luncheon and the Business Forum organized for the visiting Philippine President Rodrigo Duterte. It was attended by Lee Hyuk, Secretary General of the ASEAN-Korea Centre; Park Sung-taek, Chairman of K-Biz; Kim Jun-dong, Executive Vice Chairman of the Korea Chamber of Commerce and Industry (KCCI) from the Korean side, and President Duterte; Carlos Dominguez III, Secretary of Finance; Ramon Lopez, Secretary of Trade and Industry; and Raul S. Hernandez, the Philippine Ambassador to Korea from the Philippine side.
Based on the MOU, the ASEAN-Korea Centre, ABAC, and K-Biz will facilitate the connection between Korean mentors and AMEN mentees in the strategic areas of digital economy; trade and industry; and agripreneurship. In the long-term, they will strengthen partnership by developing more concrete programs such as Mentoring the Mentors; Integration of "3Ms," namely Mentoring, Market, Money; Women in Business; Young Entrepreneurs; and other areas that the three organizations may wish to jointly cover.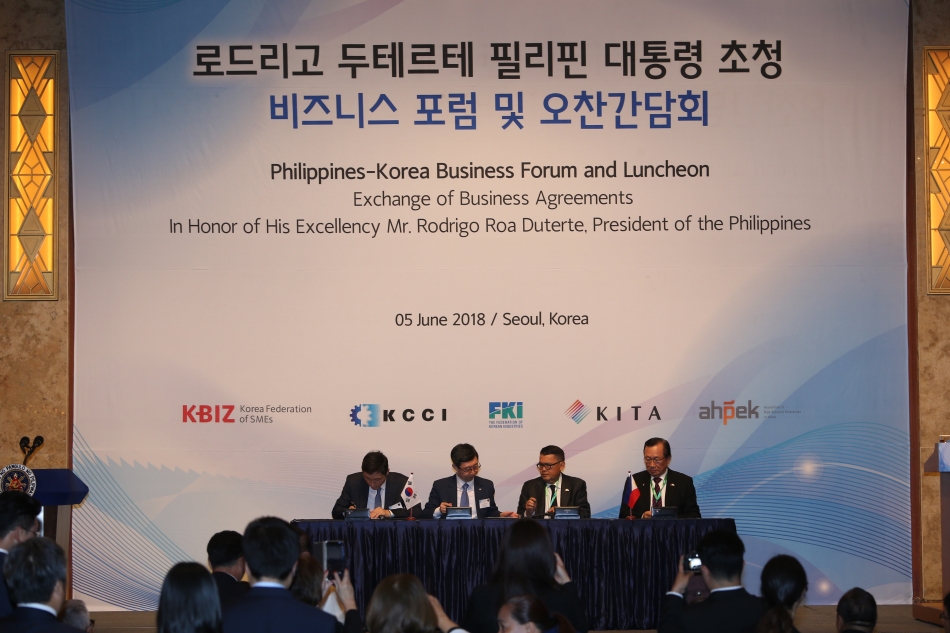 ▲ 「(From left to right) Lee Hyuk, Secretary General of the ASEAN-Korea Centre; Shin Young-son, Executive Vice Chairman of K-Biz; Jose Ma. A. Concepcion III, Co-Chair of the ASEAN Business Advisory Council (ABAC) and Founder of the ASEAN Mentorship for Entrepreneurs Network (AMEN); and George T. Barcelon, Council Member of ABAC are signing a ´Memorandum of Understanding for the ASEAN Mentorship for Entrepreneurs Network´ / Lotte Hotel, Seoul, Korea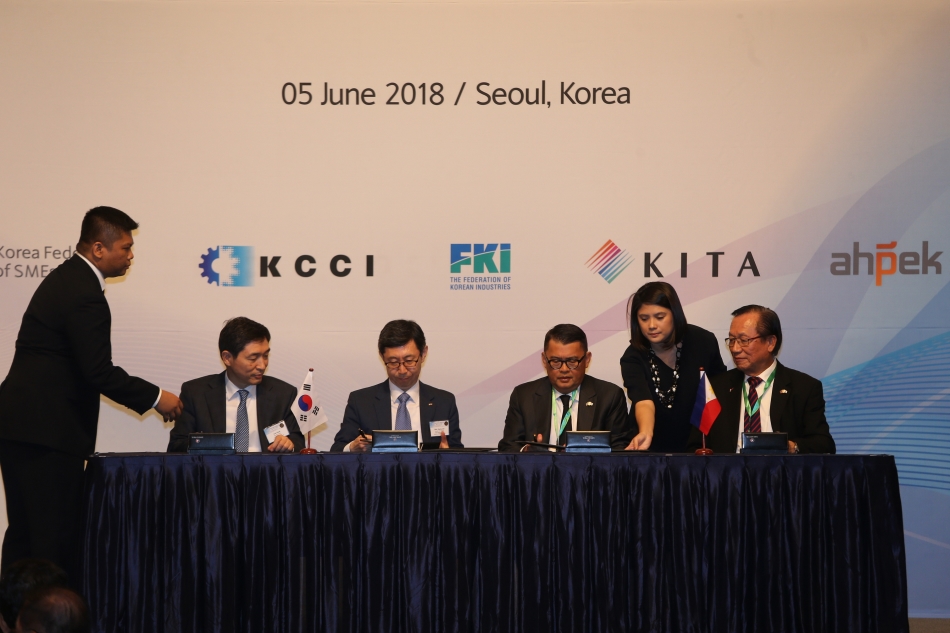 ▲ (From left to right) Lee Hyuk, Secretary General of the ASEAN-Korea Centre; Shin Young-son, Executive Vice Chairman of K-Biz; Jose Ma. A. Concepcion III, Co-Chair of the ASEAN Business Advisory Council (ABAC) and Founder of the ASEAN Mentorship for Entrepreneurs Network (AMEN); and George T. Barcelon, Council Member of ABAC are signing a ´Memorandum of Understanding for the ASEAN Mentorship for Entrepreneurs Network´ / Lotte Hotel, Seoul, Korea