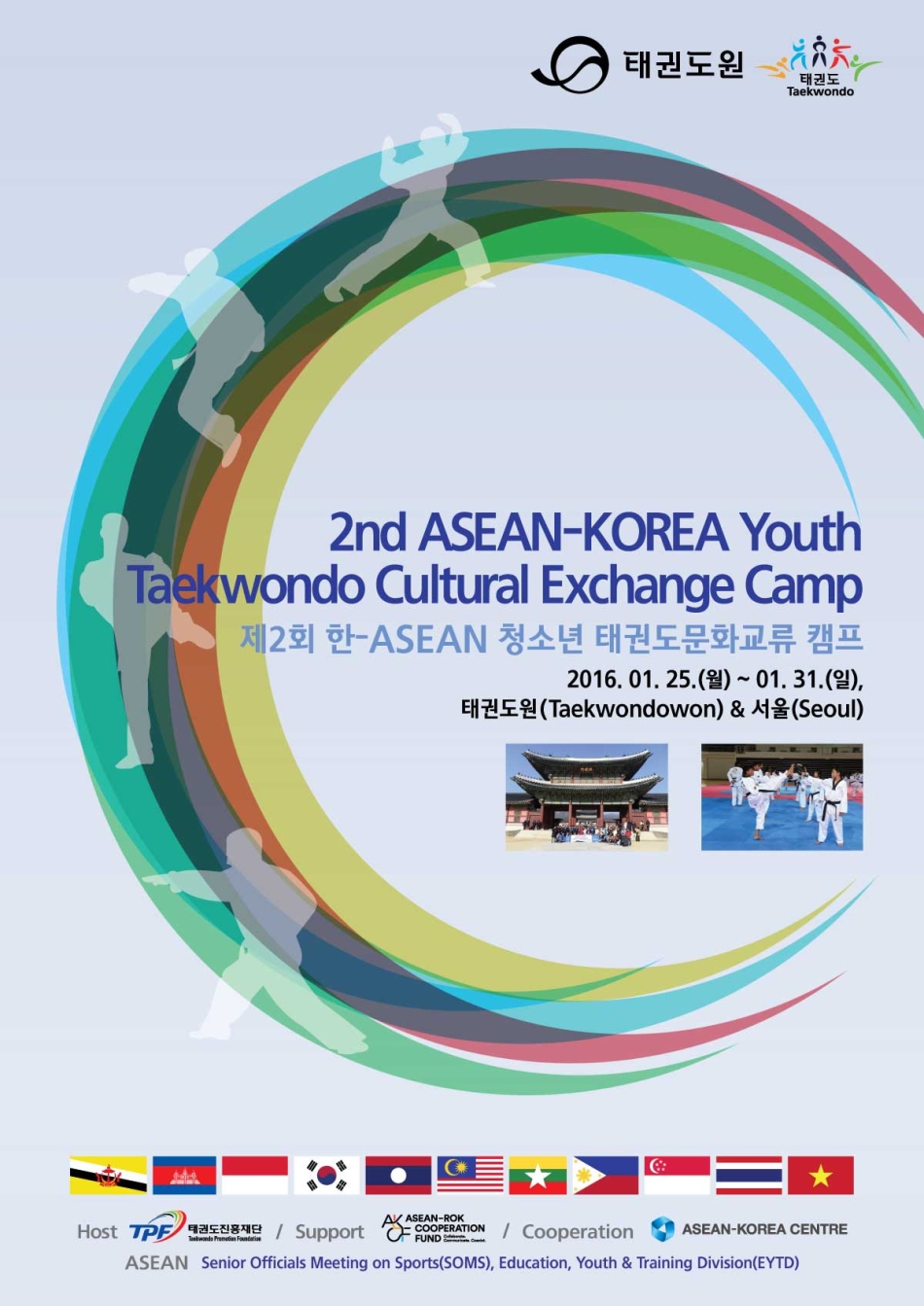 The ASEAN-Korea Centre will be organizing the 'ASEAN-Korea Youth Taekwondo Cultural Exchange Camp' in cooperation with the Taekwondo Promotion Foundation. We would like to request for your participation as a volunteer in the following program:
Date: 25-31 January 2016
Venue: Muju (Taekwondowon) and Seoul, Republic of Korea
Participants: 60 ASEAN Youth (13-18 years old) and 10 Korean Youth (16-18 years old)
Volunteers: 10 ASEAN students in Korea
Roles and Responsibilities:
1. Serve as a Team Leader for students
2. Participate actively in all activities
3. Provide Operational Assistance
4. (Optional) Contribute in promoting the Program
e.g. Create a video/article/blog materials based on your experience of the Program
Note: Transportation, meals and accommodation will be provided by the Centre.
A Certificate of Participation will be given to selected candidates.
How to Apply:
Online Application: http://tiny.cc/aktaekwondo
*Application Period will run from December 28, 2015 - January 13, 2016.
*Announcement of results will be on January 18, 2016.
*Orientation of the selected candidates will be held on January 20, 2016.
COME JOIN US AND LEARN SOME TAEKWONDO!
---
Concept Note
1. Background
● Taekwondo possess a culture which focuses on physical self defense and provides participants a sense of fellowship by completing the workshop/trainings together. Taekwondo training programs can effectively contribute in bringing together the youth of ASEAN and Korea, helping them build character and understand the importance of cooperation.

● Taekwondo training programs will provide a good opportunity for participants of ASEAN and Korea to be part of a global network, through the online community platform of the Taekwondo programs, to foster and sustain a long-term relationship with each other.
2. Objectives
● To further enhance genuine friendship and strengthen networks among the youth of ASEAN and Korea through cultural exchange and Taekwondo programs

● To raise awareness on the relationship of ASEAN and Korea for the youth of ASEAN and Korea
3. Outline of the Program
● Date: 25 - 31 January 2016

● Venue: Muju(Taekwondowon) and Seoul, Republic of Korea

● Participants: 80 Korean and ASEAN youth *
1) ASEAN-based students: 60 persons (Youths who are 13~18 years of age from 10 ASEAN member nations)

2) Korea-based students: 20 persons (10 Korean youths who are 16~18 years of age in High School, 10 ASEAN university students residing in Korea)
● Activities: Taekwondo Workshop, Special Lectures, ASEAN Fashion Show, Site-visit to ASEAN-Korea Centre and MBC World etc.

● Organizer: Taekwondo Promotion Foundation

● Co-operator: ASEAN-Korea Centre

● Sponsor: ASEAN-ROK Future Oriented Cooperation Project Fund

● Language: English
---
Programs Contents & Schedule (Tentative)
Date / Time
Details
Venue

25 Jan
(Day 1)

00:00~18:00
- Arrive at Incheon Int Airport (Move to Taekwondowon)
Taekwondowon Muju, Korea
20:00
- Admission Ceremony and Event Orientation (Introduction of Event)

26 Jan
(Day 2)

09:00~18:00
- Taekwondowon Programs①②
(Tour of Taekwondowon, Basic postures of taekwondo)
18:00~20:00
- Welcome Dinner

27 Jan
(Day 3)

09:00~16:00
- Taekwondowon Programs③④
(Taekwondo Etiquette, Experience Center Yap!)
16:30~17:30
- Special Lecture - ASEAN Nations Ambassador to Korea
(Topic : Future of adolescents exchange in ASEAN-KOREA)
19:00~21:00
- Movie Screening

28 Jan
(Day 4)

09:00~16:00
- Taekwondowon Programs⑤⑥
(Together Taekwondo, Community Games)
16:30~17:30
- Introduce to Culture of ASEAN-KOREA / Presentation
19:00~21:00
- Practice of Cultural Exchange Event

29 Jan
(Day 5)

09:00~16:00
- Muju Resort Ski experience
16:00~21:00
- View Taekwondo Demonstration & Culture Exchange Event
(K-tiger, ASEAN Music and Fashion Show etc.)

30 Jan
(Day 6)

08:00~11:30
- Move to Seoul
Seoul, Korea
12:00~13:00
- Site-visit of ASEAN-Korea Centre
- Closing Ceremony (Screen Highlights Movie, Award, Photo)
13:00~14:00
- Closing Reception (Hosted by AKC) (Gwanghwamun Seven Springs)
15:00~17:00
- Site-visit of MBC World (Hallyu Theme Park)
18:00~19:00
- Namsan Tower (Observatory)
19:00~20:00
- Dinner
20:00~21:00
- Free time (Shopping in Myeongdong)
21:30
- Hotel check-in (Hyundai Residence)

31 Jan
(Day 7)

08:00~15:00
- Hotel check-out and departure