Emblem & Slogan Contest for MEKONG-ROK Cooperation
What comes to your mind when you think of the Republic of Korea?
Probably the first thing that pops into your head is the Korean wave, or more specifically K-pop or K-beauty.
But there's one more thing that Korea can offer with just as much enthusiasm.
That is the New Southern Policy.
Since President Moon Jae-in declared the launch of the New Southern Policy in 2017, the Korean government has been working hard to strengthen its partnership with Southeast Asian countries with the goal of establishing a "people-centered community of peace and prosperity."
Against this backdrop, Korea has been particularly focusing on the Mekong countries, which have emerged as key partners in implementing the New Southern Policy due to the close and long friendship and infinite potential for cooperation, and has been putting in considerable efforts to build stronger ties with them.
Thanks to joint efforts between Korea and the Mekong countries, the first Korea-Mekong Summit was held in Busan last November. It was a very meaningful opportunity for the leaders of the six countries to reaffirm deep bonds and to discuss various cooperation measures for achieving common prosperity.
This year, in the hope of further solidifying the friendship and trust between Korea and Mekong countries, the Ministry of Foreign Affairs of the Republic of Korea is holding a contest to find an emblem and slogan that best captures the spirit of Mekong-ROK cooperation.
Contest period
Monday, 17 August - Sunday, 6 September 2020 (3 weeks)
Applicant eligibility
Nationals of the Republic of Korea and Mekong countries
Contest details
- Emblem should be an image and slogan is limited to 1-3 phrases
- Both should symbolize the cooperative ties between Korea and Mekong countries, deliver a future-oriented message, and be concise and catchy. Please refer to the following information when creating your emblem or slogan.
* Example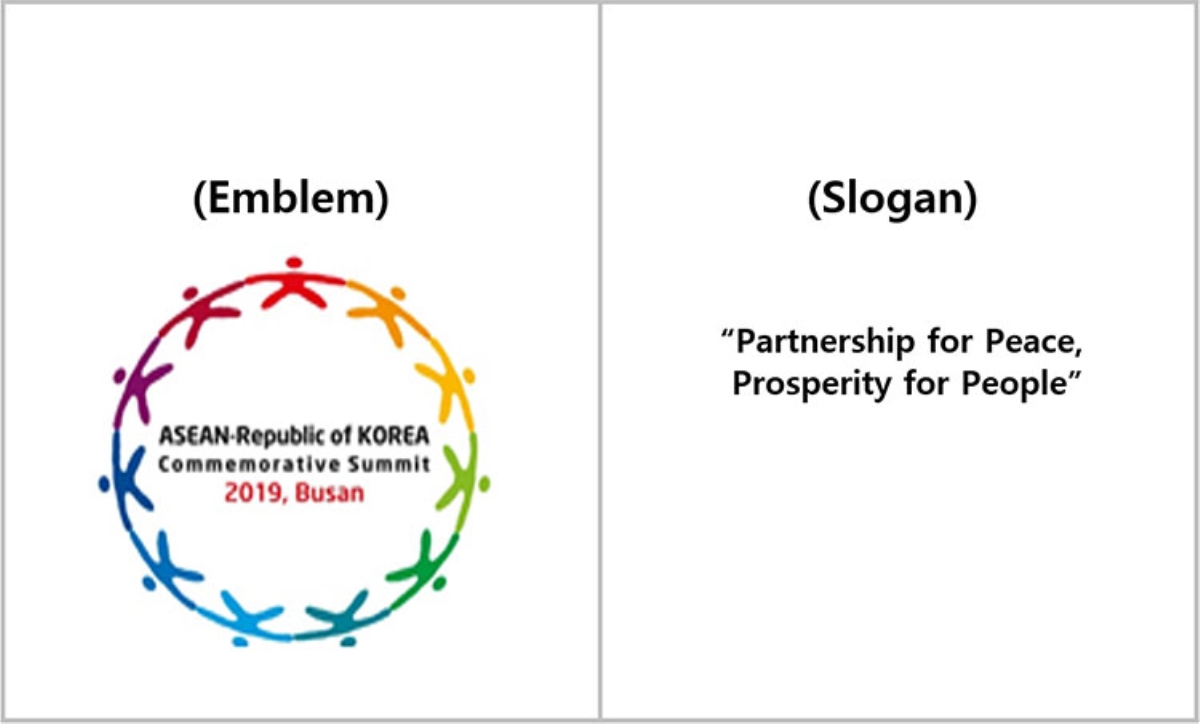 ** Reference
■ The ROK-Mekong Vision
It is a vision announced by President Moon Jae-in to promote cooperation between Korea and Mekong countries and lays out prosperity based on sharing experience, sustainable growth, and peace and co-prosperity in East Asia as the three target areas for achieving common prosperity with Mekong countries .
■ The Han-Mekong River Declaration for Establishing Partnership for People, Prosperity and Peace
Announced by President Moon Jae-in and the heads of state of Mekong countries, it is a key deliverable of the first Mekong-ROK Summit. The declaration specifies seven areas of cooperation based on the three pillars of the ROK's New Southern Policy - people, prosperity, and peace. The seven areas are (ⅰ) culture and tourism, (ⅱ) human resources development, (ⅲ) agriculture and rural development, (ⅳ) infrastructure, (ⅴ) information and communication technology, (ⅵ) environment, and (ⅶ) non-traditional security challenges.
Submission
You must submit either an emblem or a slogan using the attached Entry Form.
* Submit your entries to southeastasia2@mofa.go.kr along with the attached Consent Form for Collection and Use of Personal Information. (You can submit an emblem and a slogan at the same time, but only one entry for each.)
Prizes
- Frist-Place Winners : 3,000,000 Korean Won (equivalent to appr. USD 2,500)
(1 person respectively / 2 in total)
- Second-Place Winners : 300,000 Korean Won (equivalent to appr. USD 250)
(2 people respectively / 4 in total)
Announcement of winners
Winners will be notified individually.
* The winning emblems and slogans will be used for official events held by the ROK and five Mekong countries, particularly for promotional activities involving posters, printed materials, online content, banners, and letterheads.
Be Aware
- The Ministry of Foreign Affairs of the ROK has full intellectual property rights and authority to use the winning emblems and slogans.
- The Ministry may decide to use only parts of the winning emblems and slogans or make modifications
where necessary for certain purposes.
- If there are more than one entry with the exact same emblem or slogan and that emblem or slogan is chosen as the winner, only the entry that was submitted first will be considered as the winner.
Inquiries
If you have any inquiries, please contact the ASEAN and Southeast Asian Affairs Bureau of the Ministry of Foreign Affairs, Republic of Korea at southeastasia2@mofa.go.kr.
Attached Files
1. Entry Forms
2. Consent Form for Collection and Use of Personal Information
3. Fast Facts about Mekong-ROK Cooperation