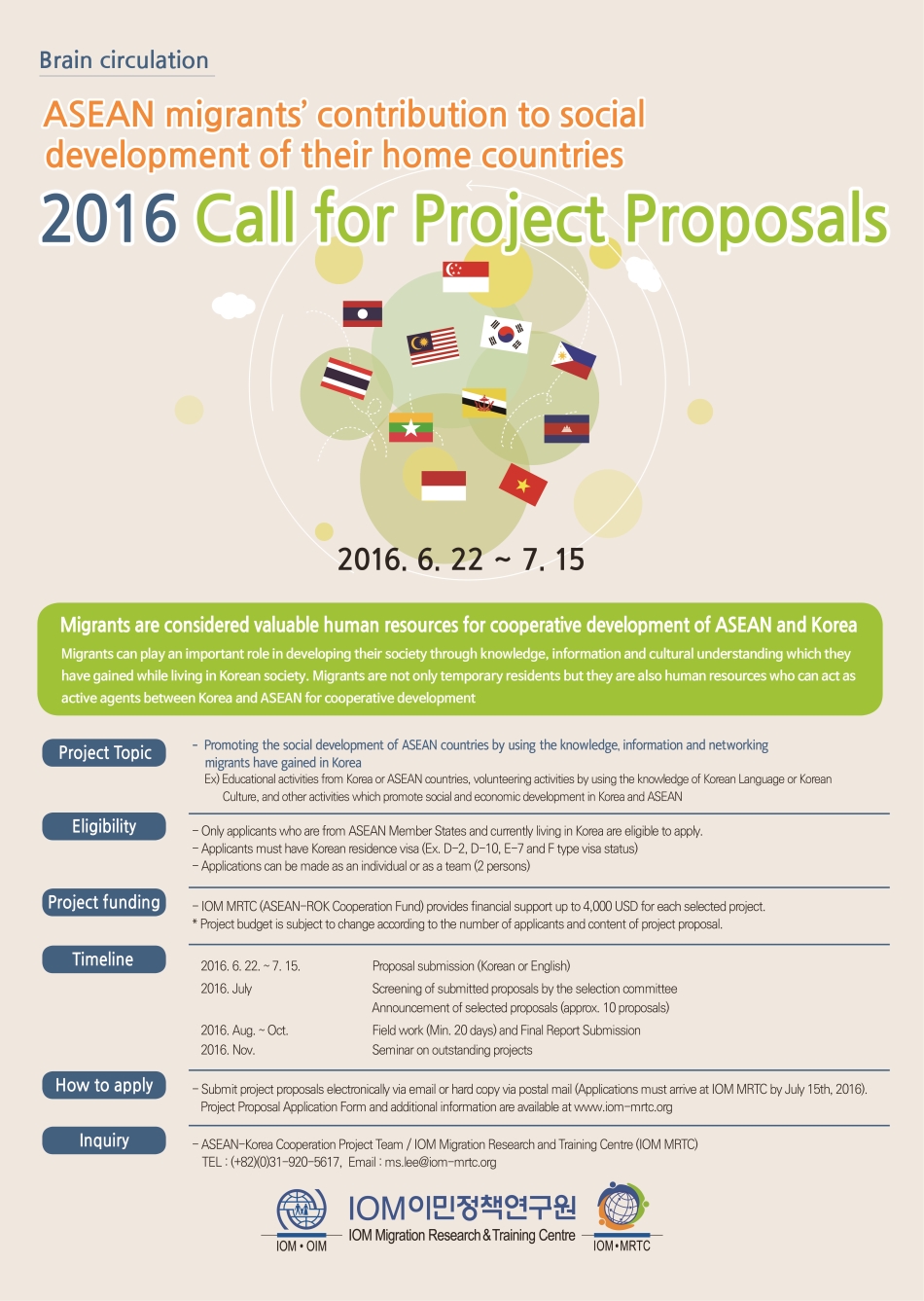 2016 Call for Project Proposals
ASEAN migrants' contribution to social development of their home countries
Migrants are considered valuable human resources for cooperative development of ASEAN and Korea.
The numbers of ASEAN migrants have been increasing in Korea recently and relations between ASEAN and Korea have been tightening than ever. Migrants can play an important role in developing their society through knowledge, information and cultural understanding which they have gained while living in Korean society.
Migrants are not only temporary residents but they are also human resources who can act as active agents between Korea and ASEAN for cooperative development. Many countries are working closely to develop migration policy through creative ideas of migrants. Korea is no longer exception from that trend.
IOM Migration Research and Training Centre (IOM MRTC) supports to bring out the ideas for cooperative development of ASEAN and Korea. The Centre would like to encourage many ASEAN migrants residing in Korea to apply for this project.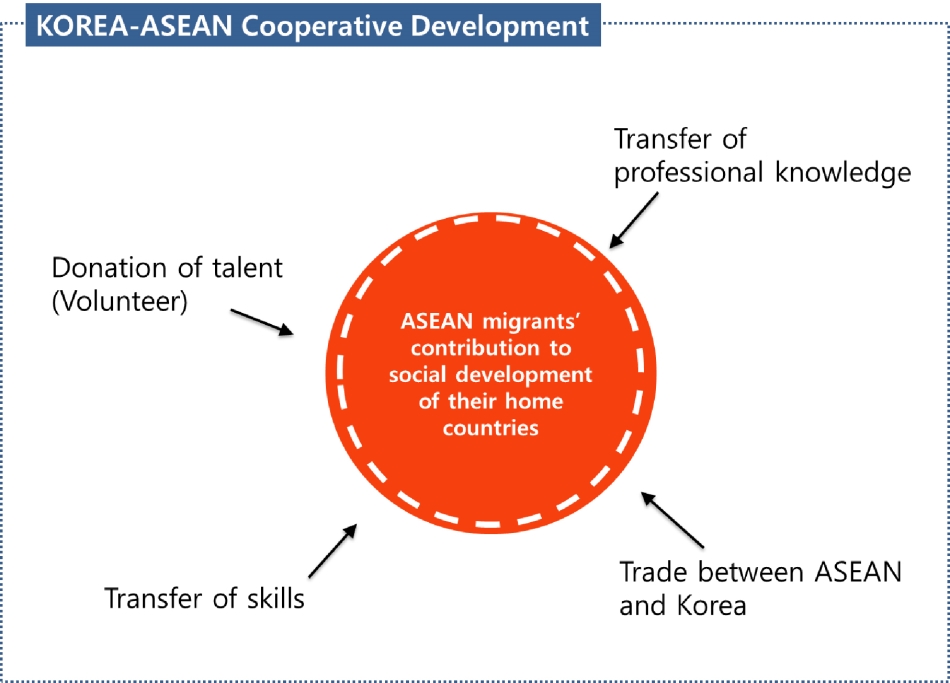 Project Topic
● Promoting the social development of ASEAN countries by using the knowledge, information and networking which migrants have gained in Korea
● Educational Activities from Korea or ASEAN countries, Volunteering activities by using the knowledge of Korean Language or Korean culture and Other activities which promote social and economic development in Korea and ASEAN
Application Period
● 22nd June to 15th July, 2016
Eligibility
● Only applicants who are from ASEAN Member States and are currently living in Korea are eligible to apply.
● Applicants must have Korean residence visa (Ex. D-2, D-10, E-7 and F type visa status)
● Applications can be made as an individual or as a team (2 persons)
Project Funding
● IOM MRTC (ASEAN-ROK Cooperation Fund) provides financial support up to 4,000 USD for each selected project.
※ Project budget is subject to change according to the number of applicants and content of project proposal
Evaluation criteria
● Project proposal must demonstrate underdevelopment area of home countries clearly.
● Applicants should apply this project by utilizing their own living experiences in Korea or from their major and technical skill.
● Project should not only contribute to the applicant but it should contribute to develop the society of home countries.
● Project proposal must be practical and specific. (Indicate the name of person or institution to contribute this project from ASEAN or Korea)
Timeline
2016. 6. 22. ~ 7. 15.
Proposal submission (Korean or English)
2016. July
Screening of submitted proposal by the selection committee
Announcement of selected proposals (approx. 10 proposals)
※ Successful applicants will be notified by email and official website of IOM MRTC
2016. Aug. to Oct.
Field work (Min. 20 days) and Final report submission
2016. Nov.
Seminar on outstanding projects
Required Documents
● Application form
● Consent to provide Personal Information
● Additional and supporting documents (Resume , Proof of visa status)
How to apply
● Submit project proposals electronically via email or hard copy via postal mail (Applications must arrive at IOM MRTC by July 15th, 2016). Project Proposal Application Form and additional information are available at www.iom-mrtc.org.
Email: ms.lee@iom-mrtc.org

Postal Address: ASEAN-Korea Cooperation Project Team
IOM Migration Research and Training Centre (IOM MRTC)

IOM MRTC, Western Tower IV, 9th Fl. 24 Jeongbalsan-ro, Ilsandong-gu, Goyang-si, Gyonggi-do, Korea 10403
Inquiry: Misong LEE, IOM MRTC (T. 031.920.5617, Email: ms.lee@iom-mrtc.org)
Notes
● All of Submitted documents will not be returned to the applicants.
● The idea of project should be new and the contents of proposal should not be presented in any other institute before.
Attachments:
1. Application form
2. Consent to provide personal information