Press Room
HOME > Press Room
PR/18-44 Discover ASEAN and Korean youth perspectives through short films and essays2018-12-03
PR_Short_Film_FestivalEssay_Contest_Eng_final.docx (0.08M)
PRESS RELEASE
No.
PR/18-44
Date
1 December 2018
Contact
Contents Inquiries (Film Festival): Monica Dulos, Officer, IDU (+82-2-2287-1148, mdulos@aseankorea.org)
Contents Inquiries (Essay Contest): Ha Chae-kyoun, Officer, IDU (+82-2-2287-1144, ha.ck@aseankorea.org))
Press Inquiries: Bang Gee-hyun, Assistant Officer, IDU (+82-2-2287-1173, ghbang@aseankorea.org)
ASEAN-Korea Centre is an International Organization mandated to promote economic and socio-cultural cooperation between ASEAN Member States and Korea.
Discover ASEAN and Korean youth perspectives through short films and essays
-The ASEAN-Korea Centre to host the '2018 ASEAN-Korea Youth Short Film Festival' and the '2018 ASEAN-Korea Academic Essay Contest Awarding Ceremony'-

Seoul, Korea – The ASEAN-Korea Centre (Secretary General Lee Hyuk) organized the '2018 ASEAN-Korea Youth Short Film Festival' and the awarding ceremony of the '2018 ASEAN-Korea Academic Essay Contest' on 1 December 2018 at Seoul Global Culture Center in Seoul, Korea. The two youth events invited 150 guests including Lao Ambassador Khamsouay Keodalavong, Vietnamese Ambassador Nguyen Vu Tu, and Thai Ambassador Singtong Lapisatepun and diplomatic envoys, as well as ASEAN and Korean students and the general public of Korea.
The ASEAN-Korea Youth Short Film Festival featured 5 winning films from the Short Film Competition which was held from 6 August to 6 October under the theme of 'ASEAN: The Future We Foresee.' Grand Prix went to from Vietnam, Golden Film Award to from Indonesia, Silver Film Award to from the Philippines, and Bronze Film Awards to from the Philippines and from Korea. Grand Prix and Gold Film award winners get a travel prize to Korea. Other winners are granted USD 1,000 (Silver Film) and USD 700 (two Bronze Films), respectively. In addition to the winning entries, , the hit Thai crime film inspired by real-life news, will also be shown at the Festival.
The awarding ceremony of the ASEAN-Korea Academic Essay Contest presented the awards to 10 winners from ASEAN countries and 5 winners from Korea. As a prize, ASEAN winners are offered an opportunity for a study trip to Korea from 30 November to 5 December. During the trip, the Youth Academic Workshop will place where all ASEAN and Korean winners will present their own scholarly works and exchange perspectives with researchers and students at Seoul National University. They will also visit the Ministry of Foreign Affairs of Korea and various historical and cultural sites. Korean winners win a prize trip to Thailand in January next year to visit research institutions, governments, and historical sites. Among 15 winners, 9 selected papers are printed in a volume of booklet titled, Young Perspectives: The Future of ASEAN-Korea Partnership Vol.3.
Lee Hyuk, Secretary General of the ASEAN-Korea Centre, said, "Recognizing the importance of the future leaders of ASEAN-Korea relations, the ASEAN-Korea Centre has been carrying out diverse youth exchange programs. Both of the 'ASEAN-Korea Youth Short Film Festival' and the 'ASEAN-Korea Academic Contest' have been one of the successful youth exchange programs, gaining attention from both ASEAN and Korea. Especially for this year, the Centre received 116 films and 169 essays showing constant growth. I hope that the two events will provide a meaningful platform for the young generation of ASEAN and Korea to share their perspectives and insights to make a bright future together."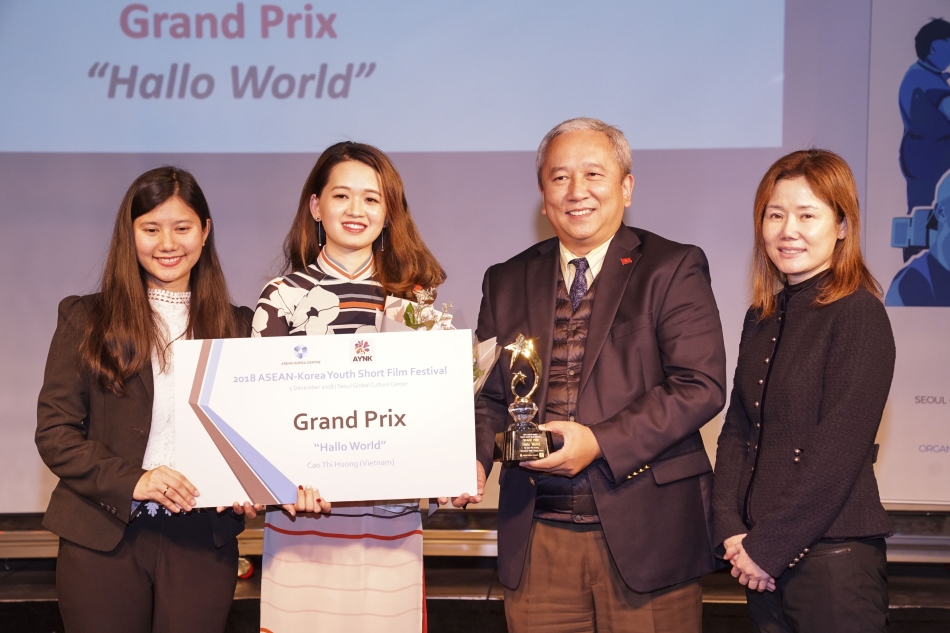 ▲ Vietnamese Ambassador Nguyen Vu Tu (3rd from left) and ASEAN-Korea Centre Deputy Secretary General Jang Yeunju Jessy (4th from left), presenting the award to GrandPrix winner of the Short Film Festival Cao Thi Huong from Vietnam, 1 December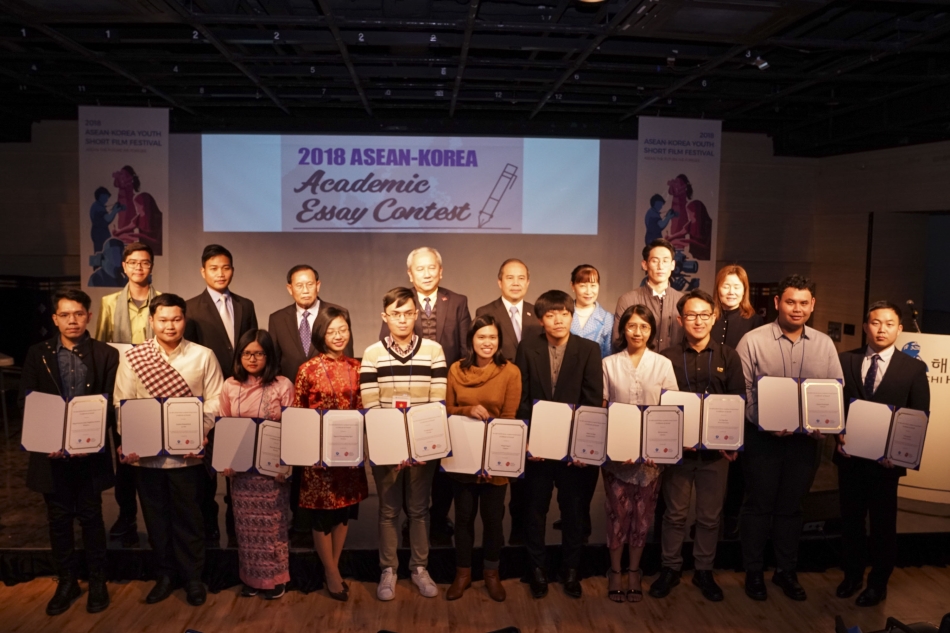 ▲ Winners of the 2018 ASEAN-Korea Academic Essay Contest, 1 December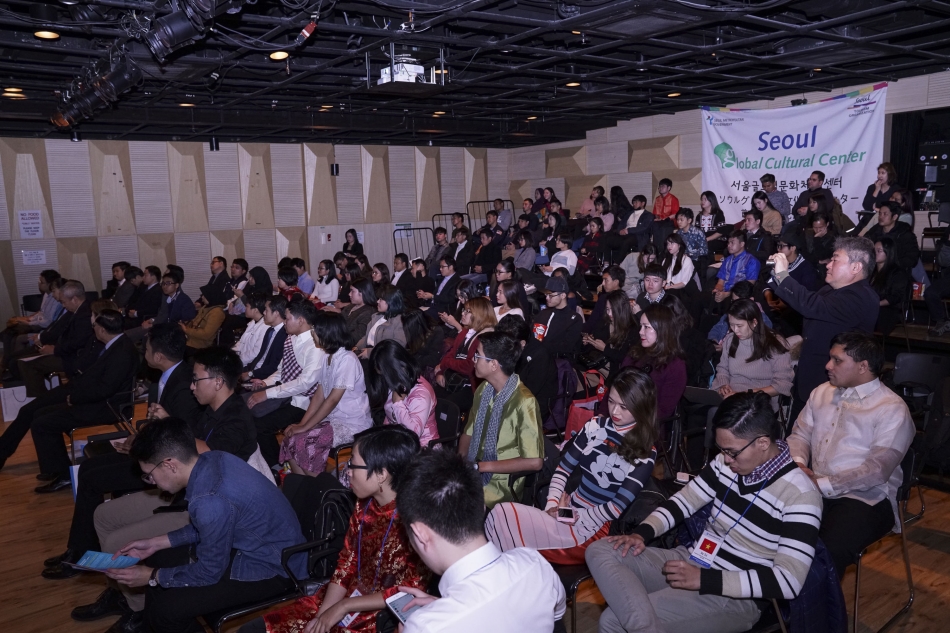 ▲ 2018 ASEAN-Korea Youth Short Film Festival and the Awarding Ceremony of the 2018 ASEAN-Korea Academic Essay Contest, 1 December
[Attachment]
- Press release file
###