PRESS RELEASE
No.
PR/19-11
Date
2019.5.2 (Thu)
Contact
Program Inquiries: Lee Eun-young, Program Officer, TIU (+82-2-2287-1124, eylee@aseankorea.org)
Press Inquiries: Bang Gee-hyun, Assistant PR Officer, IDU (+82-2-2287-1173, ghbang@aseankorea.org)
ASEAN-Korea Centre is an International Organization mandated to promote economic and socio-cultural cooperation between ASEAN Member States and Korea.
Title: ASEAN Pop-up Store
Date: 9 May 2019
Venue: COEX Hall B, Seoul, Korea
Seoul, Korea - The ASEAN-Korea Centre (Secretary General Lee Hyuk) will organize the 'ASEAN Pop-up Store' at the Seoul International Home Replacement Show2019 from 9 to 11 May at COEX Hall B, Seoul, Korea. On 9 May, the Opening Ceremony was held and attended by H.E. Lee Hyuk, Secretary General of ASEAN-Korea Centre, H.E. Thant Sin, Ambassador of Myanmar to Korea, H.E. YIP Wei Kiat, Ambassador of Singapore to Korea, and H.E. Singtong Lapisatepun, Ambassador of the Kingdom of Thailand to Korea.
The exhibition is designed to provide a venue for ASEAN exporters to make inroads into Korea where Home Meal Replacement (HMR) market has been rapidly expandingrecently. Furthermore, opportunities to be engaged in one-on-one business meetings on the basis of business demands and product portfolios with 13 HMR exporters from Myanmar, Singapore, and Thailand will be offered at the ASEAN Pop-up Store.
The ASEAN-Korea Centre has been hosting the ASEAN Trade Fair since 2009 with the aim of co-prosperity of ASEAN and Korea. This year, the Centre willorganize four exhibitions including Seoul International Seafood Show (April), Seoul International Home Meal Replacement Show (May), Korea International Furniture & Interior Fair (August), and Global Game Exhibition (November) to promote trade by facilitatingthe entry of ASEAN products into the Korean market.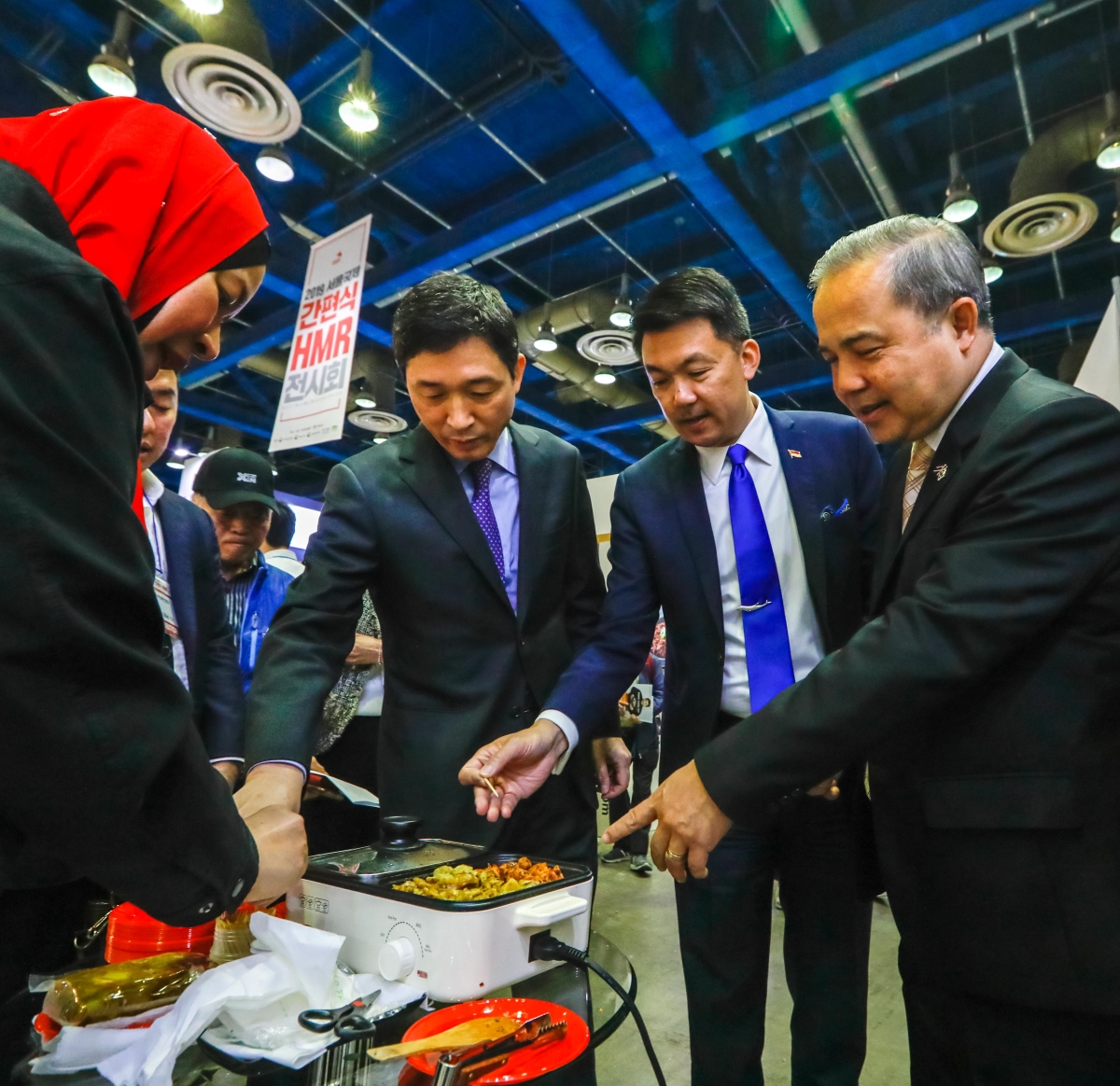 ▲ VIP booth tour at 'ASEAN Pop-up Store', 9 May, COEX Hall B, Seoul, Korea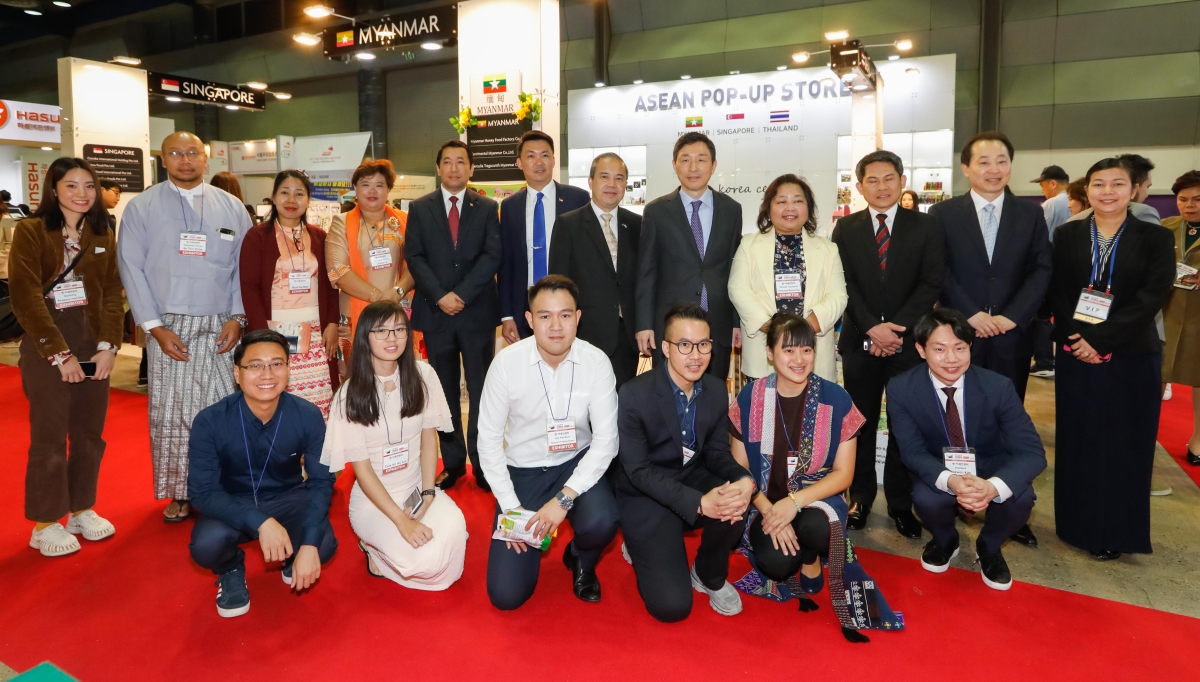 ▲ Group Photo (Back row, 5th from the right, Lee Hyuk Secretary General of ASEAN-Korea Centre, H.E. SingtongLapisatepun, Ambassador of Thailand to Korea, H.E. YIP Wei Kiat, Ambassador of Singapore to Korea, H.E.Thant Sin, Ambassador of Myanmar to Korea), 9 May, COEX Hall B, Seoul, Korea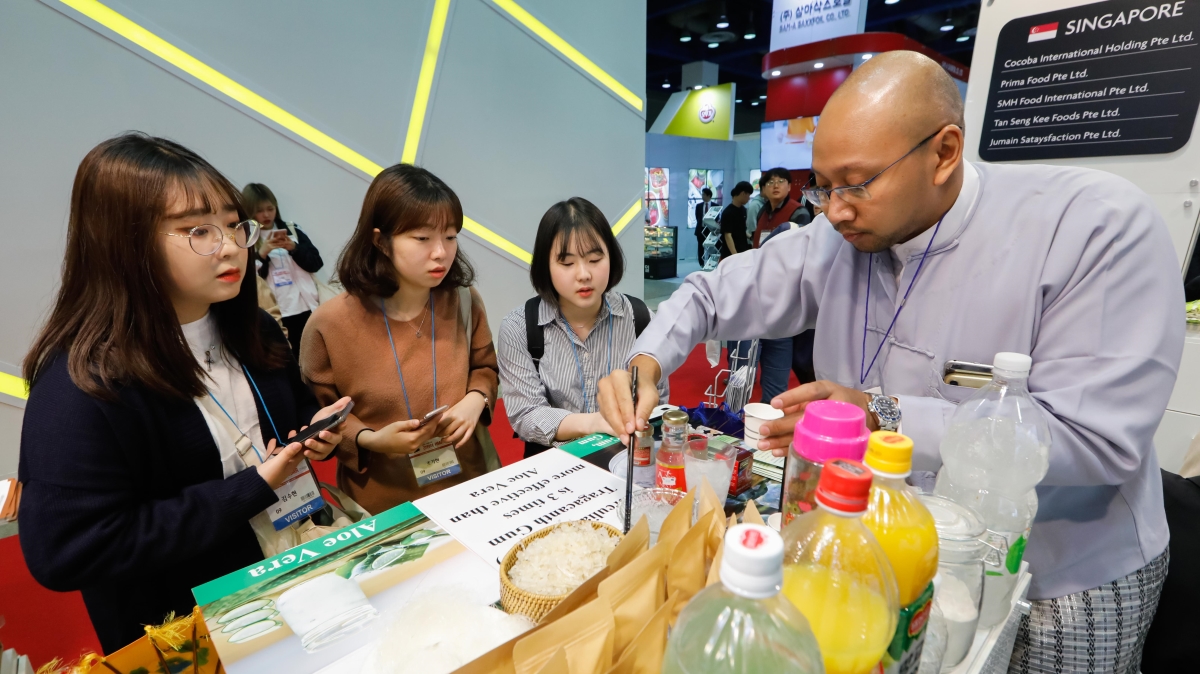 ▲ A wide assortment of HMR product collections at the 'ASEAN Pop-up Store', Seoul Home Meal Replacement Show 2019, 9 May, COEX Hall B, Seoul, Korea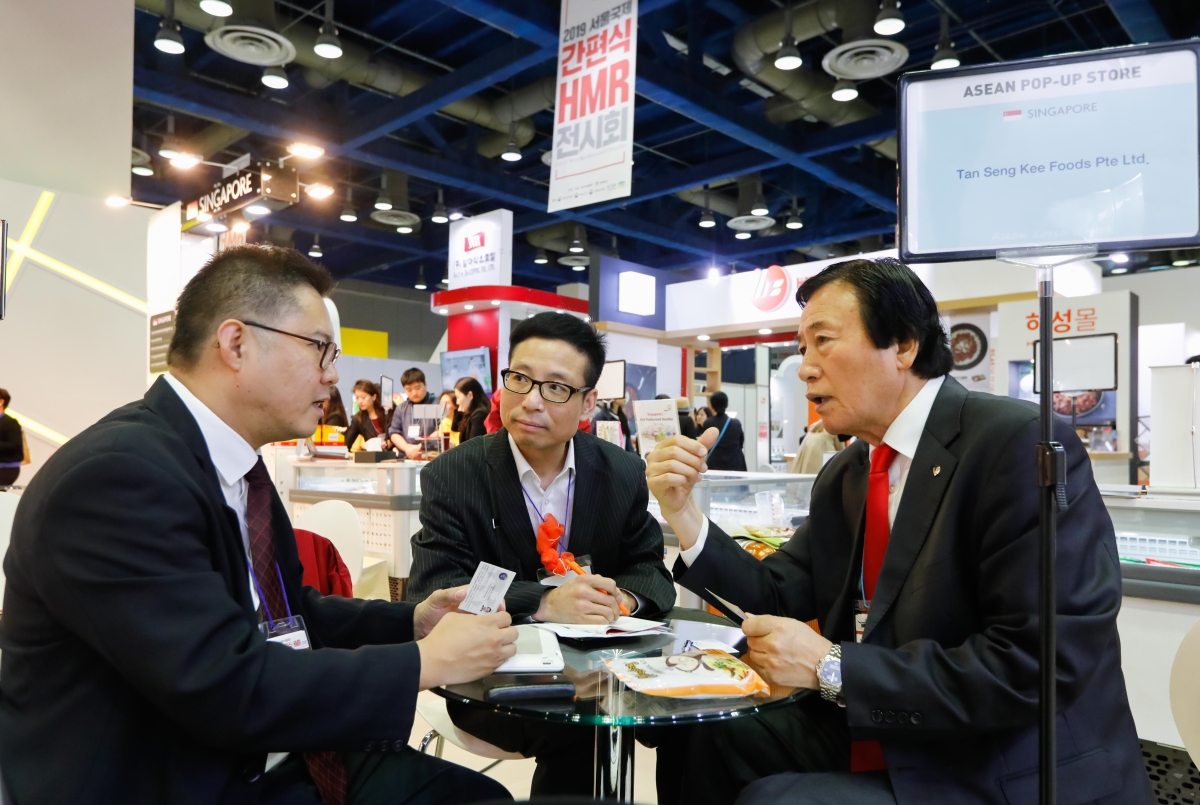 ▲ One-on-one business networking and opportunities among the ASEAN exporters and international buyers at the 'ASEAN Pop-Store', 9 May, COEX Hall B, Seoul, Korea