Spotlight on ASEAN Cinema
Kim Young Woo
Kim Young woo, a film curator and a programmer for the DMZ International Documentary Film Festival, was the programmer of Asian cinema at the Busan International Film Festival between 2014 and 2019. Kim helmed the ASEAN Cinema Week held on the sidelines of the 2019 ASEAN-ROK Commemorative Summit.
Recent years have seen increased attention on Association of Southeast Asian Nations (ASEAN) in Korea. This has led to a boom in Southeast Asia?related events, from academic conferences and research to cultural and people-to-people exchanges. Such developments can be understood as being part the New Southern Policy, which aims to expand the trade-oriented relationship of ASEAN and Korea to one that encompasses exchanges in technology, culture, arts and among the peoples. However, as much as these efforts to understand the culture and history of the ASEAN region are significant, it is equally important to realize that we are just at the beginning of establishing a full-fledged cultural partnership and a thriving exchange among our peoples. And to reach that level of social-cultural interactions that will match the current breadth and depth of trade and economic exchanges will require a long-term and policy-driven vision
A careful and considerate approach is needed to ensure exchanges of people and cultural products in a more sustainable way. As Korean cultural content has been popular in Southeast Asia, it is particularly important for Korea to seek collaborations with ASEAN countries, not simply as consumers of Korean cultural products, but as equal partners to share mutual growth in the arts and culture industries.
Cooperation can only bear fruit with mutual understanding. The first step is to understand the dynamic growth of the film industry in ASEAN, as well as to know the differences and charms of ASEAN films, which may seem familiar, but are clearly distinctive for each of the countries in the region. This article aims to introduce ASEAN films and its film industry not as a general digest but as a snapshot of ASEAN movies through selective keywords.
Where can we watch Southeast Asian movies?
Thailand's Bad Genius was a 2017 Asian blockbuster. The movie, often referred to as a teenage heist thriller that dealt with the familiar and yet provocative topic of cheating in exams, was a testament to the strength of Thai films. Yet Korea was the only Asian market in which it recorded subpar box-office results, demonstrating Korean moviegoers' tastes toward Asian cinema. The Korean market, dominated by domestic and Hollywood films, barely manages to maintain a semblance of diversity, marked by showings of European arthouse cinema and Japanese anime and teen films supported by loyal fans.
This distortion has only intensified in the recent years. This article does not aim to debate whether the dwindling diversity at Korean theaters is due to the changing tastes of domestic audiences or the inevitable choices made by multiplex operators. Nevertheless, the fact that there is a lack of choice vis-a-vis the nationality of films screened at Korean cinemas is for certain.
This distortion has only intensified in the recent years. This article does not aim to debate whether the dwindling diversity at Korean theaters is due to the changing tastes of domestic audiences or the inevitable choices made by multiplex operators. Nevertheless, the fact that there is a lack of choice vis-a-vis the nationality of films screened at Korean cinemas is for certain.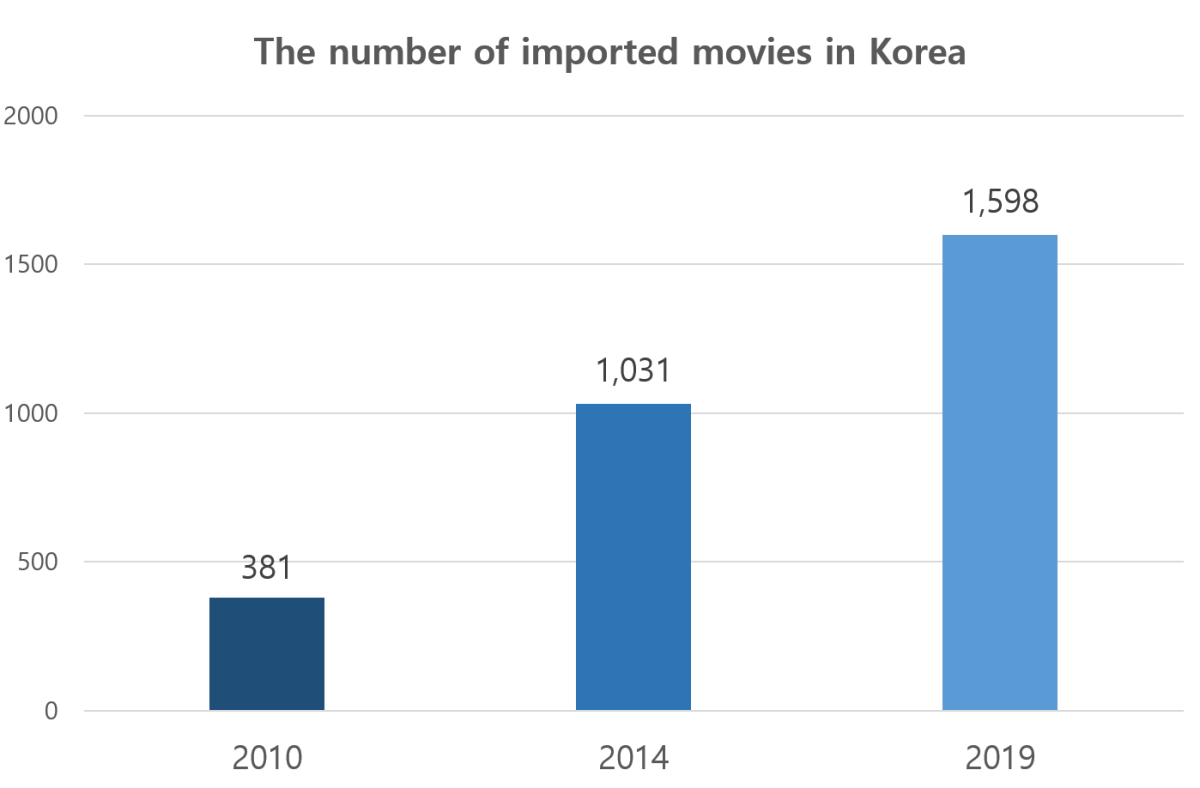 On the other hand, the number of Korean movies exported in 2019 was 574, double the 276 imported in 2010.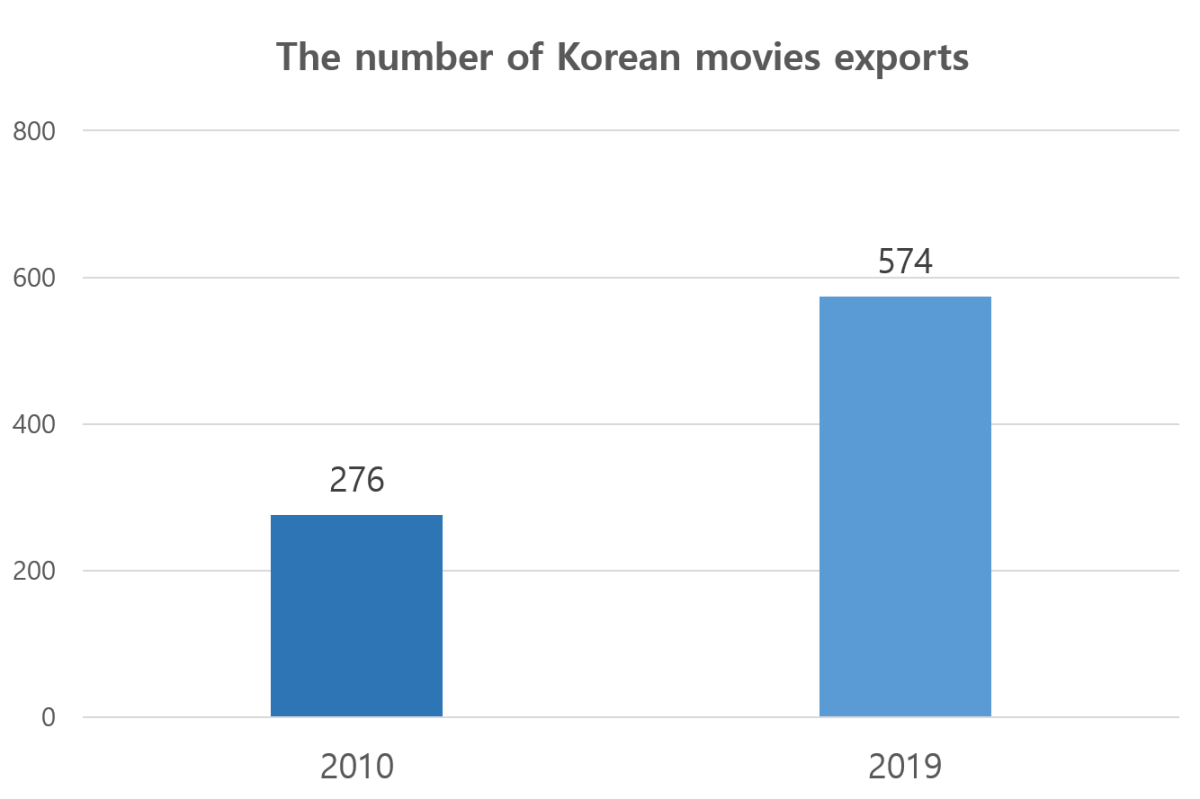 Asia was its biggest market, with Taiwan and Japan as the largest importers. Among the top 10 were Singapore (4th), Indonesia (9th), and Vietnam (10th). The Philippines was among the top 10 in 2018, replaced by Indonesia in 2019.
Ranking
Country
1st
Taiwan
2nd
Japan
.....
4th
Singapore
9th
Indonesia
10th
Vietnam
[Table] Top 10 countries Korean movies exported to in 2019
The imbalance in the number of movie imports and exports was especially conspicuous between Korea and ASEAN countries.
To be fair, not all imported overseas movies are for release at theaters, nor can importers dictate the tastes and preferences of moviegoers. Nonetheless, a more balanced diversity is desirable, and there is hope with the advent of various online viewing platforms which offer opportunities to move beyond traditional sources and have access to contents produced in ASEAN countries.
Major film festivals in Korea provide audiences with the chance to meet ASEAN movies rarely screened in domestic theaters. The prominence and driving force behind the growth of the Busan International Film Festival (BIFF) has always been its focus on new and undiscovered gems in Korean and Asian cinema. The Jeonju International Film Festival (JIFF) and the Bucheon International Fantastic Film Festival (BIFAN) have also made a point of designing distinctive programs that introduce Asian and ASEAN movies and have played a major role in establishing a thriving network in the industry.
However, these international film festivals' entries often end up as box office flops in their own markets, even if they do manage to find theaters for official release. This is true for Korean movies as well, as domestic buyers tend to shun arthouse or independent films. Likewise, we often see a divide in ASEAN film industries between commercial films that target their domestic audiences and indie movies aimed at international film festivals.
To be sure, this divide is not absolute. Filipina blockbuster director Antoinette Jadaone, for example, has been successful in creating work that straddles both commercial and independent genres. These "Maindie" (mainstream and independent) films are reminiscent of Korea's "well-made" commercial movies of the 2000s. Indonesia is another example. As mentioned in countless news articles, its potentially rich domestic film industry, backed by the world's fourth-largest population, has marked an explosive 30 percent growth in the past five years. The prominence of its indie movies, which have grown along with commercial films, is clearly significant, with annual production of almost 150 films from a mere 10 indie movies filmed a decade ago. The number of tickets sold for domestic films also surged to 50 million. These figures are just part of the reason why experts say Indonesia will likely become a leader in Asian culture in the future. Among the myriad of talented directors and producers from Indonesia, I would like to mention Joko Anwar. As director of A Copy of My Mind, the first Indonesian-Korean collaboration movie, Anwar was invited to the Venice International Film Festival as part of the Orizzonti selection in 2015. The movie was one of CJ E&M's success stories from its early forays into the ASEAN movie industry and led to a subsequent collaboration with Anwar on Satan's Slaves, a box-office hit in 2017. Riding on his commercial success, Anwar last year unveiled the first of his superhero franchise Gundala, as part of his BumiLangit Cinematic Universe (BCU), which will feature numerous superheroes in the same vein as MCU, an indication of the level of passion and ambition held by the Indonesian film industry.
Similar examples can be found in Vietnam's Furie, a high-octane martial arts flick produced by and starring Veronica Ngo and directed by Le V?n Ki?t, which offered electrifying action scenes in collaboration with a Hollywood production team, posting the fifth-biggest Vietnamese box-office gross. Blood Moon Party, a Vietnamese remake of Korea's Intimate Strangers, made in partnership with Korea' Lotte Entertainment, is poised to top box-office records after becoming the first domestic film to post VND 155 billion ($6.7 million) in just four weeks of release. CJ E&M and Lotte are expected to make their mark as major players in future Vietnamese-Korean collaborative projects.
ASEAN: Land of Openness and Diversity
One should not consider ASEAN countries as a single community sharing the same cultures and history. It would also be overgeneralizing to suggest that ASEAN cinema can be entirely categorized and characterized using only a few keywords. Still, these keywords provide clues with which we can get an idea of ASEAN films. The reason thrillers and horror flicks fare so well among ASEAN movies may lie in the Buddhist religion and culture that pervades most aspects of life in many ASEAN member countries, or suggest that these genres help bypass religious and political constraints in conservative societies. The Philippines is home to diverse cultures and languages, with a multi-ethnic and multicultural population and the second-largest number of islands in Asia. Taking a look at how such diversity is reflected on Filipino movies can be an intriguing aspect in watching them. Also noteworthy are a group of young directors who became vanguards of the Malaysian New Wave in the early 2000s, as well as the Thai and Singaporean directors who have been the driving force behind ASEAN indie films. Many of these directors share Chinese heritage.
Openness and diversity are significant keywords to understand ASEAN. ASEAN is an association of nations, yet the member states vary widely in religion, history, and ethnicity. Even when they clash, such differences yield a mutual openness and diversity that help characterize these member countries. Diversity is an integral keyword in addressing ASEAN cinema. A melting pot of folk beliefs and imported religions, including Islam, Buddhism, and Hinduism, make up a worldview prevalent in ASEAN films. Openness to foreign cultures, stemming from a prolonged period of European colonization, as well as an inherent pride in their traditional cultures and heritage, coexist as a running theme in their films. In Thailand, for example, which saw a movie boom in the mid-1990s, director Nonzee Nimibutr's Nang Nak and Banjong Pisanthanakun's Pee Mak, which became the nation's first movie to sell 10 million tickets at the box office, were modern interpretations of ghost stories in traditional folk tales passed on from generation to generation by word of mouth. The Ong-Bak series, which has had huge success throughout Asia, including in Korea, is a prime example that reflects both openness and cultural pride.
The level of regard and impact that religion holds in Southeast Asia differs from Korea. Religion holds sway on their societies and has significant influence over an individual's consciousness and lifestyle. Southeast Asia can be largely divided into Theravada Buddhist and Islamic cultures. Unlike the Mahayana Buddhism of Northeast Asia, Theravada Buddhism refers to the school that relies on a daily alms round, or receiving food as alms, predominant in Laos, Thailand, Myanmar, and Cambodia, with monks often appearing in their movies. Wandering by director Boonsong Nakphoo, formerly an ordained Buddhist monk, illustrates the tale of a man who spirals into the depths of depression after losing his family and job, and finally seeking solace in life as a Buddhist monk. Writer-director Anucha Boonyawatana's Malila: The Farewell Flower, featured in BIFF in 2017, weaves the story of two men: Shane, who plans to become a monk, mourns the death of his daughter and laments the imminent death of his former lover Pich, who is terminally ill. The Monk, a 2014 Myanmar-Czech film directed by The Maw Naing, depicts the story of a conflicted young boy who grew up in the streets of Yangon and is now a novice monk living in a rural monastery, having to come to terms with a crisis of faith, a destitute monastery, and his feelings for a local girl. The highly acclaimed movie, Myanmar's first independent film in 50 years, is a sensitive portrayal of Southeast Asian culture and ambiance.
Separately, yet together
I would like to conclude with a noteworthy example of lively collaboration in the ASEAN region. HBO Asia in 2018 invited six Asian directors to take part in its six-episode Folklore series, which featured scary tales and myths from each of the directors' home countries. Singapore's Eric Khoo helmed the directorial ensemble, which also consisted of Korea's Lee Sang-woo, Japan's Takumi Saito, Indonesia's Joko Anwar, Thailand's Pen-Ek Ratanaruang, and Malaysia's Ho Yuhang. Each episode was unveiled at a film festival and garnered positive reviews before they were aired on HBO. And earlier this month, the network announced that it would renew the series for a second season. Khoo will yet again be in charge of the project, this time consisting of seven episodes, to be directed by Sittisiri Mongkolsiri (Thailand), Shih-Han Liao (Taiwan), Erik Matti (the Philippines), Billy Christian (Indonesia), Nicole Midori Woodward (Singapore), Bradley Liew (Malaysia) and Matsuda Seiko (Japan). The new season will "up the fear factor" and "examine the human condition when exposed to supernatural powers in a mind-bending race against oneself," according to reports. With its theme of "spooky stories" that ASEAN nations tell so well, the project is an ideal collaboration that befits ASEAN sensibilities.