THE TOURISM SECTOR AND ITS INVESTMENT IN BANYUWANGI CITY
(AN ASEAN SMART CITY NETWORK OF INDONESIA)
The following article is a special contribution by Ms. Siti Tri Joelyartini, Deputy Head of Development Planning and General Affairs Unit of the ASEAN-Korea Centre (Indonesian official seconded to the AKC).
Foreword
The tourism sector, as one of the important industries, contributes significantly to the economies of countries around the world. Unfortunately, the world-wide outbreak of COVID-19 beginning from late 2019 has severely damaged the tourism sector, probably more than any other sector as movement within and between borders have come to a de facto halt.
There are not yet any signs of real recovery as countries continue to struggle in its fight against the pandemic. Nevertheless, countries are making every effort to save the economy, including their tourism sectors. Many scientists in laboratories around the world are today working to develop the vaccine for the COVID-19, and it is hoped that once the world is relatively safe from the coronavirus, both domestic and international travelling will resume with health protocols in place as necessary.
One of the new tourism destinations in Indonesia is Banyuwangi, the Sunrise of the island of Java, which is adjacent to the island of Bali. Gifted with rich, natural beauty and culture, the city had placed priority in developing its tourism sector. As a result, over the past five years (2014-2019), the area saw a significant increase in the number of tourists.
The success of Banyuwangi's tourism sector cannot be fully explained without taking into account the role of investment. Under Presidential Regulation No.44 of 2016, investment in the tourism industry is generally open and favorable to foreign investors. It is even possible to have 100% Foreign Equity Participation for certain tourism businesses.
Banyuwangi is also one of the 26 pilot smart cities which was selected as part of the ASEAN Smart City Network (ASCN) that was launched in 2018. The city currently focuses on two of the six areas identified in the ASCN Framework?namely health & welfare and industry & innovation. A strong partnership between ASEAN member states and their Dialogue Partners is very important as an enabler factor for the successful implementation of ASCN. For example, cooperation between governments and businesses of Indonesia and Korea on smart city development will greatly contribute to improving quality of lives of the people in the city and enhancing competitiveness of the economy.
1.Introduction
The outbreak of COVID-19 since December 2019 has severely affected the lives and livelihoods of many people around the globe. Economies have been crippled, and many have slid into recession. With travel bans in place, the tourism sector has been one of the hardest hits with decrease in demand, surge in job losses; and putting MSMEs at risk (Paola Maniga, 2020). According to the World Tourism Organization (UNWTO, 2020), the international tourist arrivals will be down by 20 to 30% in 2020 when compared with 2019 figures. Meanwhile, the Central Statistics Agency (BPS, 2020) of Indonesia recorded 2.61 million foreign tourist arrivals from January to March 2020?a drop of 30.62% from the 3.76 million tourists recorded over the same period last year. Yet, this was not the worst. By April, the number of foreign tourists arriving at airports decreased by 99.90 %. Also, according to the Indonesian Hotel and Restaurant Association (PHRI), an estimated 2,000 hotels nationwide in Indonesia have closed down, affecting more than 150,000 employees in May 2020.
It is projected that Indonesia will suffer about US$10 billion loss in tourism revenue for 2020. In response, Indonesia's President has announced plans to roll out a stimulus package to support businesses in the tourism industry affected by the COVID-19 pandemic. The measures, while mitigating losses caused by the coronavirus, also will push for a swift recovery, hoping for a strong rebound in the tourism sector next year.
Fortunately, Indonesia's economy and its tourism sector have many past experiences of overcoming crises and recovering from difficulties. The economy will once again prove to be resilient, and once the current pandemic is contained and vaccine developed, life should be able to return to 'normal', albeit a 'new normal'.
In fact, after months of social distancing and staying home, many travelers around the world will be seeking new places to visit for a getaway. When this time comes, Banyuwangi is one option to be considered. Located in the eastern corner of Java Island, the nearest city to reach Bali Island, Banyuwangi is also designated as the smart city of Indonesia.
This article aims to introduce the tourism sector and its investment in Banyuwangi and to explore business opportunities between the governments and private sectors of Indonesia and Korea under the ASEAN Smart Cities Network (ASCN). Section 1 of the article introduces the background of the paper. Section 2 describes the new tourism destination of Banyuwangi. Section 3 highlights what business are available and how to invest in Tourism Sector in Indonesia. Section 4 examines the updated implementation of Banyuwangi as a smart city of ASCN. Section 5 presents conclusion and recommendation.
2.Tourism Sector of Banyuwangi City
The tourism sector is a major economic driver for Indonesia. According to BPS, in 2018, foreign exchange earnings from tourism totaled US$ 16,426 billion, which is approximately 4.5% of GDP. This proportion increased to 4.8% in 2019 when the country recorded 16.1 million foreign visitors. Out of the 16.1 million, more than 5.7 million were from ASEAN Member States?mostly from Malaysia and Singapore. Another 5 million were from Asian countries (excluding ASEAN) with the Chinese making up the largest group with 1.9 million followed by Korea with 388,000 visitors (ASEAN Korea Centre, 2020).
In the same year, Banyuwangi as a new destination of tourism in Indonesia, has contributed to 17.8 percent of its economic growth. With abundant natural resources, rich in beautiful natural views and culture, the city has great potential for further development to attract more domestic and international tourists.
In terms of area, the city is the largest in East Java Province measuring 5,782.50 km2 (10 times the size of Seoul) and is home to many natural attractions, including mountains, beaches, and forest parks. Travelers can also visit farms for agro-tourism or indulge in ethnic delicacies.
Specifically, Mount Ijen is one of the most popular destinations in the city, with the only blue fire in Asia (the other one is in Iceland). Visitors can have the exciting opportunity to see the exotic blue flame up from a breathtaking volcanic crater. Travelers can also enjoy surfing in Plengkung Beach, known as one of the Seven Giant Waves in the world.
In Alas Purwo National Park, tourists can explore the life of wild animals in Sadengan, an 84-hectare vast savanna. Wild animals can also be seen at the National Baluran Park. Another national park, Meru Betiri National Park, provides an experience of unforgettable adventure at the Sukamade Beach. Designated as a conservation site since 1972, the beach today is one of the most favorite nesting places for the turtles. Visitors can watch turtles come to lay eggs.
Another attraction is the Cocoa Village at Glenmore district, where visitors may discover the atmosphere of the colonial Dutch of the 18th century. For many years, Glenmore cocoa has been exported to European Countries, Japan and the United States
Banyuwangi also has about 258.007,87 ha. of cultivated land and many travelers find the region perfect for agro-tourism. Visitors can enjoy various tropical fruits such as durian, dragon fruit, mangosteen not only by tasting them but also by planting and harvesting them at the farms. As the biggest producer of mangosteen, Banyuwangi supplies the fruit not only to the big cities in Indonesia, but also to China, Taiwan, Singapore, and Middle East.
For cultural programs, the city also provides the Gandrung Sewu parade, a collosal folk performance involving 1000 pairs of dancers, emphasizing the richness and diversity of its culture. Originally, the performance was made to commemorate successful harvesting and was influenced by Hinduism. Another site for cultural exploration is Kampoeng Osing-Osing Village, a heritage preservation of an inheritance of Blambangan Kingdom, the last Hindu Kingdom in Java Island. Osing itself is known for more than 700 traditional languages, and over 1000 tribes in Indonesia.
Finally, Banyuwangi City also holds several annual events, including the Bike Festival-International Tour de Banyuwangi Ijen, Thousand Gandrung Dance, Carnival, Banyuwangi Jazz Festival, and so on. Also, a tour of Banyuwangi would not be completed without a full gastronomic experience of various ethnic delicacies with its sophisticated spices.
All these unique characteristics of Banyuwangi in addition to the convenient accommodation and transportation services has resulted in a steady increase in the number of incoming tourists has increased over the past five years (2014-2019). The total reached 5.4 million in 2019, with 93% comprising local tourists and 7% foreigners-- mostly from Europe.
Figure 1. Banyuwangi Regency Tourism Map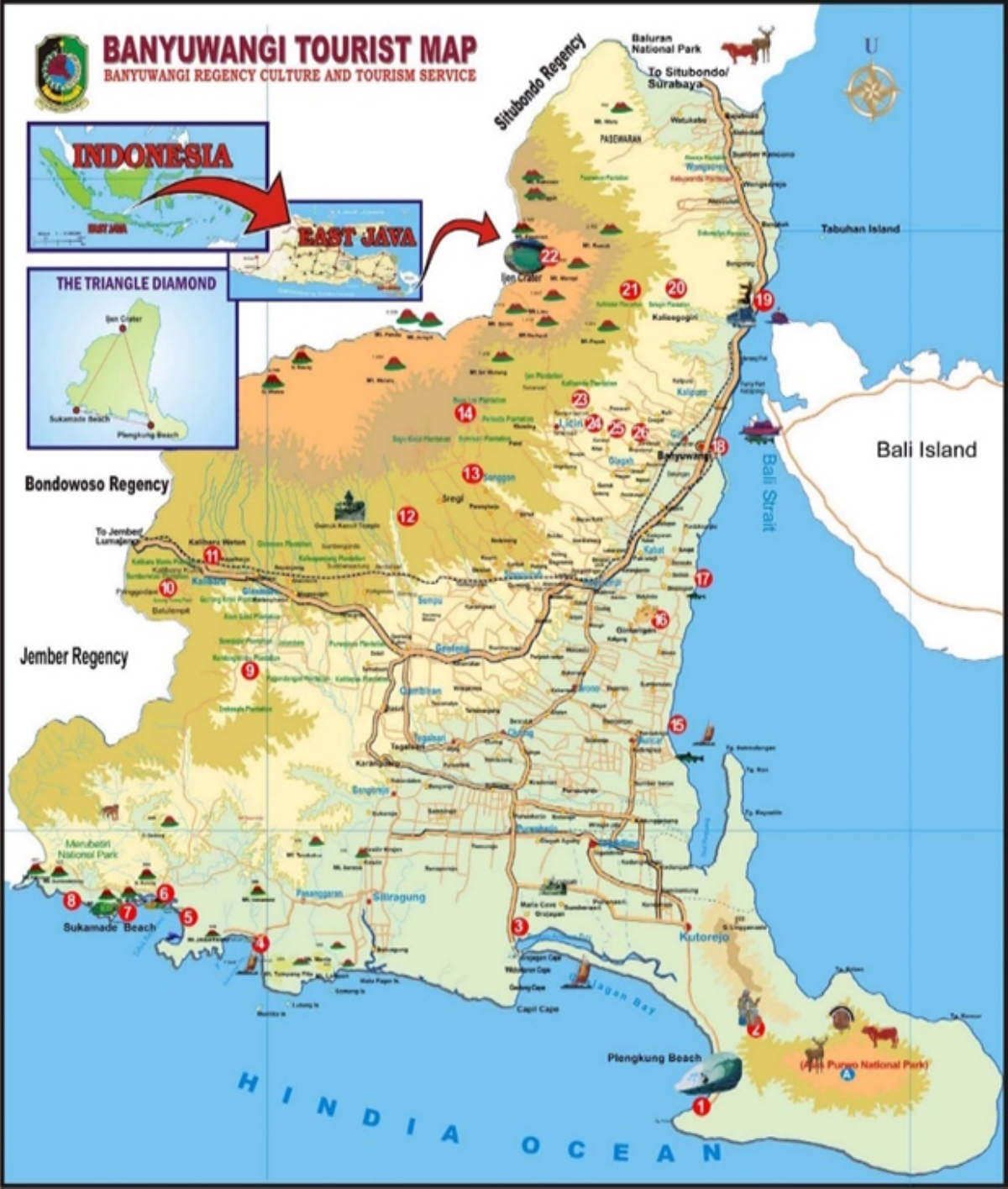 3.Investment in the Tourism Sector
The World Trade Organization (WTO) classifies the tourism sector as one of 12 Services sectors, including Business Services, Communication Services, Construction Services, Distribution Services, Education Services, Environmental Services, Financial Services, Health Services, Tourism and Travel Services, Recreational, cultural and sporting Services, Transport Services, and Other Services. The 12 Services sectors are composed of approximately 160 sub-sectors.
As a member of WTO, Indonesia has committed to several sub-sectors of 12 Services sectors in WTO members' schedule of commitment. In addition, Indonesia is also a party to the 10th package of ASEAN Framework Agreement on Services which aimed to liberalize 128 sub-sectors as part of the goal of the establishment of the ASEAN Economic Community 2015. ASEAN Member States committed to opening up its tourism market access with Foreign Equity Participation (FEP) up to 70% in the said sub-sectors. Liberalization and cooperation in the tourism sector is also included in many of Indonesia's FTA Agreement with Dialogue partners ? Australia, China, India, Japan, Korea and New Zealand.
Apart from the liberalization commitments, however, Indonesia has opened its tourism sector for forein investment via the Presidential Regulation No.44 of 2016. Under this regulation, there is a list of tourism-related businesses that are fully open for investment, conditionally open for investment, as well as areas that are closed vis-a-vis foreign investment. It states that a Foreign-owned limited liability company is a legal entity that can be owned by foreigners with the maximum foreign ownership determined by the business sector and business field. Based on the regulation, foreign investors can own Foreign Equity Participation of upto 67%, 70%, and 100% depending on the business field. (see Table 1 below)
Accommodation services form an integral part of the tourism industry. Tourists in their travel require a location where they can rest and revive during their travel (Surya Poudel, 2013). For example, in Banyuwangi, there are 68 Hotels--14 three, and four-Star Hotels to facilitate MICE, several one to two Star hotels and 538 Homestays. Other facilities such as cafes and restaurants are also important to support the tourism industry. Banyuwangi, as stated in its economy roadmap, welcomes foreign service providers, especially brand restaurants. Currently, overseas brands such as KFC and Pizza Hut are operating in the area. Moreover, as shown on the list of business fields in Table 1, the restaurant can be run by foreign investors with 100% of FEP. Bowling arenas and gyms can also be run by foreign investors with 100% of FEP.
Table 1. The Tourism Sector Investment in Indonesia
Business Field
ISIC*
Foreign Equity Participation (FEP)
Travel Agency (CPC 7471)
79120

ASEAN Member States (AMS) capped up to 70 %

Except AMS capped at 67 %

Catering Services
56210

ASEAN Member States (AMS) capped up to 70 %

Except AMS capped at 67 %

Five Star Hotel
55111

All Countries capped up to 100%

Five Star Hotel
55112

All Countries capped up to 100%

Three Star Hotel
55113

All Countries capped up to 100%

Two Star Hotel
55114

ASEAN Member States (AMS) capped up to 70 %

Except AMS capped at 67 %

One Star Hotel
55115

ASEAN Member States (AMS) capped up to 70 %

Except AMS capped at 67 %

Non-Star Hotel
55120

ASEAN Member States (AMS) capped up to 70 %

Except AMS capped at 67 %

Motel
55199

ASEAN Member States (AMS) capped up to 70 %

Except AMS capped at 67 %

Billiards House (CPC964)
93111

ASEAN Member States (AMS) capped up to 70 %

Except AMS capped at 67 %

Bowling alley (CPC964)
93113

ASEAN Member States (AMS) capped up to 70 %

Golf course (CPC 96413)
93112

ASEAN Member States (AMS) capped up to 70 %

Except AMS capped at 67 %

Bars, Cafes
56301

All Countries capped up to 100%

Bowling arenas
93113

All Countries capped up to 100%

Gyms/ Fitness Center
93117

All Countries capped up to 100%

Restaurants
56101

All Countries capped up to 100%
*ISIC: Indonesia Standard Industrial Classification
Source: BKPM, Presidential Regulation No. 44 of 2016, BPS 2017 (processed)
Investment procedures in Indonesia are regulated through the Indonesia Investment Coordinating Board (BKPM-Badan Koordinasi Penanaman Modal) who cooperates with the relevant technical ministries and local governments. The investment procedure can be seen in the flowchart below. In order to further facilitate and expedite the procedures, in 2015, the Indonesian Government launched the Electronic Single Submission System (OSS) which synchronized and integrated the varying business licensing applications among ministries.
1. Investment Procedures in Indonesia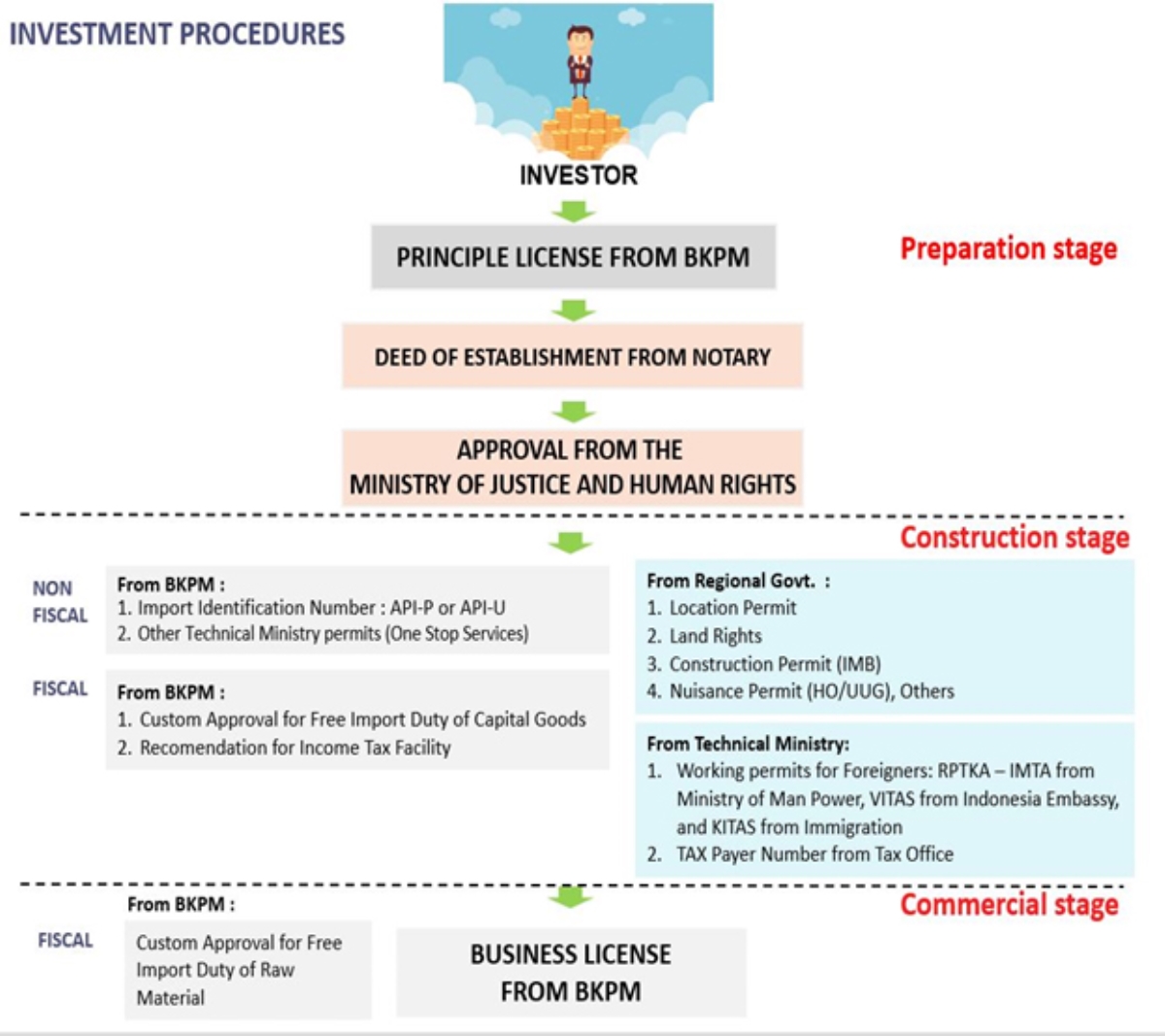 Source: BKPM- The Indonesia Investment Coordinating Board
4.Progress of ASEAN Smart Cities Network (ASCN) in Banyuwangi City
The ASEAN Smart Cities Network, launched under Singapore's ASEAN Chairmanship in 2018, selected 26 pilot smart cities across 10 ASEAN Member States. As stated in the ASEAN Smart Cities Framework, the ASCN is a collaborative platform where cities work together towards the common goal of smart and sustainable urban development. Its primary goal is to improve the lives of ASEAN's peoples and promote new business opportunities and innovation using all technological means.
The Framework further states that a detailed focus and implementation of smart city projects in ASEAN can involve one or more focus areas, reflecting the cities' and people's needs such as i) civic and social: social cohesion, culture and heritage, tourism, governance, ii) health and well-being: housing and home, healthcare and education, iii) safety and security: resource security, cybersecurity, public safety, city surveillance, and crime prevention, iv) quality environment: clean environment, resource access and management, urban resilience, v) built infrastructure: utilities, mobility and transportation, building and construction, and iv) industry &innovation: business and entrepreneurship, trade and commerce, upskilling, technology incubations, research.
The Indonesian city of Banyuwangi, home to over 1.6 million people and with a growth rate of 5.17% in 2018 was chosen as one of the pilot smart cities in Indonesia. The vision for Banyuwangi is to promote a Smart Kampung (Smart Village) by developing two focus areas?health & well-being, and industry & innovation. The goal is to ensure no one is left behind due to rapid urbanization, especially in the new digital economy. Also, the city aims to narrow the knowledge and economic gaps between its rural and urban residents.
In the area of health & well-being, the city of Banyuwangi is deploying technology to provide high quality and inclusive healthcare services. Banyuwangi has created an innovation program, "Gancang Aron", which is working with Go-Jek, an electronic ride-hailing service, to deliver medicines?free of charge?to those who are immobile or can least afford it, thus improving access to health services and with faster response times.
For industry & innovation, the city of Banyuwangi is empowering a Smart Kampung through the provision of e-education and entrepreneurial training for youth. Its aim is to better understand the workings of online shopping platforms and develop a digital marketplace?www.banyuwangi-mall.com?for the village people to sell their MSME's products. To this end, Banyuwangi has already teamed up with a local technology company, RuangGuru.com, to provide e-learning for students in 24 villages, and the program is expected to be expanded to other villages, with improvements after initial trial period. The e-learning syllabus is based on the nationally standardized syllabus and involves additional tutoring for students without their having to travel to the city to access such services.
A mutually beneficial partnership between ASEAN Member States and their Dialogue Partners will be an enabler factor for the successful implementation of ASCN. In this context, cooperation and joint efforts between public and private sectors of the city of Banyuwangi and cities in Korea can greatly contribute to helping 189 villages under Smart Kampung to harness technological and digital solutions. Since Korea, too, is seeking opportunities for technological cooperation via joint projects in smart city development, Indonesia and Korea can together joint hand in developing Banyuwangi into one of the high-tech smart cities. (KOTRA, 2020).
5.Conclusion and Recommendation
The city of Banyuwangi has succeeded in increasing the number of incoming tourists over the past five years (2014-2019). In the coming years, with improvements in the COVID-19 situation, it is hoped that more Korean visitors would be interested to visit the city, especially after reading this article.
Banyuwangi also offers investment opportunities, particularly in the hospitality sector (five-star hotels), restaurants, and sports facilities such as golf courses, bowling arenas, and gyms. Given the potential of the region as the next tourist destination, these businesses are highly recommended for investment in Banyuwangi.
With regard to the city's smart city programs, Banyuwangi's smart villages now has increased to 189 from the previous 24. Given the potential for further development, the governments and private sectors of Indonesia and Korea can explore various cooperative projects to make Banyuwangi a successful ASEAN Smart City. The partnership can also expand into areas beyond the two focus areas, including development of tourism and MSMEs.
References
Antara Jatim. 7 November 2018. Program Inovasi Gancang Aron Banyuwangi Raih Penghargaan.
https://www.google.com/amp/s/jatim.antaranews.com/amp/berita/266214/program-inovasi-gancang-aron-banyuwangi-raih-penghargaan
ASEAN-Korea Centre. 2020. 2019 ASEAN & Korea in Figures. ISSN: 2092-9447.
ASEAN Secretariat. 2018. The Protocol to Implement the Tenth Package of Commitments Under the ASEAN Framework Agreement of Services.
http://agreement.asean.org/home/index/13.html
ASEAN Secretariat. ASEAN Economic Community. Free Trade Agreements with Dialogue Partners.
https://asean.org/asean-economic-community/free-trade-agreements-with-dialogue-partners/
Badan Pusat Statistik. Klasifikasi Baku Lapangan Usaha Indonesia 2017.
https://www.bps.go.id/website/fileMenu/Perka-BPS-No-19-Tahun-2017.pdf
Badan Pusat Statistik. JumlahKunjunganWisatawanMancanegara per Bulan ke Indonesia MenurutPintuMasuk, 2017-2020.
https://www.bps.go.id/dynamictable/2018/04/05/1296/jumlah-kunjungan-wisatawan-mancanegara-per-bulan-ke-indonesia-menurut-pintu-masuk-2017-2020.html
Badan Pusat Statistik Provinsi Jawa Timur. Provinsi Jawa Timur Dalam Angka 2019
https://jatim.bps.go.id/publication/2019/08/16/f668b9b7ca53a7998bc81453/provinsi-jawa-timur-dalam-angka-2019.html
Banyuwangi Regency Culture & Tourism Service. Exploring Banyuwangi, the Sunrise of Java. Understanding Indonesia
BKPM (The Investment Coordinating Board of the Republic of Indonesia). Investment Negative List Bilingual-April 2016. Regulation of the President of the Republic of Indonesia Number 44 of 2016 Concerning Lists of Business Fields that are Closed to Investment and Business Fields that are Conditionally Open for Investment.
https://www.academia.edu/33791695/Investment_Negative_List_bilingual
BKPM. Investment Procedures in Indonesia
https://www7.bkpm.go.id/
Book ASEAN Smart Cities Network, Centre for LiveableCities, Singapore, Ministry of Foreign Affairs, Singapore. 2018.
https://www.clc.gov.sg/docs/default-source/books/book-asean-smart-cities-network.pdf
Budi Santoso. PPT Banyuwangi Smart Kampung. Dinas Komunikasi, Informatika dan Persandian Pemerintah Kabupaten Banyuwangi.
Cekindo. Indonesia Company registration: Requrement and Process.
https://www.cekindo.com/services/company-registration-indonesia?gclid=CjwKCAjw8df2BRA3EiwAvfZWaLdA2wP0rorf_A4D4IJJihI2NpB1NVD8Jg_9pOv-PmV5SxeAjfgQRhoCZwcQAvD_BwE
Coconuts Bali. April 17, 2020. 'Booming' Tourism in 2021? Jokowi Says He's Convinced COVID-19 Pandemic will only Last Until End of Year.
https://coconuts.co/bali/news/booming-tourism-in-2021-jokowi-says-hes-convinced-covid-19-pandemic-will-only-last-until-end-of-year/
COVID-19: Govt to disburse aid for tourist and creative economy sectors
https://www.thejakartapost.com/news/2020/04/16/covid-19-govt-to-disburse-aid-for-tourist-and-creative-economy-sectors.html
2.000 Hotel dan 8.000 Restoran Tutup, Pengusaha Rugi Rp 70 T
https://finance.detik.com/berita-ekonomi-bisnis/d-5042109/2000-hotel-dan-8000-restoran-tutup-pengusaha-rugi-rp-70-t
Indonesia-Investments. Tourism Industry Indonesia
https://www.indonesia-investments.com/business/industries-sectors/tourism/item6051#:~:text=It%20is%20estimated%20that%20nearly,percent%20of%20the%20total%20economy.
Invest Islands. Indonesia's Tourism Industry Projected to Rebound in 2021.
https://invest-islands.com/indonesias-tourism-industry-projected-to-rebound-in-2021/
Kabupaten Banyuwangi. DATA PERTANIAN, PERKEBUNAN DAN PETERNAKAN
https://www.banyuwangikab.go.id/profil/pertanian.html
KOTRA (Korea Trade Investment Promotion Agency). Indonesia-Korea CEO Virtual Business Dialog 11 June 2020. Joint Cooperation Indonesian Embassy, South Korea and the KADIN Business Service Desk-Indonesian Chamber of Commerce and Industry.
Kristo Molina, Putra Nugraha. Witara Cakra Advocates, June 2016. Indonesia's New 2016 Negative List
https://www.jdsupra.com/legalnews/indonesia-s-new-2016-negative-list-40022/
LokaData. 2020. KontribusiPariwisataterhadap PDB, 2010-2019
https://lokadata.beritagar.id/chart/preview/kontribusi-pariwisata-terhadap-pdb-2010-2019-1582001327
Panorama Destination. Indonesian Government Anticipates 'Tourism Boom' in 2021.
http://www.panorama-destination.com/dtn-news/indonesian-government-anticipates-tourism-boom-in-2021/
Paola Maniga. April 29, 2020. The Impact of COVID-19 on Tourism. Policy Center for the New South.
https://www.policycenter.ma/opinion/impact-covid-19-tourism#.X0yhnMgzaUl
Policy Center for The New South.April 29,2020. The Impact of COVID-19 on Tourism.
https://www.policycenter.ma/opinion/impact-covid-19-tourism#.XtnVRjozaUk
Satu Lagi Hotel Bintang 4 Dibangun di Banyuwangi
https://news.detik.com/berita-jawa-timur/d-4446789/satu-lagi-hotel-bintang-4-dibangun-di-banyuwangi
Surya Poudel. 2013. The Influence of the Accommodation Sector on Tourism Development and Its Sustainability. Case Study: Strand Camping, Larsmo.
https://www.theseus.fi/bitstream/handle/10024/61014/Thesis_Final_SP.pdf?sequence=1
World Trade Organization. Trade Topics, Services Trade, Services sectoral classification list.
https://www.wto.org/english/thewto_e/whatis_e/tif_e/org6_e.htm
https://docs.wto.org/dol2fe/Pages/FE_Search/FE_S_S006.aspx?Query=(@Symbol=%20gats/sc/*)%20and%20((%20@Title=%20indonesia%20)%20or%20(@CountryConcerned=%20indonesia))&Language=ENGLISH&Context=FomerScriptedSearch&languageUIChanged=true#