2018 ASEAN-Korea Youth Network Workshop Closing Ceremony (Korea Program), 6 July 2018, ASEAN Hall
Closing Remarks
by H.E. Lee Hyuk, Secretary General of the ASEAN-Korea Centre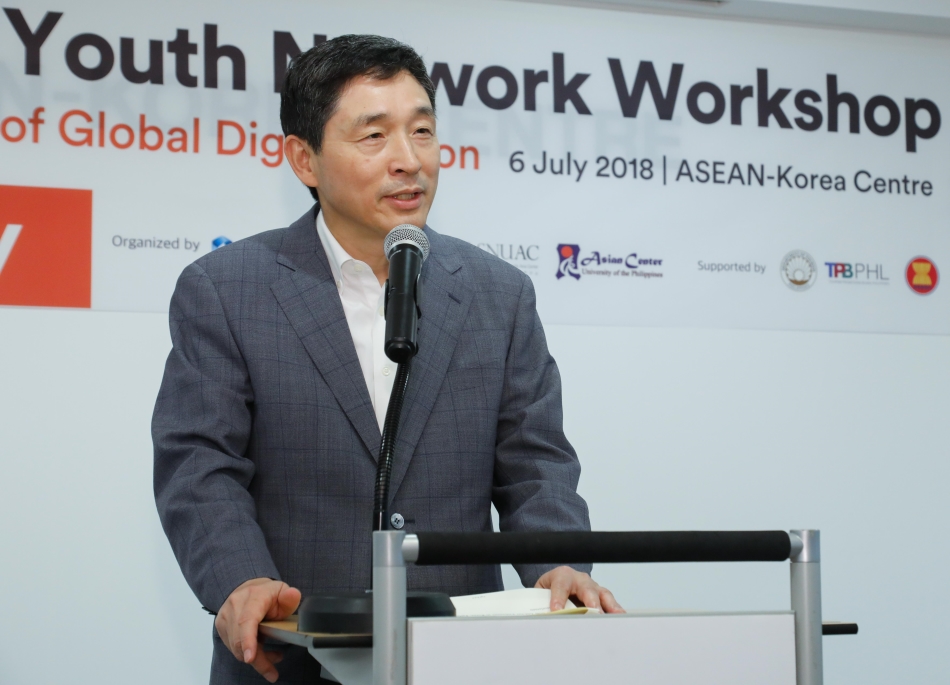 Your Excellency Ambassador Khamsouay Keodalavong of Lao PDR
Your Excellency Ambassador Long Dimanche of Cambodia
Your Excellency Nguyen Vu Tu of Viet Nam
Dr. Park Soo-jin of Seoul National University Asia Center
Officials from ASEAN Embassies in Korea, Participants, Ladies and Gentlemen
Good afternoon. It is a great pleasure for me to have you here at the ASEAN Hall for the Closing Ceremony of the Korea Program of this year's ASEAN-Korea Youth Network Workshop. First and foremost, I would like to express my gratitude to the ASEAN Embassies for their generous support and cooperation. I would also like to recognize our co-organizer Seoul National University Asia Center who has provided us with insightful lectures and programs.
Over the past 5 days, our participants from 13, ASEAN+3 countries, learned about ASEAN and ASEAN-Korea relations. Also, under the theme of "Digitalization", the participants had lectures on the Industry 4.0 and digital economy, as well as visits to sites, such as Seoul City Hall and Digital Media City, to witness how the cutting-edge technology is applied to our everyday lives. Most important of all, the participants have met new friends, worked together in teams, and forged strong friendship with each other. Through the team missions, you cooperated with each other to complete the given tasks, and became closer friends. I hope that you remember these lessons you have learned for the past 5 days as we move to Manila for the Philippines Program. If there is anyone who want more exciting experiences, please take your opportunities in Manila as we proceed.
As many of you may be enjoying already, this is the World Cup season. If you play a football match, there is a half-time in the middle of the game for players to take some rest and prepare for the second half of the game. As we conclude our Korea Program of the Workshop, please take this opportunity as half-time for you to prepare for another exciting second half of the program in the Philippines.
Before I conclude my remarks, please allow me to once again extend my warmest welcome and sincere thanks to all the Ambassadors and representatives of ASEAN embassies in Korea for being here today. Thank you for your continuous support in the Centre's efforts to further enhance the networks and genuine friendship among ASEAN and Korean youths. I hope that you have enjoyed the works of our participants as much as I have.
Thank you.