2018 ASEAN-Korea Youth Network Workshop Opening Ceremony (Philippines Program), 7 July 2018, UPAC Auditorium
Opening Remarks
by H.E. Lee Hyuk, Secretary General of the ASEAN-Korea Centre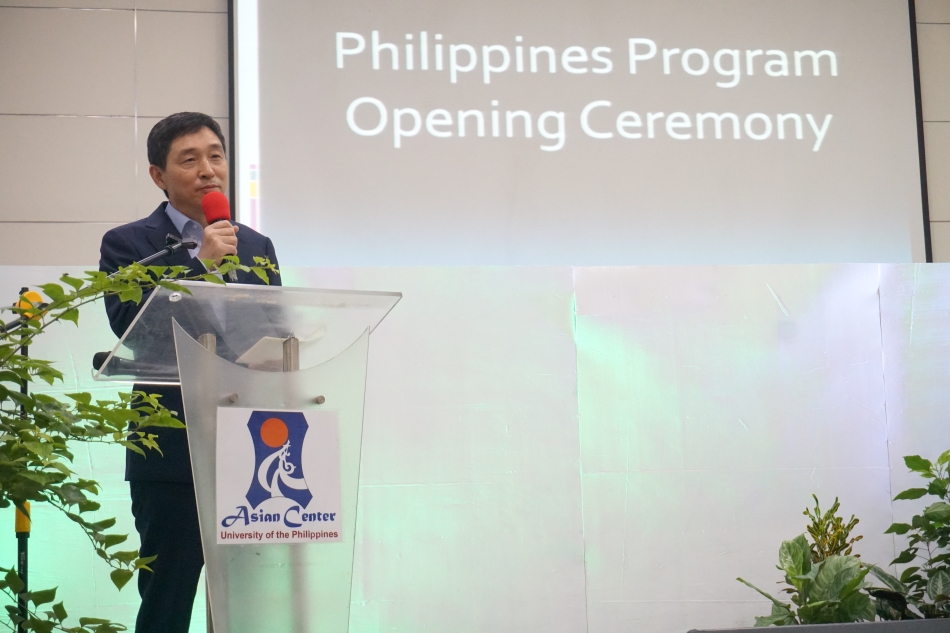 Dr. Joefe Santarita, Dean of University of the Philippines Asian Center,
Mr. Arnold T. Gonzales, Chief Operating Officer of Tourism Promotions Board,
Ladies and gentlemen, here we begin the second half of 2018 ASEAN-Korea Youth Network Workshop in the Philippines, co-organized with University of the Philippines Asian Center!
Dr. Joefe Santarita, Dean of University of the Philippines Asian Center and Mr. Arnold T. Gonzales, Chief Operating Officer of Tourism Promotions Board, I would like to express my deepest gratitude for having you here with us today. Participants, I hope you had a good rest before coming to the opening ceremony.
I personally have a greater attachment to the Philippines, as I served as the Ambassador from 2012 to 2015. It is great to be back, as it reminds me of the good memories I had in the country. There's a proverb in the Philippines saying "Ti bassít a káyo nalaká a lintegén, ngem no dakkél narigáten", which can be translated to "a young tree is easy to straighten, but when it's big it is difficult". What message do you think this saying delivers? I think it emphasizes the importance of youth, and how what you acquire during your youth shape who you become. Through the 2018 ASEAN-Korea Youth Network Workshop, themed ASEAN and Korean Youth as Drivers of Global Digitalization, we hope to create opportunities where the participants can gain insight on the topic of digitalization, to make them become brighter talents of the future. We also hope this Workshop to create opportunities for the participants to build long-lasting friendship.
In the previous Korea program, the participants had chances to attend lectures on diverse topic covering digital technology, ranging from the trends of technology itself, to how to utilize digitalized technology in areas of education and government. They also visited sites where they can experience digital technology. Participants, I hope your experience in Korea allowed you to learn knowledge, take in new experiences, and importantly, make new friends.
The Philippines Program will be a continuation of the Korea Program, and the participants will be able to gain knowledge on different aspects of digitalization through lectures on culture and information sharing, digitalization in the Philippines, business and digitalization, all of which will provide our participants with deeper insights. They will also have chances to visit firms that demonstrate utilization of technology, which will allow the participants to deepen their understanding on the topic.
Ladies and gentlemen,
Having the second half of our program to the Philippines is very timely and appropriate, as Philippines is a country that is highly digitalized. According to a 2017 report, Filipinos spend an average of 9 hours on the internet and 4 hours and 17 minutes on social media every day, ranking the highest in the world. Such phenomenon leads to active utilization of digital means in daily lives of people in the Philippines. Hence, we deemed that the Philippines would be the best choice in helping our participants get a more grasp of digitalization. In addition, the rich culture of the Philippines will create an unforgettable experience for our participants.
Dear participants,
I hope you acquired both knowledge and friendship during the Korea Program. In the Philippines too, I hope you will continue to build upon the foundation you made during the Korea trip, and make it lasting.
Before I conclude my speech, I would like to once again emphasize that the ASEAN-Korea Centre will continue to try our best in encouraging the youth of ASEAN and Korea to become active members of the future society through various programs. I would also like to ask for your continued support and participation.
Thank you!