2018 ASEAN-Korea Youth Network Workshop Opening Ceremony(Korea Program), 2 July 2018, Samik Hall, SNUAC
Opening Remarks
by H.E. Lee Hyuk, Secretary General of the ASEAN-Korea Centre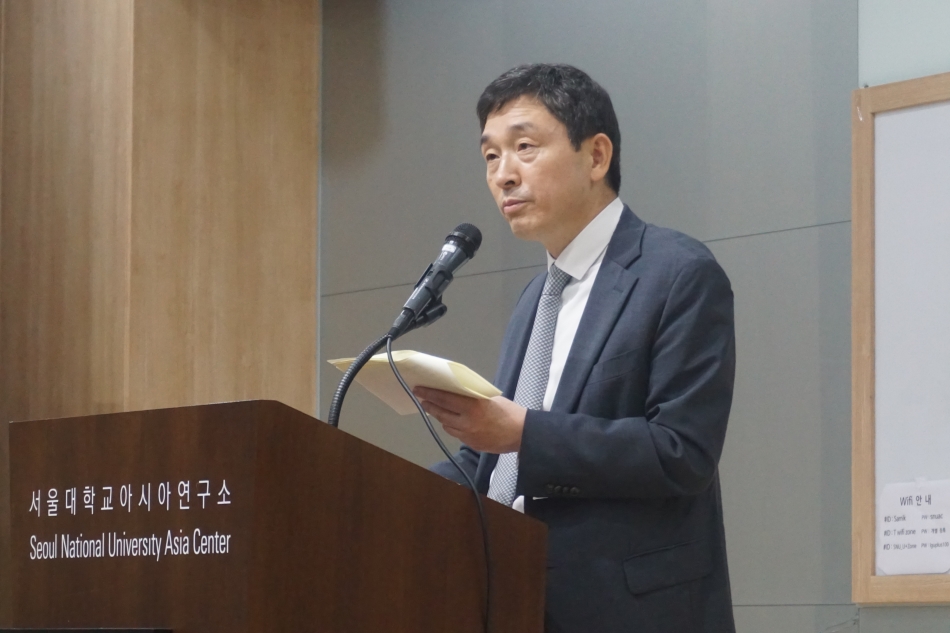 Dr. Park Soojin, Director of Seoul National University Asia Center,
Ladies and gentlemen, and my young friends of ASEAN, Korea, China, and Japan. Good afternoon!
It is my pleasure to welcome you to the 2018 ASEAN-Korea Youth Network Workshop. I would also like to express my sincere appreciation to Seoul National University Asia Center, a leading research institution on Asian affairs, for co-hosting the event.
This year's theme of the Workshop is "Global Digitalization". We all know that digital technology is now integral part of our daily lives, making it impossible to do anything without utilization of technology. ASEAN too has emphasized the importance of technology through the ASEAN Socio-cultural Community Blueprint 2025, ASEAN ICT Masterplan 2020, and ASEAN Plan of Action on Science, Technology and Innovation. In line with this, we all agree that the theme for this year's workshop is both timely and relevant. Through this Workshop, I hope you can deepen your understanding on digital technology and innovation, as well as exchange your thoughts on this topic. I also hope you can build lasting friendships during the 10 days of Workshop. This Workshop will hopefully be a chance to build a stronger bridge that connects ASEAN and Korea.
Ladies and gentlemen,
For many of you, digitalization is already a familiar, even inseparable topic. To briefly touch up on how much technology plays a part in our lives, the average internet penetration rate in ASEAN was 48.2% in 2016, and increased to 53% in 2017. The percentage of active social media users has reached 53% in 2017. The numbers are much higher in Korea, with 96% internet penetration rate and 69% social media usage rate as of June 2018. With the figures and influence of digital technology projected to increase over the next years, it is crucial that we understand the changes happening to us, and to utilize this change for a better good, as there may be both good and bad coming from the development of digital technology.
Therefore, as Global Digitlization is bound to expand its influence over our lives, it is very important that we should have a good understanding on the topic, and learn about how digital technology is being developed and how it can be evolved in the future. In addition, how digital technology can be used as a means to bring ASEAN and Korea closer together will be something we will all have to think about throughout this Workshop.
For the next few days, you will be gaining insight through lectures on global trends in digitalization, digitalization in Korea, Industry 4.0 and sharing economy in ASEAN, education in the digital era, and utilization of digital technology on a governmental level. You will also have chances to see and feel the technological advancement from site visits including Samsung D'Light, and VRight, the VR Theme Park in the City. Through these activities as well as team-building activities, you will be able to not only experience and learn, but also exchange different ideas that will create synergies to better utilize digital technology so that it helps our future. The programs will continue in the Philippines as well.
My friends from ASEAN, Korea, China and Japan,
There is a saying, "Youth is happy because it has the capacity to see beauty." I hope we, through the 2018 ASEAN-Korea Youth Network Workshop, can create a chance for you to see beauty that you were not able to see in your daily lives. Through the Workshop, I hope you can see another beauty of building new friendships that are long-lasting. Through the lectures and visits, we hope you can learn knowledge, and find new opportunities that lie ahead of your lives. I hope that you, the youth of ASEAN, Korea, China, and Japan, will actively take this opportunity to gain a happy and memorable experience.
Thank you very much once again, and I hope that you will have a very exciting and meaningful time for the next 10 days.