< Changes in media consumption pattern in ASEAN amid Covid-19 spread >
The coronavirus pandemic has adversely affected many of the global industries, including tourism and manufacturing. However, in the case of the media industry, the effect has been rather mixed. While off-line entertainment has experienced a drastic fall in consumption, on-line media is seeing unprecedented levels of demand.
In China, where the virus first broke out, box office revenue during the Lunar New Year holidays fell by 1/1,000 compared to that of the previous year. As people stayed home due to social distancing orders, there were very few people going to cinemas and theatres to enjoy films and performances. Instead, many of these people turned to on-line entertainment. Indeed, as the coronavirus situation is prolonged, global consumption of on-line entertainment appears to be growing at unprecedented speed and volume.
Against this backdrop, this week's ASEAN Issue will focus the digitalization trend of on-line media in ASEAN and how the COVID-19 will accelerate this paradigm shift.
■ Social distancing and the increase in online content consumption
Due to globalization and digitalization of content distribution, such as the development of diverse platforms and online networks, the consumption of media has become more convenient than ever before.
ASEAN is currently going through a rapid transformation to a digital society. Although there are differences among and within member countries, internet penetration rate in the region is 66% as of February 2020. This number exceeds the penetration rates in East Asia (63%), Central Asia (54%), and South Asia (48%). As such, the environment for on-line media consumption has become increasingly favorable in the ASEAN region. But now, this trend is picking up even greater speed as people are shifting to 'untact' way of life with the spread of COVID-19.
Indeed, online media consumption in ASEAN has risen substantially over the past few months as people spend more time at home due to social distancing measures. As of April, consumption of movies, tv shows and dramas via on-line increased by 107%. On-line consumption of music, game, educational resources also rose by 49%, 33%, and 15%, respectively. News and information were also viewed through on-line platforms which showed an 11% increase.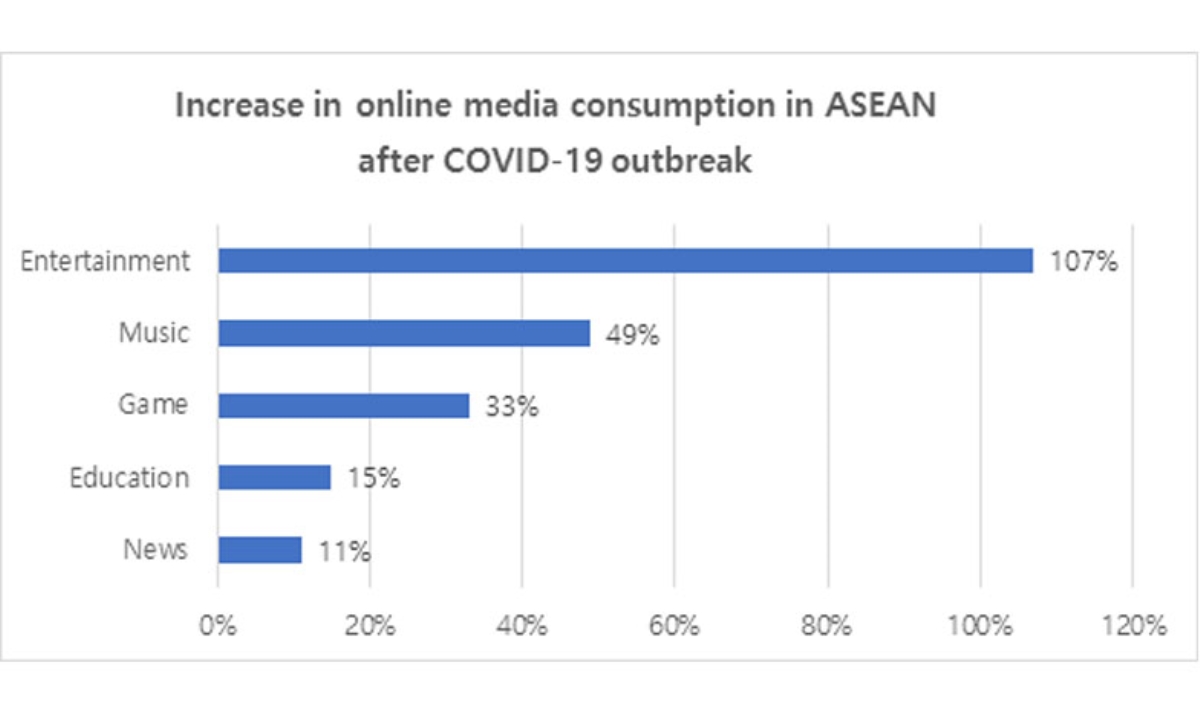 Naturally, a rise in online content consumption was largely observed in countries with better ICT infrastructure, such as Indonesia, the Philippines, Singapore, and Thailand. These countries saw a 60% increase in online media usage since the outbreak of the coronavirus. With greater use, there is also a growing demand for both quantitative and qualitative upgrade of the contents.
According to「We are Social」, internet users in the Philippines ranked first in world in early 2020-they spent an average of 9 hours and 45 minutes per day online with 98% of the users watching videos and 80% Vlogs.
It remains to be seen whether such a shift in media consumption is a temporary phenomenon caused by COVID-19 or a more fundamental change caused by the gradual transformation into a digital society. However, what is clear is that the digitalization process, especially in the media industry, has been significantly accelerated by this pandemic. So, if the online distribution network in ASEAN is strengthened, that is, if a wider range of content from more diverse platforms is provided, this may in fact lead to a more fundamental change in the behavior of media consumption in ASEAN.
■ The golden age of over-the-top (OTT) video streaming services
The average time spent streaming video in ASEAN before the pandemic was reported at about of 36.4 billion minutes a week. This April, after movement restrictions were imposed in most of the ASEAN countries, the number increased by 60% to 58 billion minutes. There was a large increase in the use of OTT services.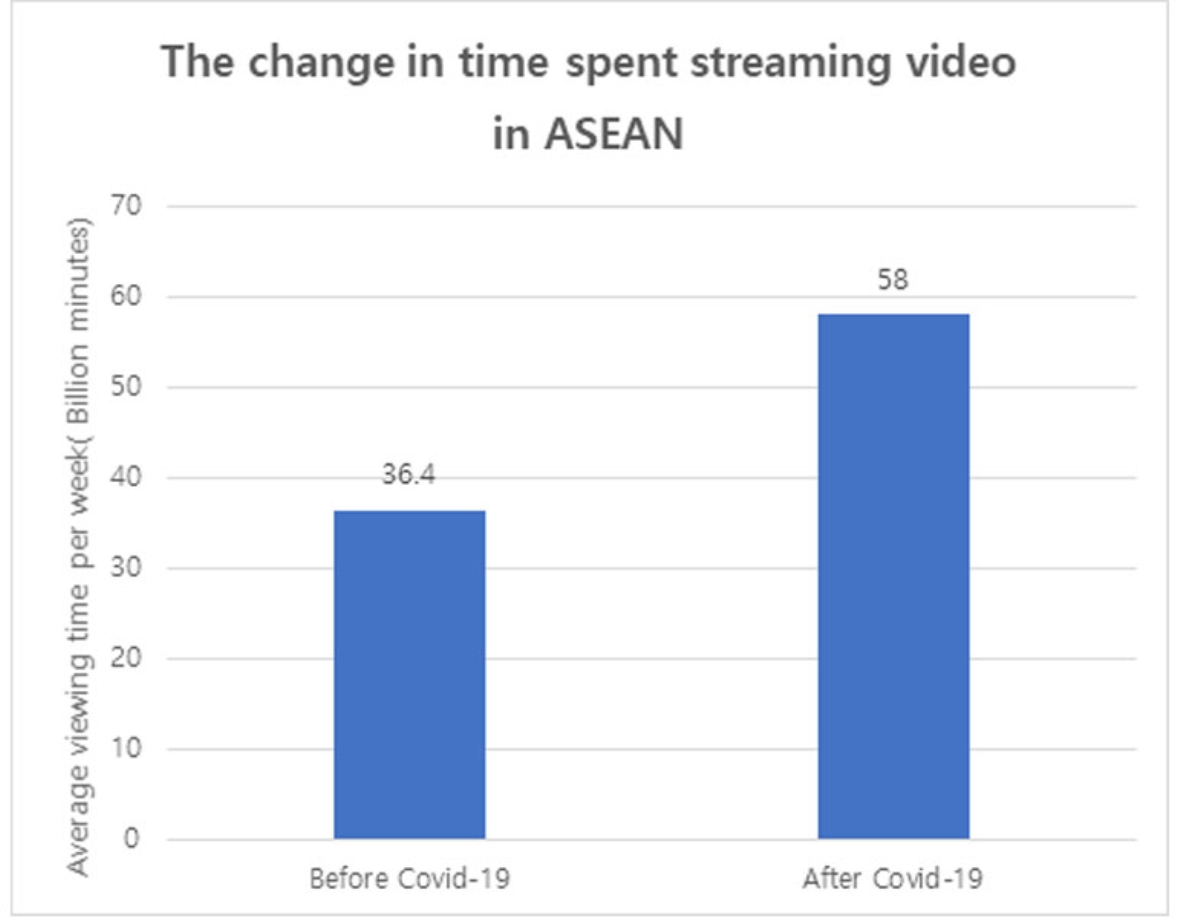 OTT is a service that provides a variety of media content through the internet, enabling viewers to access a wide range of video resources at a much lower price than off-line platforms such as cinemas, theatres and galleries.
While situations are different in each country, there are not many opportunities in Southeast Asia to access world-class concerts, musicals, and plays within the region. Also, in many cases, performances can be costly for the general public to enjoy regularly. As a result, OTT is viewed as an excellent alternative for accessing these concerts and performances by the peoples in the region.
The online video streaming market in ASEAN is estimated to be worth over tens of billions of dollars. Recognizing the potential demand for OTT from the early days, leading OTT platforms such as Netflix (US), iQiyi (China), Viu (Hong Kong) have been competitively entering the region during the past few years. Among them, Netflix has emerged as the most preferred platform, accounting for 31% of the ASEAN OTT market in 2019.
Meanwhile, Catcha, an Australian Internet company, launched a local OTT service in Malaysia, called 'Iflix' in 2015, targeting Southeast Asian consumers. Focusing on distributing locally produced content and with cheaper service fees than other global OTT services, Iflix became the largest OTT platform in the region after Netflix, taking up 22% of the market share within four years of its launch.
Korean OTT service also begun its exploration into Southeast Asia. Wavve, launched in Korea last year, entered the competition for OTT service in ASEAN, expanding its service coverage to Seven Southeast Asian countries (Indonesia, Laos, Malaysia, the Philippines, Singapore, Thailand, and Viet Nam).
Overall, the number of subscribers to these platforms have been exploding since the pandemic outbreak. Iflix users increased by 42% to 25 million and Netflix reported that 16 million new paid subscribers signed up in Southeast Asia alone in first quarter this year.
As the number of users surged, the viewing time of the services also increased significantly. Total viewing time for Netflix and Iflix in ASEAN rose by 115% and 118% respectively. Viu, which started its business in the region in 2016 and iQiyi, China's largest streaming service which broadened its service to ASEAN in 2019 are also rapidly catching up with Netflix and Iflix, with their view through rates (VTR) reaching 274% and 500% respectively.
In the past, on-line media was largely seen as a supplement of televised media. Now, on-line platforms often function as the main platform for consuming media content. Given that some filmmakers are now making their new releases on OTT services rather than in cinemas, the position of on-line platforms, such as OTT services, as the main delivery platform is expected to be further strengthened in the future. Marketing strategies are also shifting their target to OTT users. Last month, advertising orders in OTT services in ASEAN increased by 143%
■ ASEAN-Korea cooperation on content industry in line with changing media consumption pattern in ASEAN
ASEAN's growing consumption of on-line media is expected to contribute to the exchange of creative content between ASEAN and Korea Considering the high popularity of Korean cultural conent including movies, dramas, and music in ASEAN, it is believed that increasing Korean resources in existing OTT platforms as well as expanding Korean OTT services into the region, will not only further promote entry and distribution of Korean contents in the region but also contribute to both quantitative and qualitative expansion of ASEAN's local media content.
During the ASEAN-ROK Culture Innovation Forum held alongside the ASEAN-ROK Commemorative Summit last November, President Moon Jae-in stated that Korea and ASEAN will build a platform for cultural cooperation by promoting exchanges in the ASEAN-Korea contents market.
Indeed, Korea's content industry has steadily sought opportunities to cooperate with ASEAN.
Lotte Entertainment produced the movie "Hai Phuong" in Viet Nam which marked the third most-viewed film in the country. Along with Singapore, NEW developed the movie "Train to Busan" into VR resource and distributed it throughout the region. As such, Korean companies have been promoting win-win cooperation between ASEAN and Korea.
Nevertheless, more active ASEAN-Korea cooperation in cultural content and creative media is desired especially in line with ASEAN's fast-changing media consumption pattern since COVID-19. Such increased cooperation will not only widen the horizons for the global distribution of K-contents, but will also contribute to the growth of the contents market in ASEAN.
참고자료
●We Are Social, "Digital 2020"
●Global Web Index, "Coronavirus Research: Media Consumption and Sport"
●JPMorgan Chase, "Media Consumption in the Age of COVID-19"
●Media Partners Asia, "Southeast Asia Online Video Consumer Insights & Analytics"
●Forbes, "How Southeast Asian Startups Are Creating A Digital Future In A Coronavirus Pandemic"
●Campaign Asia, "How media consumption is fluctuating in Southeast Asia and Australia"
●SpotX, "The COVID-19 Impact on Viewership and Ad Spend in Southeast Asia"
●Screen Daily, "Mobile streaming surges 60% in Southeast Asia during coronavirus crisis"
●Gadgets, "Netflix Sees Record Sign-Ups During Coronavirus Lockdown"
●The Conversation, "Streaming into Southeast Asia: how Netflix, HBO compete with regional players like iflix and HOOQ"
●청와대, "한-아세안 문화혁신포럼 환영사"
●KOTRA, "동남아 vs 글로벌, 인도네시아 동영상 스트리밍(OTT) 시장"
●정보통신정책연구원, "코로나19가 방송 미디어 산업에 미치는 영향 및 시사점"
●영화진흥위원회, "넷플릭스잡는 아시아 OTT 강자들"
●영화진흥위원회, "한국 영화기업, 동남아 영화 시장을 견인하다"
●이투데이, "12조원 시장 잡아라… 미중 스트리밍 강자들 전쟁터 된 동남아"