< ASEAN Immigrants in Korea and Multicultural Society of Korea >
2020.08.07
On November 26, 2019-the second day of the 2019 ASEAN-ROK Commemorative Summit-the 2019 Multi-cultural Family Federation, co-hosted by the Ministry of Gender Equality and Family and the Korean Institute for Healthy Family, was held in Busan. At the gathering, Ms. Lee Jung-ok, Minister for Gender Equality and Family, talked about the way forward and commitment towards an inclusive society that embraces multi-cultural families in Korea.
According to the 2018 Population and Housing Census published by Statistics Korea, the number of multi-cultural households in Korea increased by 45,000 from the previous year reaching 1,009,000. Now there are over 1 million multi-cultural families in Korea which is equivalent to 2% of the Korea's total population. Among them the number of marriage migrants from ASEAN countries is 63,000 (Ministry of Justice, 2019). As such, multi-cultural families with ASEAN family members are now an integral part of Korean society, each playing their part as responsible members of our community.
Korea's transformation into a multi-cultural society is unprecedented in the sense that it happened over a very short period of time. The rapid transformation to a multi-cultural society over a period of two decades is reflective of Korea'rapid economic development in the past. But, the sudden changes have also brought with it various social issues and challenges for both multi-cultural families and Korean communities.
Against this backdrop, this week's ASEAN Issue will look into the current status of ASEAN multi-cultural families in Korea, and seek the way forward towards a more inclusive society that allows mutli-cultural families to thrive in our communities.
ASEAN Nationals in Korea
As of 2019, ASEAN nationals in Korea are as follows: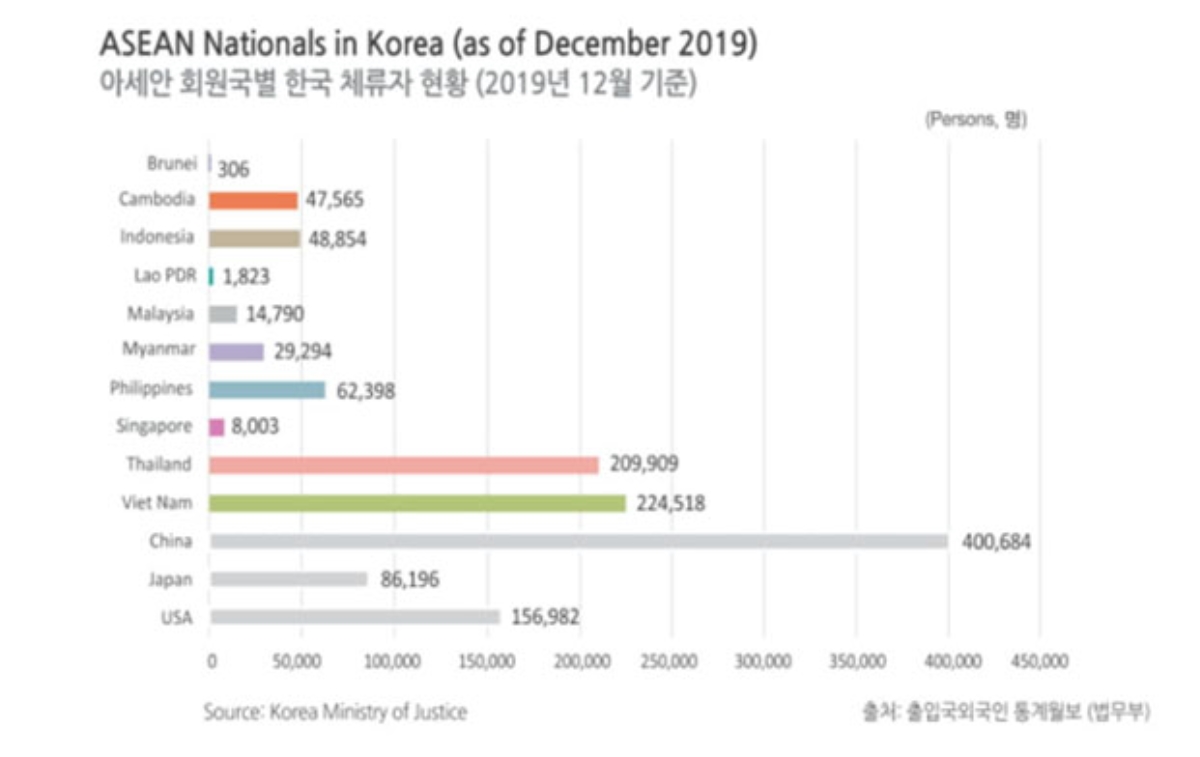 < Figure 1. ASEAN Nationals in Korea (as of December 2019) >
According to the above statistics, Chinese make up the largest number of foreign residents in Korea. However, according to the statistics by the Ministry of Interior and Safety, 71% of these Chinese nationals are ethnic Koreans who have settled in China in early 20th century. Therefore, if we rule out the Chinese residents, then the largest group of foreign residents in Korea are those from Vietnam (224,518) followed by Thailand (209,909). If we add the number of foreign residents from all ten ASEAN countries, the number exceeds 600,000. Already, ASEAN nationals make up a large part of our society.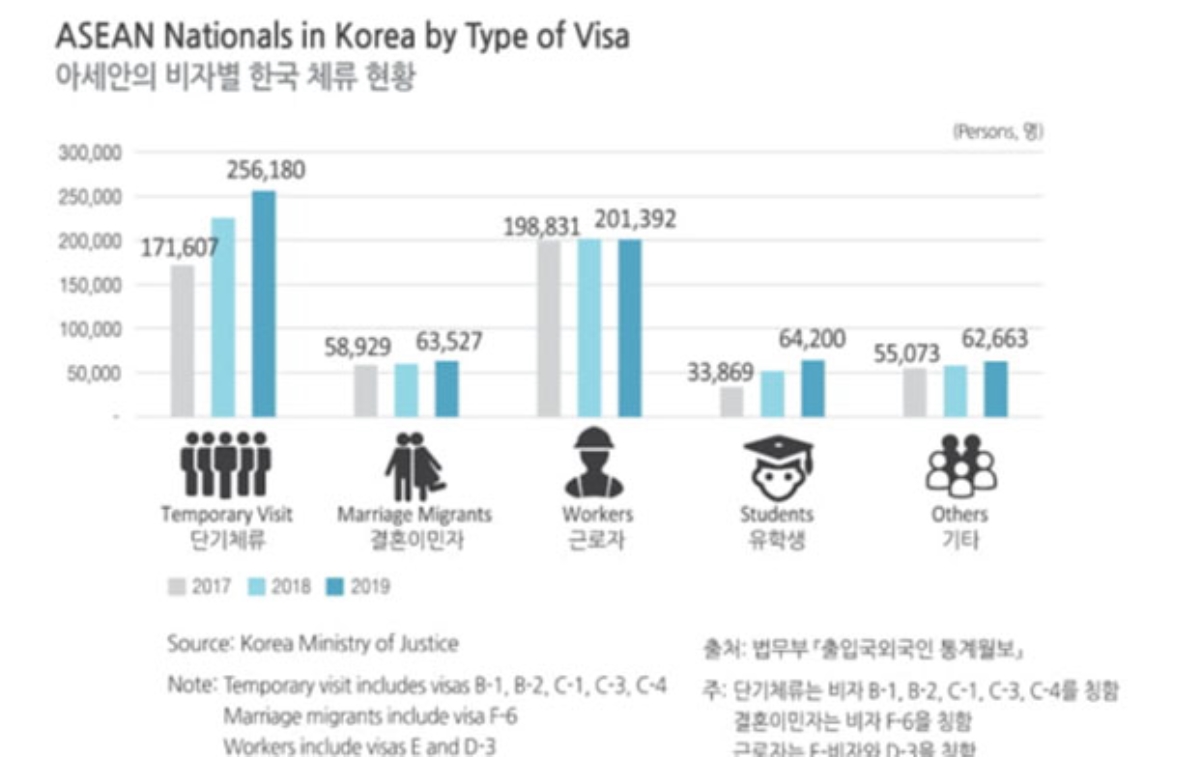 < Figure 2. ASEAN Nationals in Korea by Type of Visa >
You can see from the table above that ASEAN residents in Korea can largely be categorized into three groups - workers, marriage migrants, and overseas students. Among the three categories, marriage migrants, in particular, are an important part of Korean society because they are likely to reside in Korea on a more permanent basis and their children will be part of the Korean community as Korean nationals. Workers and students, on the other hand, will after some time return to their home countries. However, the number of workers and students from ASEAN countries continue to increase and because of this upward trend, there is a sizable number of ASEAN workers and students in Korea in any given year. In this regard, they too can be seen as a significant pillar of our society.
Korea's Multi-cultural Society
As mentioned above, Korea's transformation to multi-cultural society happened rather quickly. Hence, neither the society nor Korean culture were prepared for the sudden increase in the number of foreign residents in Korea. In many countries around the world immigration was a gradual process that took place throughout the 20th century and perhaps slightly accelerated by globalization. However, in Korea, immigration of foreigners only began since late 1980s and even then, only accounted for 0.1% of the Korean population.
These circumstances have influenced Korean society's attitude vis-a-vis foreigners. Korea, historically, has been more or less a homogeneous nation with many invasions from foreign countries in the past. As a result, Koreans can at times be rather watchful when accepting newcomers, especially foreigners, into their communities.
Over the years, Koreans have made various efforts to eliminate discrimination and promotie a more open and inclusive environment for foreign residents. Many NGOs are today supporting multi-cultural families in various aspects and the government has also put forward various initiatives to mitigate the cultural gap among Koreans and foreign residents.
These efforts also include the policy of the Ministry of Culture, Sports, and Tourism which aims to promote better understanding of multi-culturalism among the Korean public. The policy is formulated so that people acknowledge and accept that there are differences in the cultures of different countries. Indeed, such recognition and acceptance of the 'difference' is important in taking the first step towards a multi-cultural society, especially in Korea where people have lived in a homogeneous society for a long time.
The private sector also has put a wide array of efforts to recognize the emerging cultural diversity in Korea. Locally, private organizations host various culture diversity concerts, multi-cultural festivals, and cultural exchange programs to promote inclusiveness and create a multi-culture friendly environment.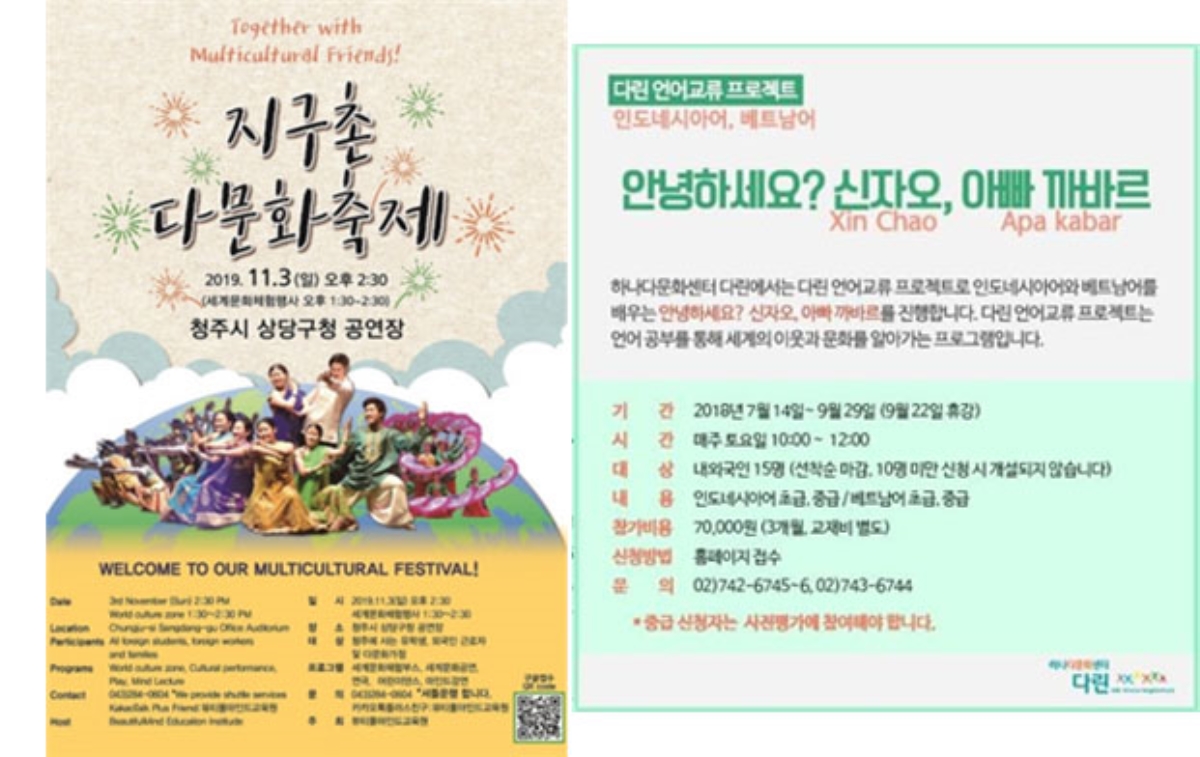 < A poster of a multicultural festival organized by a private organization in Cheongju area >
< Language Exchange Program hosted by the Multicultural Center in the Private Sector >
The ASEAN-Korea Centre also holds multiple programs such as workshops under the topic of 'Multi-culturalism in Korea and ASEAN's Contribution', multi-cultural lecture series, open lectures under the themes of multi-culture and cultural diversity to have extensive discussions about ASEAN nationals in Korea, as well as the current status and future direction of Korea's multi-cultural society.
In terms of promoting cultural exchanges between Korea and ASEAN, marriage migrants and international students from ASEAN have made great contributions to bridge and connect the two cultures and peoples. As the only international organization dedicated to ASEAN affairs in Korea, the ASEAN-Korea Centre has been taking that extra mile to recognize and strengthen the roles of ASEAN nationals in Korea. The ASEAN Youth Network in Korea and the Council of ASEAN Professors in Korea are two organizations that have been launched for these purposes.
Conclusion
In May 2020, following the outbreak of the coronavirus, the Korean government suspended inspections on illegal immigrants as overseas travelling became difficult. Unaware of this policy change, a Vietnamese citizen who had overstayed his term went into hiding for fear of being caught despite the fact that he had tested positive for COVID-19. Fortunately, Lee Bo-Eun, a Vietnamese-born officer at the Gwangju Police Station in Gyeonggi Province, sent a text message to the person concerned in Vietnamese to persuade and help the person to be taken to the hospital. She played a major role in not only preventing further spread of the COVID-19 but also in helping the foreign communities in Korea.
Global Together is a volunteer organization in Eumseong-gun, Chungcheongbuk-do. Members of Global Together, made up of nationals from different countries and local residents, is carrying out various activities to improve local security and environment. In Dongjak-gu, Seoul, Foreign Residents Voluntary Crime Prevention Force contribute to the safety in the local community by conducting activities such as safety campaigns, patrols in safety zones where foreigners are concentrated, and leading and protecting foreign youths and kids from multi-cultural families.
ASEAN-born residents stand out in many areas of the Korean society. Ms. Lee Jasmine who naturalized to Korea from the Philippines is the first non-ethnic Korean to become a member of the National Assembly. Prior to her election, she was also an actress, civil servant of the Seoul Metropolitan government, and social activist for multi-cultural families in Korea. Lee is now continuing her political career as a member of the Justice Party.
Not long ago, Ms. Sruong Pheavy, a Cambodia-born marriage migrant featured in the Korean television program 'Human Theatre' and gained much public attention. Ms. Pheavy began to play billiards after coming to Korea and today is the Korean champion in women's three-cushion billiards. Ms. Pheavy has become a sports star in both Korea and Cambodia.
As such, ASEAN born residents in Korea are doing their part as a member of our society and moreover are contributing to the social and economic development of this country. As an integral part of our community, their role is becoming increasingly important.
However, there is still much to do to make our society truly embrace multi-culturalism. While many countries transformed into diverse societies over a period of 100 years, multi-culturalism was introduced into Korean society in a matter of 20 years. Therefore, we still have much to do in terms of raising awareness, eliminating discrimination and making policy changes.
What is encouraging is that Korea has a host of experience in overcoming challenges. There is no doubt that Korea will be able to also quickly resolve challenges relating to multi-culturalism. Since more and more people recognize the importance of diversity and are working to understand each other, I am sure soon enough Koreans will show greater respect and trust towards muli-cultural families.
Reference:
● 2018 Population and Housing Census, Statistics Korea (2019)
● Monthly statistics on foreigners entering and leaving the country, Ministry of Justice (2019)
● Kim Yi-sun, Hwang Jung-mi, Lee Jin-young, 2007, Establishment of Policy Paradigm for the Implementation of Multicultural and Multicultural Society(I): The Realities and Policy Tasks of Korean Society, 07-09-01, Korean Women's Development Institute, Seoul.
● Shim Kyusun, 2018, Implications of intergroup contacts on social cohesion in multicultural society: with focus on trust and cultural diversity
News article:
● [Pick]"I'm a Vietnamese cop.. "SBS NEWS (2020-05-19)
● "Foreigner Support Center in Eumseong-gun, Head of 'Clean Geumwang', Daejeon Ilbo (2020-06-07)
● "Operation of 'Foreign Residents' Voluntary Crime Prevention Guards' in Dongjak-gu," Asian Economy (2020-07-17)