2015 ASEAN Fair: Touch & Taste ASEAN
Seoul, Korea, 18 November 2015
Welcoming Remarks by H.E. Kim Young-sun, Secretary General, AKC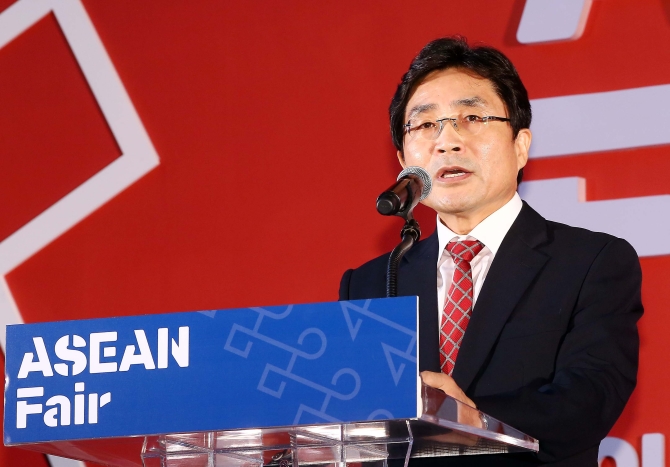 Her Excellency, Dato' ROHANA binti RAMLI, Malaysian Ambassador to Korea
His Excellency, Pham Huu Chi, Vietnamese Ambassador to Korea
His Excellency, Suth Dina, Cambodian Ambassador to Korea
His Excellency, Dato Paduka Haji Mohd Rosli HAJI SABTU, Brunei Ambassador to Korea
His Excellency, Khamsouay Keodalavong, Lao Ambassador to Korea
His Excellency, Masataka Fujita, Secretary General of ASEAN-Japan Centre
Mr. Park Ingu, Chairman of Korea Food Industry Association
Mr. Jang Ho Keun, Executive Managing Director of Korea International Trade Association
Mr. Bo-Kyung Byun, President and CEO of COEX
Mr. Huh Kwon, Director-General of International Information and Networking Centre for Intangible Cultural Heritage in the Asia-Pacific Region under the auspices of UNESCO (ICHCAP)
Dr. Hadi Susanto Pasaribu, Executive Director of ASEAN-ROK Forest Cooperation Secretariat
Distinguished Participants,
Ladies and Gentlemen,
I would first like to welcome each and every one of you to the 2015 ASEAN Fair, this year held under the theme of Touch and Taste ASEAN.
This year has embarked on unparalleled efforts to promote ASEAN at the large scale, where we bring together the promotion of ASEAN food industry and the promotion of ASEAN culture and tourism under one big event. Held in conjunction with the "Food Week Korea 2015", the ASEAN Fair will have greater synergy and impact in comprehensively showcasing ASEAN to the Korean people and businesses.
I believe that this Fair couldn't be more timely and appropriate as it takes place against the backdrop of the imminent announcement of the launching of the ASEAN Economic Community, which will take place in a few days time in Kuala Lumpur. The realization of the ASEAN Economic Community will usher in a new era of co-prosperity and collaboration between ASEAN and Korea. In this regard, I am confident that the Fair will serve as momentum for bringing the ASEAN-Korea relations to new heights-directed towards mutually beneficial partnership.
For this year's Fair, we have invited one hundred companies from ten ASEAN Member States to unveil their product potentials to the Korean business community. In order to further foster the economic cooperation between Korea and ASEAN, our Centre held the "Trade Facilitation Seminar on the Food Industry between ASEAN and Korea" for the past two days. This seminar served as an interactive workshop, providing ASEAN participants an opportunity to understand more about the Korean importation regulations and quarantine procedures of food products. [On the one hand, this workshop aimed to further increase the entry of ASEAN products to the Korean market, while trying to address the existing trade imbalances between ASEAN and Korea on the other.] Beginning from today for four days, the ASEAN companies will exhibit their distinctive food and beverages [to the Korean businesses and people]. I sincerely hope the ASEAN and Korean companies find great opportunities and take back win-win outcomes.
Not only will the Fair play an important role in promoting economic cooperation between ASEAN and Korea, it will also promote ASEAN as an attractive tourism destination with unique and enriched cultural diversity. With the aim to maximize the impact of this year's Fair, we have invited distinguished cultural performers and prepared the tourism booths to showcase the unmatched beauty of cultural tradition of ASEAN. I am sure that you will be fascinated by the colorful performances of each ASEAN Member State.
With that, I would like conclude my remarks by expressing once again my heartfelt gratitude to all of you for joining us today. [The ASEAN-Korea Centre will remain as a key player in enhancing the mutually beneficial, genuine partnership between ASEAN and Korea, especially in the areas of trade, investment, culture and tourism.]
Thank you very much.