Speech & Interview
HOME > Speech & Interview
Launching Ceremony for the ASEAN Month
11 May 2017, ASEAN Hall of the ASEAN-Korea Centre
Welcoming Remarks by H.E. Kim Young-sun, Secretary General of ASEAN-Korea Centre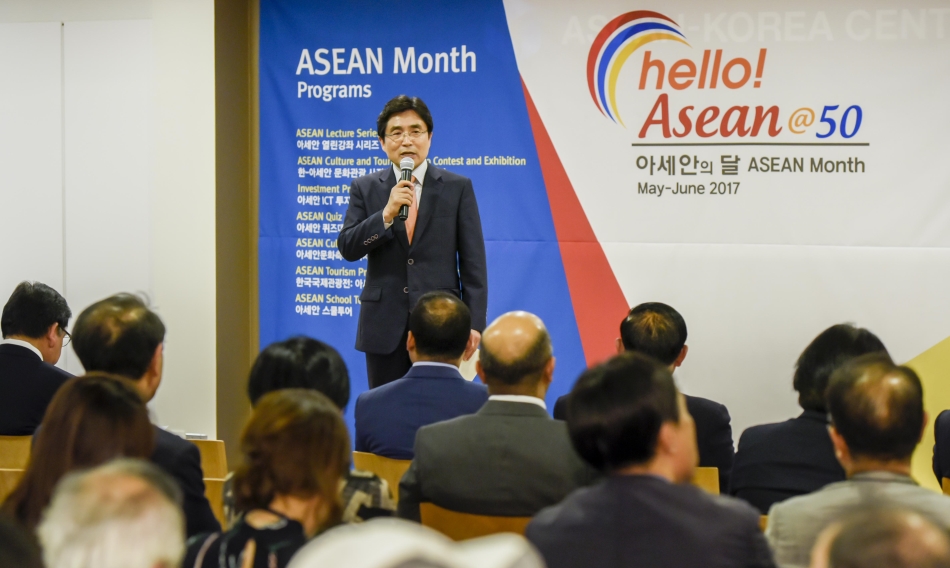 H.E. Dato Paduka Haji Mohd Rosli HAJI SABTU,
Ambassadors of the ASEAN Member States,
Director General of the Ministry of Foreign Affairs of Korea,
Journalists, Scholars,
Distinguished Guests, Ladies and Gentlemen,
Welcome to the Launching Ceremony of the ASEAN Month!
Before I go on, I would like to thank all of you here today for attending this important ceremony today. I believe that your presence is showing your great support for the ASEAN-Korea Centre as well as your commitment for a stronger ASEAN-Korea partnership.
2017 is a remarkable year for ASEAN, and a momentous year for ASEAN-Korea relations. It marks the 50th Anniversary of ASEAN, and it has also been designated as the ASEAN-ROK Cultural Exchange Year by our leaders. There have been great achievements recently leading up to 2017, the most significant being the launching of the ASEAN Community at the end of 2015. Korea, as one of the 10 Dialogue Partners, has been developing mutually beneficial relations with ASEAN over the past two and a half decades. And, the ASEAN-Korea Centre is proud to have been playing a central role in this regard.
We have been making plans for the whole year to promote ASEAN and ASEAN-Korea relations in this very special year. One notable initiative is the ASEAN Month, during which we will be carrying out a series of events and programs to highlight ASEAN and ASEAN-Korea relations, and raise awareness among the Korean public. Now, the ASEAN Lecture Series will be the first out of seven programs that will be carried out for the ASEAN Month. The other six programs are: ASEAN Culture and Tourism Photo Context & Exhibition; ASEAN Tourism Promotional Pavilion at KOTFA (Korea World Travel Fair); ASEAN Culinary Festival; ASEAN School Tour Program; ASEAN Quiz; and Investment Promotion Seminar on ICT.
ASEAN-Korea relations have never been more important than they are today. For our relations to become more mature and to further develop into a long-lasting partnership, I would like to point out two things.
First, we need to deepen the level of understanding and consideration for each other. There's a saying in Bahasa, "Tak kenal maka tak cinta" which means, "You cannot love someone if you do not now that person." Like this, we cannot love each other without knowing each other. So, it is important for the people of ASEAN and Korea to know each other at a deeper level for a more long-lasting partnership between ASEAN and Korea. In this regard, socio-cultural cooperation between the two sides is most important.
Second, partnership among various stakeholders is also critical. Partnership among the public sectors, private sectors, the civil society, the academia, the mass media, and so on, is significant. We are going to have a talk show soon after this Ceremony. I look forward to the various perspectives from our diverse stakeholders.
Distinguished guests, ladies and gentlemen,
I sincerely hope for your continued support and participation for all our programs organized for the ASEAN Month. And once again, thank you for being here with us today, and I hope everyone will have a pleasant and meaningful time. Thank you very much.