Speech & Interview
HOME > Speech & Interview
2017 ASEAN-Korea Youth Forum
18 September 2017, Multipurpose Hall, Seoul City Hall
Opening Remarks by H.E. Kim Young-sun, Secretary General of the ASEAN-Korea Centre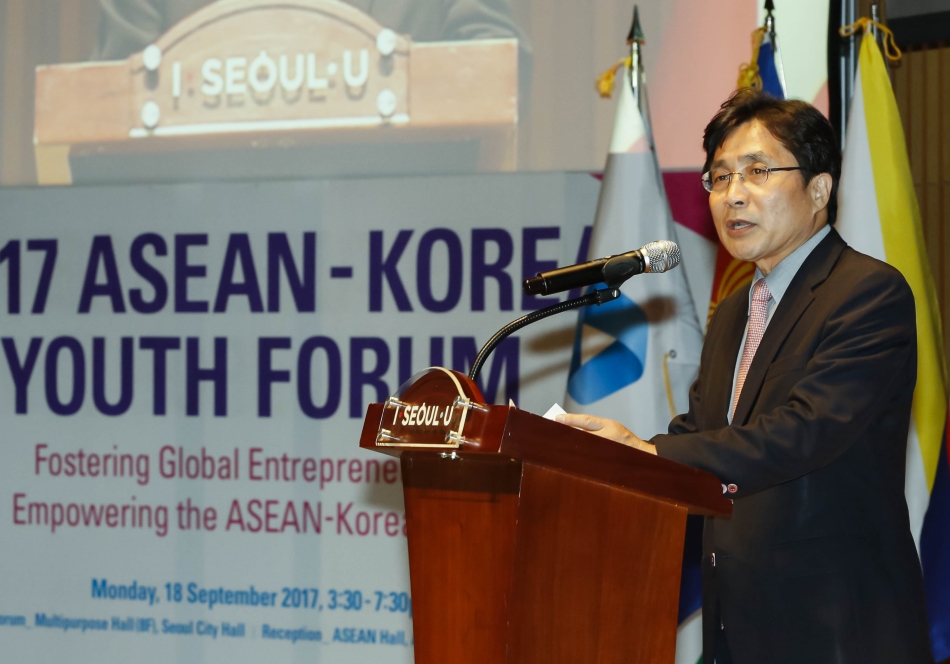 H.E. Kim Chang-beom, Ambassador for International Relations to the Seoul Metropolitan Government,
Dr. Song Jong-guk, President of the Science and Technology Institute (STEPI),
Dr. Kilaparti Ramakrishna, Director of the UN ESCAP East and Northeast Asia Office,
Ms. Penny Low, President and Founder of Social Innovation Park Ltd.
Distinguished speakers, ladies and gentlemen, and dear students from ASEAN and Korea,
Welcome to the 2017 ASEAN-Korea Youth Forum!
Today I am very pleased to join you here today at the Opening Ceremony of the 2017 ASEAN-Korea Youth Forum. It is wonderful to see so many participants ready to share and learn. Before I go on, I would like to extend my deepest appreciation to the Seoul Metropolitan Government, STEPI, and UN ESCAP East and NorthEast Asian Office for their close collaboration in organizing this meaningful event.
We have organized this Forum to highlight the importance of entrepreneurship and provide a platform for discussions to our youth. I do believe in the youth's capability to create social changes through innovative mindsets; and these types of gatherings to exchange insights by leading youth entrepreneurs, we believe, is crucial.
We are living in a world that is far more complex than the world I grew up in. Part of what makes it so different, in fact, is YOUR entrepreneurial activity and the activity of MANY people like you. We need you to utilize your ambition, your inspiration, and your desire to creatively figure out how we can better our life and create shared prosperity worldwide.
I hope that this Forum provides a chance for your minds to come together, be inspired by one another, and create innovation. When you walk out of this hall, please take what you've learned and pursue your dream.
I would like to thank you once again for participating in this Forum, and wish you the best of luck in having a fruitful day. Thank you.