Speech & Interview
HOME > Speech & Interview
10th Annual Meeting of the Council of the AKC
26 February 2018, Paradise Hotel Busan Sicily Room (1F)
Remarks by H.E. Kim Young-sun, Secretary General of the ASEAN-Korea Centre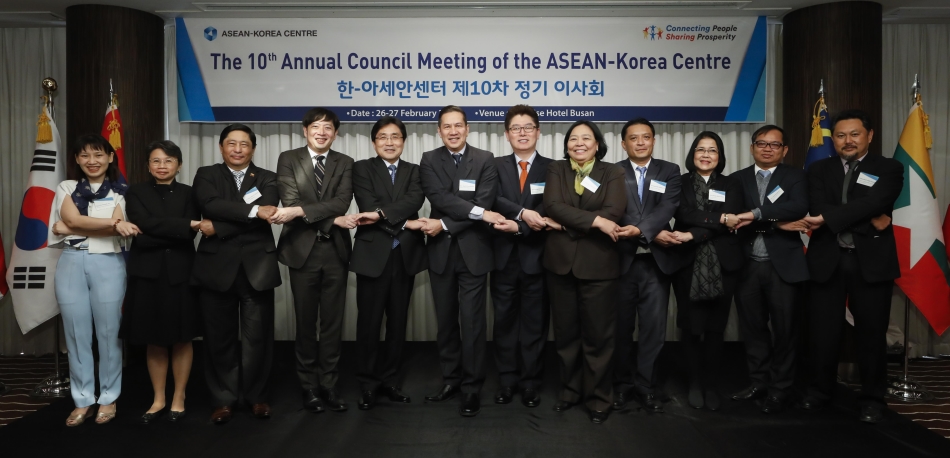 Mr. Chair,
Council Directors of the ASEAN-Korea Centre,
Fellow Ambassadors and Colleagues,
First of all, let me extend my warmest welcome to all of you to the 10th Annual Meeting of the Council of the ASEAN-Korea Centre. And most of all, welcome to Busan. I think most of you probably have already been to Busan, while the city might be new to some people here today. The weather is a little cold, but we will still be able to enjoy the beautiful view from the warmth of this hotel.
Your Excellencies, I want to take this opportunity to sincerely thank you for all the strong support and guidance you provided us with through the year. Particularly, I would like to extend my special thanks to the outgoing Chair, Ambassador Raul Hernandez, Ambassador of the Philippines to Korea, and I would like to welcome the incoming Chair, Mr. Gerard Ho, Director-General of the ASEAN National Secretariat of the Ministry of Foreign Affairs of Singapore.
Ladies and Gentlemen,
Putting behind the momentous year of the 50th Anniversary of ASEAN, we are in another milestone year, as we prepare for the 30th Anniversary of ASEAN-Korea relations and the 10th Anniversary of the establishment of the ASEAN-Korea Centre.
As you know, President Moon Jae-in has announced his New Southern Policy, emphasizing the significance of ASEAN to Korea. This policy aims to make unprecedented efforts to take ASEAN-Korea relations to an all-new level. And these efforts are not only coming from the President's Office, but also the National Assembly and various administrative bodies of the government. At this critical juncture, it is certain that the AKC will be playing a more central role in strengthening the partnership between ASEAN and Korea.
This year, the AKC has come up with a collective theme for the AKC's programs planned for the year, titled "Connecting People, Sharing Prosperity." Under this wider theme, we have identified four specific focuses which are: first, Prosperity and Industry 4.0; second, Sustainable Development; third, People-Centered Community-building; and fourth, People-to-People Exchange.
First, Prosperity and Industry 4.0 is important for AKC programs in 2018. When we consulted our Working Groups, we found that the ASEAN Member States increasingly wish to cooperate with Korea in sectors related to the Fourth Industrial Revolution. Therefore, we will place more focus on the sectors of Industry 4.0, in close consultation with our Member States.
Second, Sustainable Development continues to be an important concept for our global community. ASEAN, especially places great importance on supporting MSMEs, developing sustainable tourism in the region, enhancing capacity-building, and so on. The Centre hopes to contribute to the efforts of ASEAN and Korea in the agenda for Sustainable Development.
Third, the Centre will continue to support ASEAN in its Community-building efforts. Not only will we continue our support for ASEAN physical connectivity [through our annual ASEAN Connectivity Forum, which has become a flagship program of the Centre over the past years,] but we will also focus on supporting People-centered Community-building.
Fourth, the Centre will take another leap in its efforts to enhance People-to-People Exchange. Over the past few years, Your Excellencies would have noticed that the we have considerably strengthened our support for youth and academic exchange, as well as our other awareness programs. We will continue this effort and expand our P2P programs in 2018.
Excellencies,
One great achievement we have made together is the a) revision of the mode of ASEAN contribution to the AKC, and b) secondment of ASEAN officers to the AKC Secretariat. I remember that one year ago, we sat here to make this difficult decision. And with your support, the AKC has received the financial contributions from the Member States, and we have 4 ASEAN officials who will begin work with us at the AKC. Like this, I firmly believe that the AKC, as a partner organization between ASEAN and Korea, will be able to further enhance the mutually beneficial partnership between the two sides.
On the occasion of this Council Directors Meeting, the AKC is proud to have the opportunity to present to you an analysis of our programs during the last 9 years, and the evaluation of AKC's flagship programs such as the ASEAN Connectivity Forum, the ASEAN Trade Fair, the ASEAN Culinary Festival, the ASEAN Tourism Capacity Building Workshop, and the ASEAN Youth Network Workshop during the last 3 years. Also, we would like to present our new publications including Sustainable Cultural Heritage Tourism, Social Big Data Analysis on Perception Level of ASEAN in Korea, and ASEAN-Korea Youth Network Workshop 5-year Program Report. Such analytical and evaluation efforts of AKC programs will provide a strong foundation for AKC's programs and ASEAN-Korea cooperation be more long-lasting and more effective.
Also, in 2017, in celebration of the 50th Anniversary of ASEAN and the ASEAN-ROK Cultural Exchange Year, the AKC conducted a wide variety of commemorative programs. At the ASEAN Tourism Forum in Chiang Mai last month, we received a certificate of appreciation from ASEAN for our active support for the Visit ASEAN@50 Campaign. Also, the AKC received a certificate from the Minister of Foreign Affairs of the Republic of Korea for its contribution to enhancing ASEAN-Korea relations. Although they may be modest recognitions, the AKC is glad to have been acknowledged as playing a leading role for deepening the partnership between ASEAN and Korea, and we will continue to keep up our efforts.
Excellencies and colleagues,
You would know by now that this will be my last Council Directors Meeting. I have served my position as Secretary General for three years, and I will be leaving the Centre in mid-March. The last three years have been an exciting challenge for me, and don't think I've ever been more passionate in my life.
My passion for ASEAN will continue, and I will always hold onto the friendship that I have built with you, the Council Directors, Ambassadors, the EB and Working Group Members, and of course, our AKC staff. You would have heard me say this a million times, but the message I want to leave with you is 'Have Creative Passion.' I hope that our Creative Passion will lead to another successful year of 2018, with meaningful and concrete, outcome-oriented programs. Also, I am certain that the Creative Passion of each and every one of us here today will serve as a building block for a stronger and more solid ASEAN-Korea partnership.
Well thank you once again, for your enduring partnership, and also for your presence today, and I hope that we will have meaningful discussions during our two-day meeting.