Speech & Interview
HOME > Speech & Interview
2018 ASEAN Youth Startup Development Workshop
26 May 2018, ASEAN Hall, ASEAN-Korea Centre
Opening Remarks by H.E. Lee Hyuk, Secretary General of the ASEAN-Korea Centre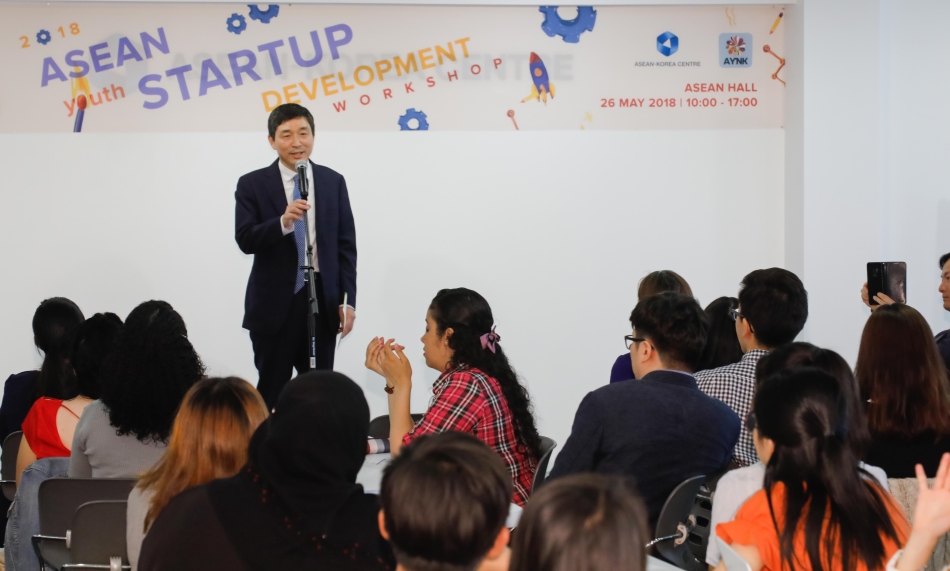 Good morning to all of you.
Welcome to the ASEAN-Korea Centre. I am honored to give the Opening Remarks for today's Workshop. This program is meaningful to me as this is the first youth program that I have ever attended since I assumed my current post in March in this year. I am very happy to see young faces actively participating in our events.
Allow me to extend special greetings to ASEAN Youth Network in Korea who is our co-organizer in this event. To give you a background, the ASEAN-Korea Centre facilitated the establishment of the AYNK in 2014. Since 2015, we have been collaborating with each other in implementing programs that raise the awareness of the ASEAN as well as ASEAN-Korea relations and promote people-to-people exchange.
It is said that youth are the leaders of tomorrow – I beg to disagree. I personally believe that you, the youth, are the leaders of today. You have the energy to lead the ones around you for the better. You have ideas and passion to create a positive impact and change the world. Given the technology of your time, you have the unique skills and knowledge that will help you excel in your chosen fields.
You have come here today because you have a startup idea that you want to develop – and we encourage you to do so. Vis-à-vis traditional businesses, startups have become the cornerstone of our countries' economies. Not only do startups put practical entrepreneurial solutions to problems overlook by large businesses, they also create jobs, instill innovation, and strengthen competition, making the economy more dynamic and vibrant. Furthermore, startups directly impact the lives of the people. Look at how Baedal Minjok and TOSS changed the lifestyle of Koreans. Or how Grab, Lazada and Go-jek revolutionized the lives of ASEAN people.
The ASEAN Youth Startup Development Workshop today aims to support you in establishing your own startup through various means. We have invited experts today who will give talks on how you can develop startup business ideas and pitch them to domestic and foreign investors. The group activity later today will allow you to apply what you learned from the speakers and work with other participants. Lastly, the networking session will provide you an avenue where you can extend your network and meet potential partners who you could collaborate with in the future. I hope that you take advantage of this meaningful opportunity for you to successfully realize your own startup company.
Before I conclude, I would like to congratulate the ASEAN Youth Network in Korea for successfully organizing this event and appreciate the efforts of the AYNK Executive Committee Members.
Thank you very much and I hope you all have a productive and fruitful day.