Speech & Interview
HOME > Speech & Interview
SG Speech Opening Remarks by H.E. Lee Hyuk, Secretary General of the ASEAN-Korea Centre at 2018 Myanmar-Korea Investment Promotion Seminar2018-06-20
2018 Myanmar-Korea Investment Promotion Seminar
20 June 2018, Sapphire Ballroom, Lotte Hotel Yangon
by H.E. Lee Hyuk, Secretary General of the ASEAN-Korea Centre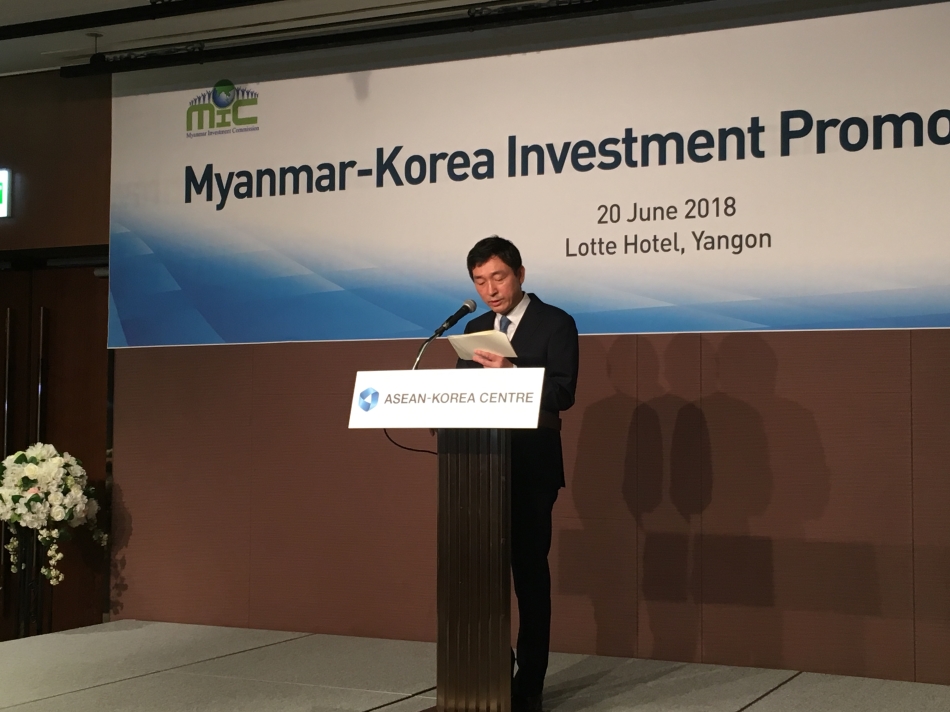 U Than Aung Kyaw,, Deputy Director General of Directorate of Investment & Company Administration
H.E. Lee Sang-hwa, Ambassador of the Republic of Korea to Myanmar
Distinguished Guests, Ladies and Gentlemen,
Min Ga La Ba!
It is an honor and privilege for me to welcome you all to the 2018 Myanmar-Korea Investment Promotion Seminar. The ASEAN-Korea Centre is immensely pleased to be a co-organizer for this seminar along with the Directorate of Investment and Company Administration of Myanmar.
I take this opportunity to express my deep and heartfelt gratitude to all participants present here today, who are all active explorers of investment and business opportunities in the manufacturing and service sectors in Myanmar.
This year, we have come to Myanmar with 12 businessmen from 11 Korean manufacturing companies. Yesterday, we visited Thilawa SEZ, received briefings, and shared practical information to seek possibilities of doing business in there. We also visited Lu Thai, Yusen Logistics, and CJ Foods in Thilawa SEZ, where we had active interactions with local businessmen. Through these visits and interactions, Korean delegation have observed several great possibilities in Myanmar's manufacturing and service industry.
The aim of today's seminar is to provide substantive information to Korean companies for investing and conducting business in Myanmar and considering Myanmar as a prominent prospective business location for investment. Moreover, I expect this afternoon's business networking session to be a fruitful one for everyone, with more outcome-oriented discussions.
Ladies and Gentlemen,
Myanmar's economy has witnessed remarkable growth since 2012, reaching an average 7% annual growth rate. The government of Myanmar has been instrumental in boosting economic growth through various means and with enthusiasm.
The government of Myanmar has been implementing continuous deregulation measures to create a more profitable and favorable environment for foreign investments in Myanmar. As part of these efforts, the special economic zones (SEZs) were established and the New Investment Law was introduced in October 2016. Furthermore, approval procedures have been streamlined and investment incentives have been substantially enhanced.
Myanmar has tremendous potential for becoming a strategic hub for the manufacturing sector thanks to its natural resources, competitive work force, and strategic location. However, the possibility of rapid increase in minimum wages, insufficient electricity supply, and lack of logistics infrastructure continue to be indicated as barriers for foreign investors.
In 2017, the total value of South Korea's foreign direct investment to ASEAN countries amounted to 4.8 billion U.S. dollars and it is mainly concentrated to Vietnam with a total of 1.9 billion U.S. dollars. Myanmar is Korea's fifth largest investment destination among all ASEAN member states with 0.3 billion U.S. dollars. Considering Myanmar's untapped potential, it deserves more attention from Korean investors.
In circumstances when competition for attracting FDI is becoming very fierce, Myanmar should intensify its efforts to be the most competitive nation in attracting foreign investments. I believe Myanmar has immense potential to become the next Vietnam, as many economists have predicted.
So, I would like to appeal to the government of Myanmar to make more intensive and focused efforts to enhance the investment climate for foreign investors.
In addition to today's program, the ASEAN-Korea Centre has been making efforts to contribute to the creation of a mutually beneficial and improved partnership between the two nations. This year, the Centre plans to host various programs, in cooperation with the government of Myanmar, including the ASEAN Digital Commerce Forum in July, the ASEAN Trade Fair: International Furniture Fair in August, and the Global Game Exhibition in November, along with the 6th ASEAN Connectivity Forum in the month of November. I hope these programs will serve as vital platforms for strengthening the bilateral ties between the two countries.
Ladies and Gentlemen,
Before I conclude my remarks, allow me to once again welcome and thank you all for being here with us today. I hope that through this Seminar, the Korean business community will be able to gain practical information and a clearer perspective regarding investments in this country. I believe the cooperation and partnership between us today will take us to a brighter future, with more balanced and mutually beneficial outcomes. I look forward to listening to the valuable information and insights that will be shared right on this stage today, and I wish you all have an extremely productive and beneficial time today.
Ce-Zu-Tin-Ba-Deh! Thank you very much!