Activities
HOME > Activities
Activities
AKC SPECIAL LECTURE 2018-10-04 |ASEAN Hall, ASEAN-Korea Centre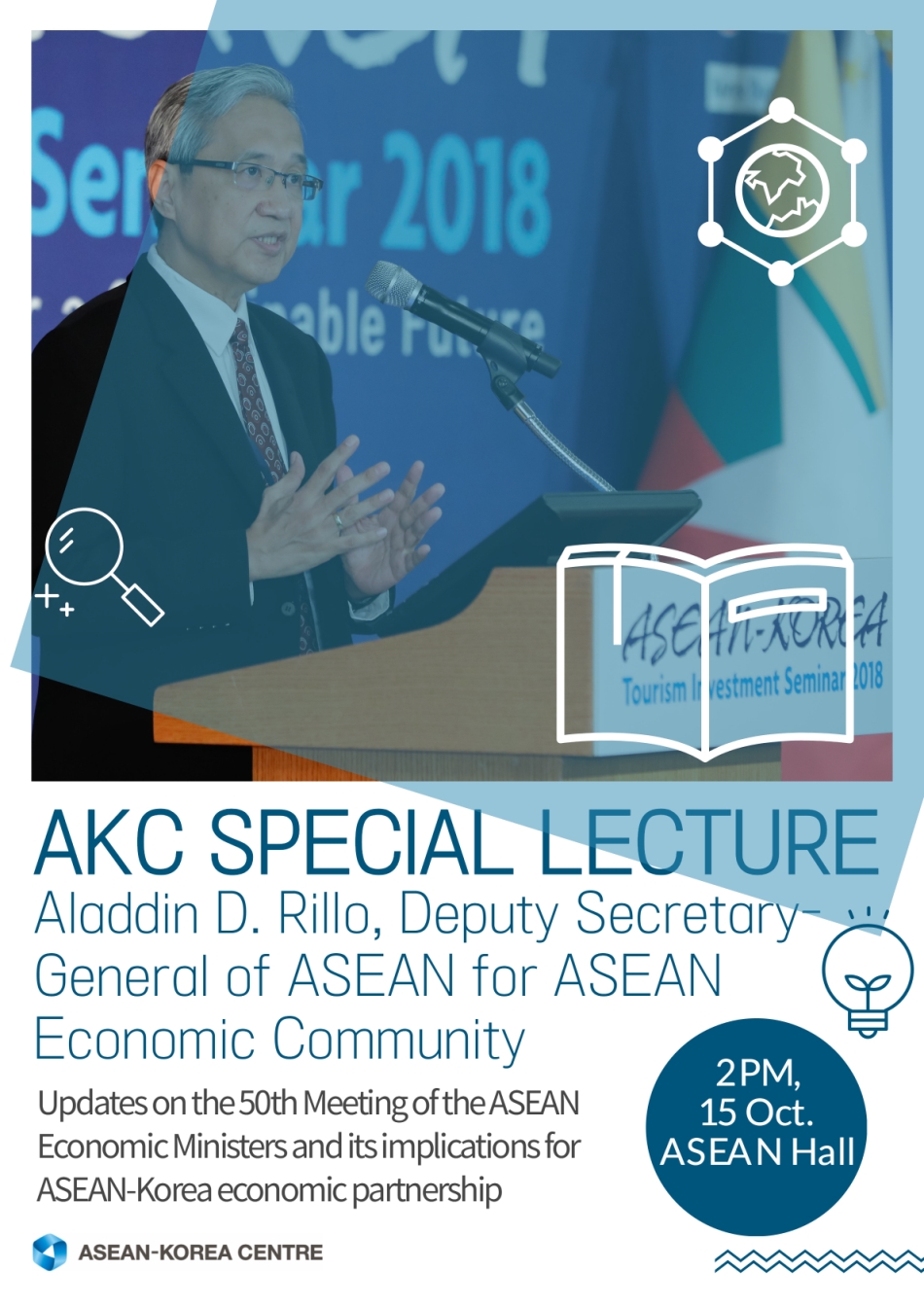 With a population of 640 million and combined GDP of 2.7 trillion, the 10 ASEAN Member States have pushed forward further economic integration since the official launch of the ASEAN Community at the end of 2015. This endeavor is notable, considering a wide-scale wave of protectionism spreading across the globe. Amid the growing uncertainty of the global economy, which has been mainly brought about by an ongoing trade war between the United States and China, ASEAN has proven to be an ever more important partner for Korea to diversify its economic relations.
At this critical juncture, the ASEAN-Korea Centre invites H.E. Dr. Aladdin D. Rillo, Deputy Secretary General of ASEAN for ASEAN Economic Community (AEC) to our Special Lecture on 'Updates on the 50th ASEAN Economic Ministers Meeting and Its Implications for ASEAN-Korea Partnership.' Having served with the ASEAN Secretariat over the past decade, Dr. Rillo led the economic integration initiatives of ASEAN. He is also a renowned economist, having worked as a Senior Economist at the Asian Development Bank Institute (ADBI) and held senior economist positions in the region and beyond.
His lecture on the recently concluded ASEAN Economic Ministers' meeting will enable us to gain a deeper understanding of the progress of the AEC, as well as insights into the future direction of the ASEAN-Korea economic partnership.
Date and Time: 14:00-15:00, 15 October 2018 (Mon)
Venue: ASEAN Hall, ASEAN-Korea Centre
Registration: *First-come, first-served basis
Inquiry: hjs@aseankorea.org, +82-2-2287-1149