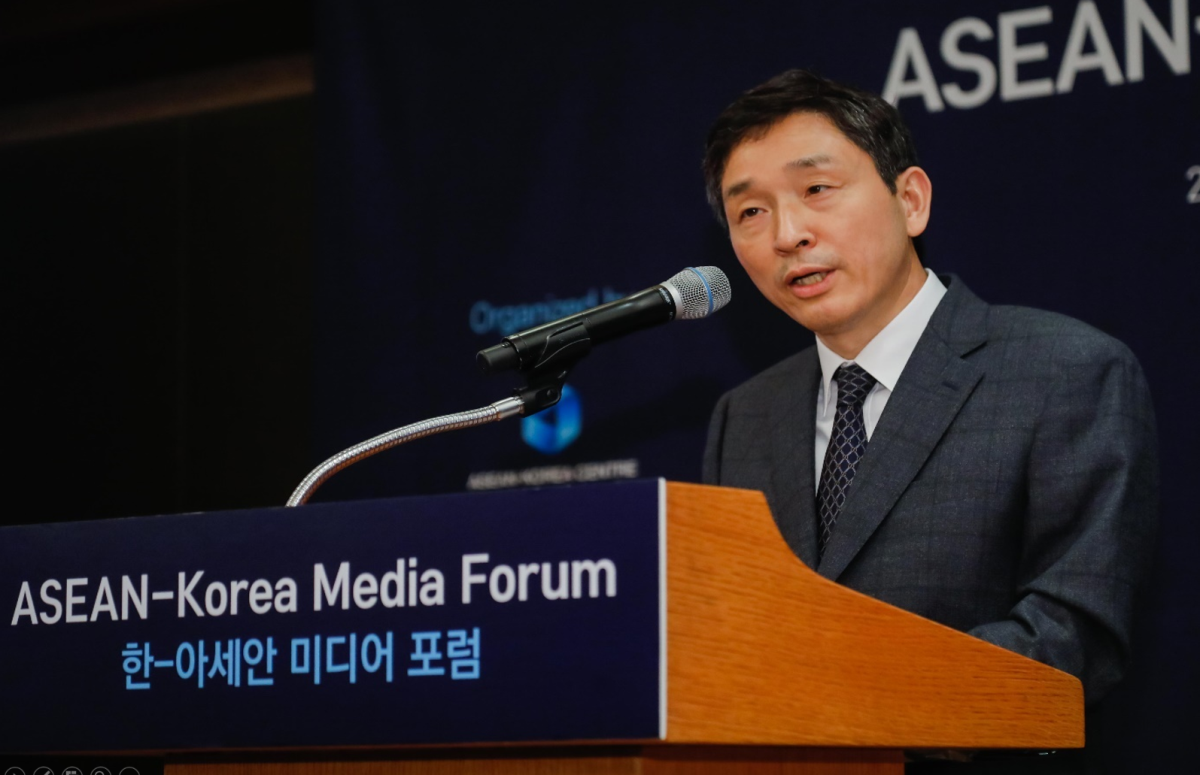 14:00, 24 April 2019 | Emerald Room (2F), Lotte Hotel Seoul
Opening Remarks
by H.E. Lee Hyuk, Secretary General of the ASEAN-Korea Centre
---
Mr. Kwon Choong-won, CEO & Publisher of the Korea Herald,
H.E. Dato' Mohd Ashri Muda, Malaysia Ambassador to Korea and the Chair of the ASEAN Committee in Seoul,
H.E. Suh Jeong-in, Executive Director of 2019 ASEAN-ROK Commemorative Summit Preparatory Office,
ASEAN Ambassadors,
Board members and representatives of the Asia News Network,
Distinguished guests and speakers,
Ladies and gentlemen,
It is my great pleasure to have you here today at the ASEAN-Korea Media Forum.
I would like to express my deepest appreciation to the Korea Herald and Maeil Business Newspaper for their close collaboration in organizing this meaningful event. I also would like to convey my gratitude to the sponsors, the Asia News Network, the Ministry of Foreign Affairs of ROK, and the ASEAN Secretariat for their fullest support and cooperation.
Over the last decades, ASEAN and Korea relations have been expanding and deepening exponentially. Trade between the two regions has more than doubled from $75 billion in 1989 to $160 billion in 2018, and ASEAN has become the number one tourist destination for Koreans with 9 million visitors in 2018.
Korean Wave has been a crucial pillar for this strong relationship between Korea and ASEAN countries. According to the Korea Foundation's Global Hallyu Status Report 2018, the number of Korean Wave fans reached 89.2 million in 113 countries. The regional analysis showed that Asia posted the highest number of hallyu fans with 70 million followed by Americas and Europe. The popularity of K-drama and K-pop in ASEAN has led to an increase in awareness of Korean cultures which now expanded to the popularity of K-beauty and K-food. Indeed, Korea's soft power has become a part of daily life among ASEAN people.
Likewise, ASEAN has been gaining more popularity in Korea. Restaurants serving Southeast Asian dishes are frequently spotted in Korea and ASEAN continues to enjoy the status as the most popular tourism destination among Koreans. Over 600,000 residents from ASEAN countries also contribute to strengthening friendship between the two regions by sharing their cultures, customs and traditions.
A better understanding of each other´s culture will help us to bring closer to each other, appreciate each other, respect each other, and learn from each other. Now, it is time for us to continue our efforts in fostering better environments for furthering the relationship through lively socio-cultural and people-to-people exchanges. And I believe that ASEAN and Korean media can play a central role in introducing and promoting ASEAN cultures in Korea.
K-pop group BTS's global popularity has been expanded enormously. Its new album "Map of the Soul: Persona" is sweeping across the most prestigious music charts in the world and the latest music video became the fastest YouTube video to reach 100 million views, taking less than 38 hours. A global sensation of this boy band shows the evolution of K-pop. To forge a more sustainable Korean Wave and to bring a star born from ASEAN, the two regions should strengthen cross-border cooperation and collaboration in the various areas of entertainment industry.
In this context, I hope the ASEAN-Korea Media Forum provides a platform for all participants from government, academia, business and journalism of the two regions to have in-depth discussions and share insights to accelerate wider and balanced socio-cultural exchanges between ASEAN and Korea.
As 2019 marks the landmark year of the 30th Anniversary of the ASEAN-ROK Dialogue Relations and the 10th Anniversary of the ASEAN-Korea Centre, the Centre will host an array of commemorative programs to provide opportunities for ASEAN and Korean people to better understand each other. It will include 'ASEAN Week' with a theme of 'Unity in Diversity' by featuring cultural performance, lifestyle and design, fashion and food in June. In October, 'ASEAN Train' will invite over 200 people from ASEAN and Korea to showcase culture, history and industrial development of Korea's major cities, fostering a mutual understanding of participants from ASEAN and Korea. In November, 'ASEAN-Korea Export·Import Fair' will exhibit quality products of ASEAN in Korea to forge ahead into the future of co-prosperity.
I sincerely hope that you will take part in a series of commemorative events planned for this year. I also would like to ask for your whole-hearted support for the ASEAN-Korea Centre's endeavors in enhancing socio-cultural cooperation between ASEAN Member States and Korea.
Thank you.