2018 Thai-Korea Investment Promotion Seminar
4 September 2018, Grand Atelier, Le Méridien Bangkok
Opening Remarks
by H.E. Lee Hyuk, Secretary General of the ASEAN-Korea Centre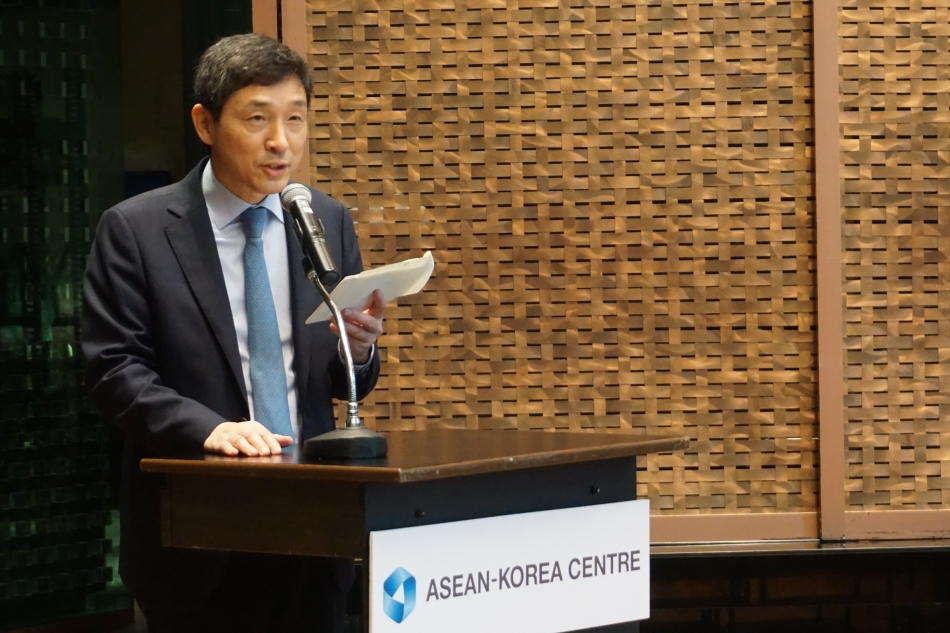 Mr. Narit Therdsteerasukdi, Deputy Secretary General of Thailand Board of Investment (BOI)
H.E. Noh Kwang-il, Ambassador of the Embassy of the Republic of Korea in Thailand
Honorable speakers, distinguished guests, ladies and gentlemen,
Sa-wa-di-kap!
It is my honor and privilege to welcome you all to the 2018 Thailand-Korea Investment Promotion Seminar. The ASEAN-Korea Centre is pleased to co-organize today's seminar that celebrates the 60th anniversary of diplomatic relations between Thailand and Korea with Thailand Board of Investment and Korea Institute for Robotic Industry Advancement.
As you may know, Thailand was one of the first countries in Asia to openly contribute its military aid during the Korean War. Building upon this shared memory, Thailand and Korea have achieved remarkable progress in their cooperative relations over the decades. I believe Thailand's recent government initiative on Thailand 4.0 and East Economic Corridor (EEC) will lay out even stronger foundation for closer partnership between our two countries for the next 60 years.
Today's Seminar is pertinent to these initiatives. Korean delegation from 13 companies have joined today to explore investment opportunities in the robotics and automation industry of Thailand. The Thailand 4.0 initiative selected robotics sector as one of priority areas of development as it stimulates Thailand's transition towards value-added and innovation-driven economy.
We will also visit the EEC, one of the top 5 industrial complexes in Asia to seek investment opportunities in Thailand. A global production base for Thailand's automotive and electronic industry, the EEC lies at the heart of 'Thailand 4.0' vision to transform the country's competitiveness. I am as thrilled as other members of the delegation to learn EEC's development projects and investment incentives. These programs will help the Korean delegation's understanding of 'Thailand 4.0' and have hands-on experience on Thailand's robotics industry.
Ladies and Gentlemen,
According to the International Federation of Robotics (IFR), the world robot market is worth around 18 billion US dollars with an average annual growth of 13% for the last 6 years. Korea is one of the top 5 countries in robotics manufacturing with China, Japan, USA and Germany occupying 75% of global market share. Over the last 5 years, the Korean robot industry has achieved 1.3 times increase in each production and export and 2 times increase in employment.
In line with the growing global robotics market, the Government of Thailand has selected robotics sector as one of the key pillars of 'Thailand 4.0', to transform Thailand from a production-based to a value-based economy by enhancing technology, creativity and innovation.
Unfortunately, trade in robotics between Thailand and Korea remains significantly low, which also tells us there is a strong potential for cooperation in robotics industry between two countries.
Thailand has emerged as one of the most competitive investment destinations in the ASEAN region. The combination of its strategic location, decent infrastructure and road networks, improved political stability and business environment reforms enables Thailand to thrive as an investment hub for the region.
In 2017, the total value of South Korea's foreign direct investment to ASEAN countries amounted to 4.8 billion U.S. dollars and it is heavily concentrated to Vietnam with a total of 1.9 billion U.S. dollars. Thailand is Korea's sixth largest investment destination among all ASEAN member states with 0.1 billion U.S. dollars. Considering Thailand's immense potential, it deserves more attention from Korean investors. Thus, it is timely to materialize the economic partnership that lies ahead.
In this regard, Thailand's investment incentives and initiative to boost the nations' robotics industry can help Korean robotics companies, look to Thailand as an attractive partner. That why we are gathered here today at this Seminar to further encourage Korean investment in Thailand's robotics industry. I hope today's seminar will allow us to share experiences and good practices to further develop the robotics industry in Thailand.
Ladies and Gentlemen,
Before I conclude my remarks, I would like to appeal to the Government of Thailand and Thailand businessmen to make more active efforts to enhance cooperation and partnership with Korea. I hope that through this seminar, the Korean business community will be able to gain practical information and a clearer insight regarding investments in this country. I believe the cooperation and partnership between us today will take us to a brighter future, with more balanced and mutually beneficial outcomes. ASEAN-Korea Centre will also continue to serve as a vital platform for strengthening the bilateral ties between Thailand and Korea.
Thank you very much. Kap-kun-kap!