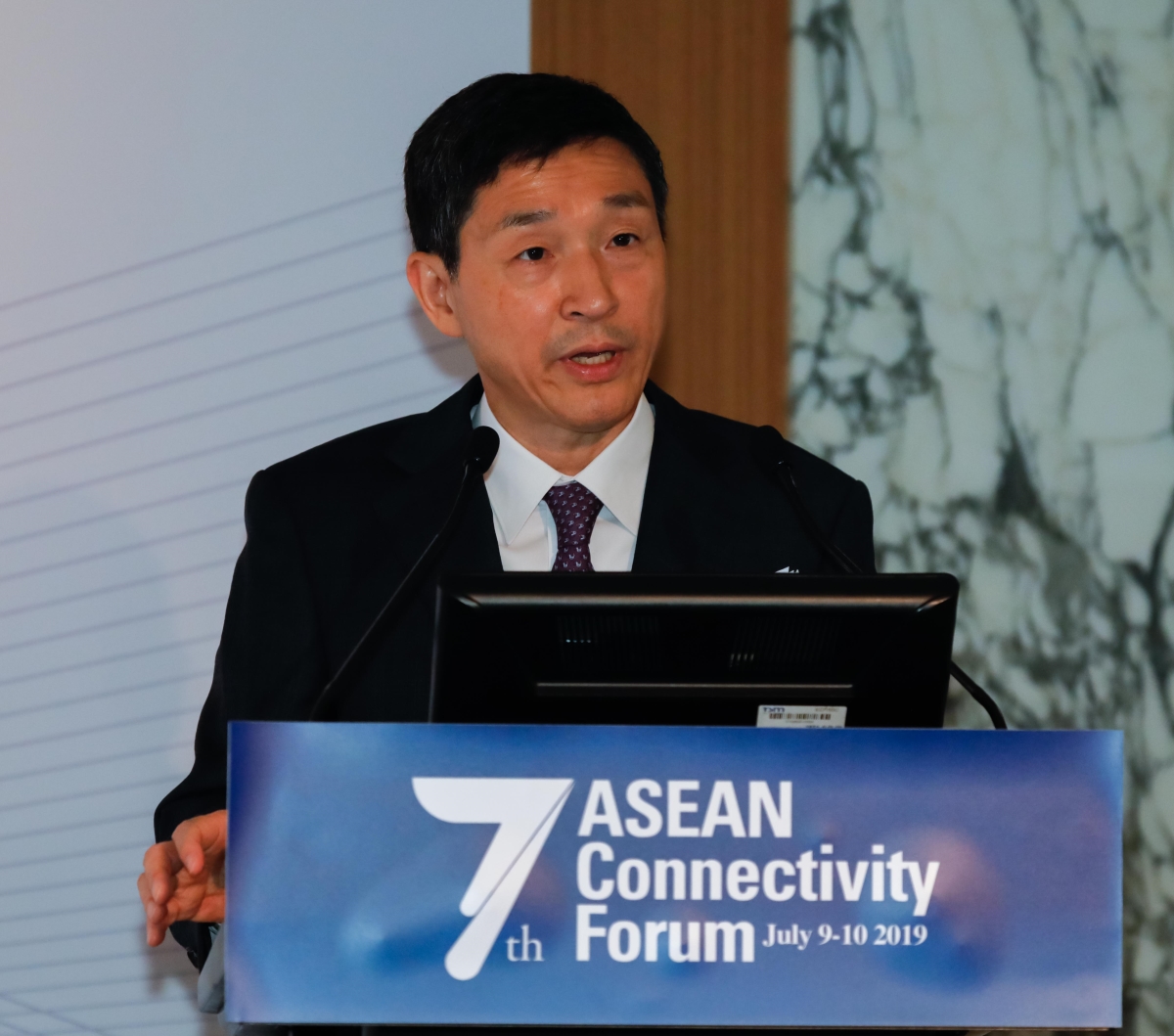 Tuesday, 9 July 2019, Diamond Hall, COEX Intercontinental Hotel
Opening Remarks
by H.E. Lee Hyuk, Secretary General of the ASEAN-Korea Centre
---
His Excellency Dato Seri Setia Awang Haji Suhaimi bin Haji Gafar, Minister of Development of Brunei Darussalem,
His Excellency Bounchanh Sinthavong, Minister of Public Works and Transport of Lao PDR,
Mr. Chua Chong Kheng, Deputy Chief Executive of Land Transport Authority of Singapore,
Her Excellency Phasporn Sangasubana, Chair of ASEAN Connectivity Coordinating Committee,
His Excellency Sung-nam Lim, Ambassador to ASEAN of ROK,
Mr. Jung Byung-yoon, Vice Chairman of the Construction Association of Korea,
His Excellency Yoon Soon-gu, Deputy Minister for Political Affairs of the Foreign Affairs of Korea,
His Excellency Harry Harris, Ambassador of the United States to ROK,
Excellencies, Distinguished Guests, Ladies and Gentlemen,
1. Greetings
It is my honor and privilege to welcome you all to the 7th ASEAN Connectivity Forum. First, I would like to thank our co-organizer, the Construction Association of Korea and Korea Chamber of Commerce and Industry, for making this Forum possible. My special thanks to our honored guest speakers and business people for giving us your time to participate in the Forum.
2. ASEAN-Korea Relations
ASEAN is a special and valued friend to Korea. And as ASEAN's geo-political and geo-economic importance continues to grow, partnership with ASEAN is also becoming more and more important for Korea.
To put this into perspective, ASEAN is Korea's second largest trading partner with a total trade volume of over 160 billion dollars in 2018. Over the past three years, we have witnessed an annual increase of 15.9% in trade with ASEAN.
The region is also Korea's third largest investment destination, and Korea is ASEAN's fifth largest trading partner. And as ASEAN continues to grow at an average annual growth rate of 5%, its importance as a partner for the future will grow even further.
Indeed, it is against this backdrop that the Korean Government announced the New Southern Policy which places unprecedented importance on ASEAN in Korea's foreign policy.
The Korean Government is both determined and ready to take ASEAN-Korea relations to new heights. We have already seen signs of this determination. President Moon Jae-in has visited seven ASEAN Member States since he came to office and will be visiting remaining three in the near future. Moreover, to celebrate the 30th anniversary of ASEAN-Korea Dialogue relations, the Korean Government will be hosting the ASEAN-ROK Commemorative Summit and the First Mekong-ROK Summit in Busan in November this year.
3. ASEAN Connectivity and Sustainable Infrastructure
Distinguished guests,
In order to have a thriving partnership, you need to have a thriving partner. For ASEAN-Korean partnership to take that leap forward, both ASEAN and Korea will have to build a strong, integrated and well-connected economy.
For ASEAN, the roadmap toward this goal is mapped out in the Master Plan on ASEAN Connectivity (MPAC). The renewed Masterplan, MPAC 2025 focuses on five strategic areas—sustainable infrastructure, digital innovation, seamless logistics, regulatory excellence, and people mobility.
I must say, the goals of MPAC 2025 are quite ambitious. ASEAN will need 3.3 trillion USD for infrastructure development only. However, if we work together, taking a step at a time, these are not impossible goals.
In June this year, ASEAN unveiled a list of 19 Initial Pipeline Projects and 21 Potential Pipeline Projects to more effectively address its infrastructure needs. I believe Her Excellency Phasporn Sangasubana will share us the details of these projects during her remarks.
4. ASEAN-Korea Cooperation in Infrastructure Development
As for the Korean Government, efforts to strengthen ties with ASEAN, particularly in the field of infrastructure development, has never been more active.
The Korean Government organized the First ASEAN-ROK Infrastructure Ministers' Meeting last year. Also, during the ASEAN-ROK Summit in Singapore last year, Korea expressed strong support for and participation in the ASEAN Smart Cities Network. Moreover, the Korean Government has announced its decision to increase the "Global Infrastructure Fund" by an additional 100 million USD to support investment in ASEAN by 2022.
5. The 7th ASEAN Connectivity Forum
And to bring synergy to all of these efforts, the ASEAN-Korea Center is today hosting the ASEAN Connectivity Forum.
The ASEAN Connectivity Forum is now in its 7th year, and over the years the Forum has grown into a key platform for public-private partnership between ASEAN and Korea. Indeed, since 2013, the Leaders of ASEAN Member States have recognized the Forum's role as a "matchmaker" between projects in ASEAN and investors in Korea.
And this year, I believe the ASEAN Connectivity Forum will be a great success. Expectations for a stronger ASEAN-Korea partnership under the New Southern Policy have created a favorable environment for businesses in both ASEAN and Korea and as a result we were able to invite many high-level participants and prominent businesses to the Forum compared to previous years. We have also invited other dialogue partners of ASEAN, notably the United States, to explore possible trilateral partnerships in the field of smart cities among others.
6. Closing
In closing, I would like to once again welcome and thank our friends from ASEAN for taking time out of your busy schedules to be here today. Your participation and commitment have indeed attracted many Korean businesses to this year's Forum. I hope many meetings and contracts will follow from this Forum.
Last but not least, I look forward to a successful Forum, and wish all our ASEAN friends a wonderful time in Korea.
Thank you. 감사합니다.